HHP officially opens Tarbert development
Sandy Morrison has officially opened Hebridean Housing Partnership's (HHP) James Place housing development in Tarbert.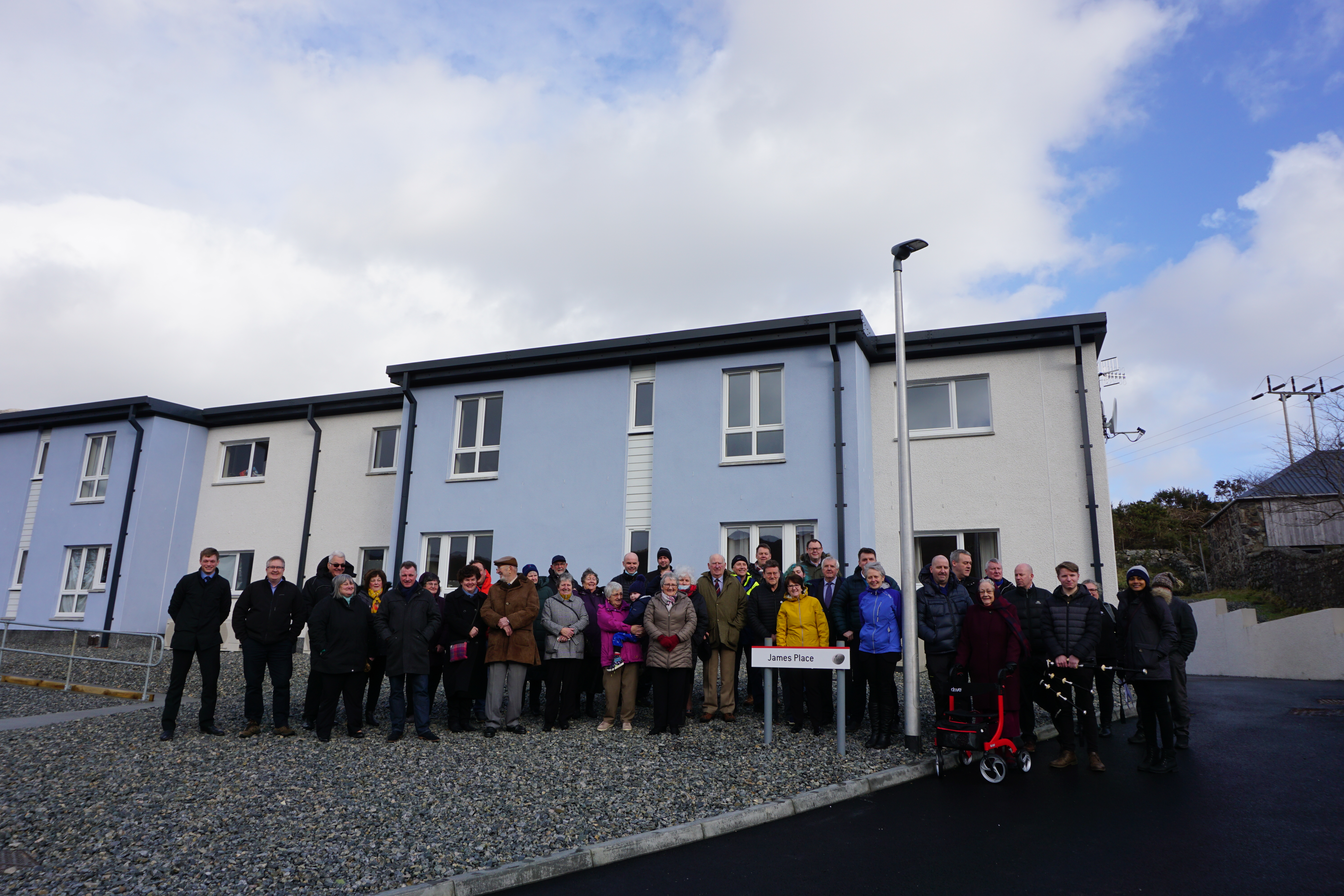 When the keys to James Place in Tarbert were handed over in January 2022 by Alex Murray Construction there were smiles all round.
HHP said that in an area desperately needing affordable homes, it was frustrated with one challenge after the other, so at yesterday's opening it was fantastic to see the eight flats officially opened with a great turnout for the event.
---
---
Sandy Morrison, father to James Morrison, officially opened the new flats.
The name for the development, James Place, was chosen following a public consultation as a tribute to James Morrison, a highly regarded policeman who was killed on 13 December 1991.
James was off duty and trying to arrest a man for a suspected bag theft when during the struggle he lost his life. James had close family connections with Harris. It was particularly touching that James' father Sandy Morrison was able to formally open James Place along with other members of the family.
James's brother said: "On behalf of the family and my dad, it means so much to us. It is a lasting tribute. Thank you very much."
---
---
Gordon Macleod a member of the HHP board and himself a retired Police Superintendent added: "I am privileged to be able to join the family for this opening on what must be a very emotional moment for them. James was a highly respected and dedicated officer and it is very fitting that this new development, on the site of the former Police Station, has been named in his honour. I am also very pleased to see the completion of the work to transform this site into quality homes, for people in Tarbert which further evidences HHP's commitment to address the identified housing need within Harris."
The majority of the funding for the flats came from the Scottish Government along with a grant from the Comhairle and our own private finance so it was very much a partnership project.
Housing secretary Shona Robison commented: "We want everyone to have a safe, warm affordable home that meets their needs, in a location where they wish to live and work. I am delighted that the Scottish Government has been able to provide over £1 million grant towards these eight new homes in Tarbert. This supports our ambition to deliver affordable homes across the country."
---
---
Councillor Kenny John MacLeod, chair of communities & housing committee, added: "The completion of the Tarbert Development was noted at the Communities and Housing Committee last week. We were delighted to hear that the homes have now been allocated and some of the pressure in the Tarbert area has been alleviated.
"The Comhairle's contribution of ACTISH funding assisted with the development and we thank all partners, including TIG, HHP, Alex Murray Construction and Scottish Government for their input, and for coming together to recommence and complete this important development."
---