High-tech methods revealed as £150m Atlantic Square scheme hits highest point milestone
The Atlantic Square commercial development in Glasgow has reached an important milestone and revealed some of the techniques being used to create it.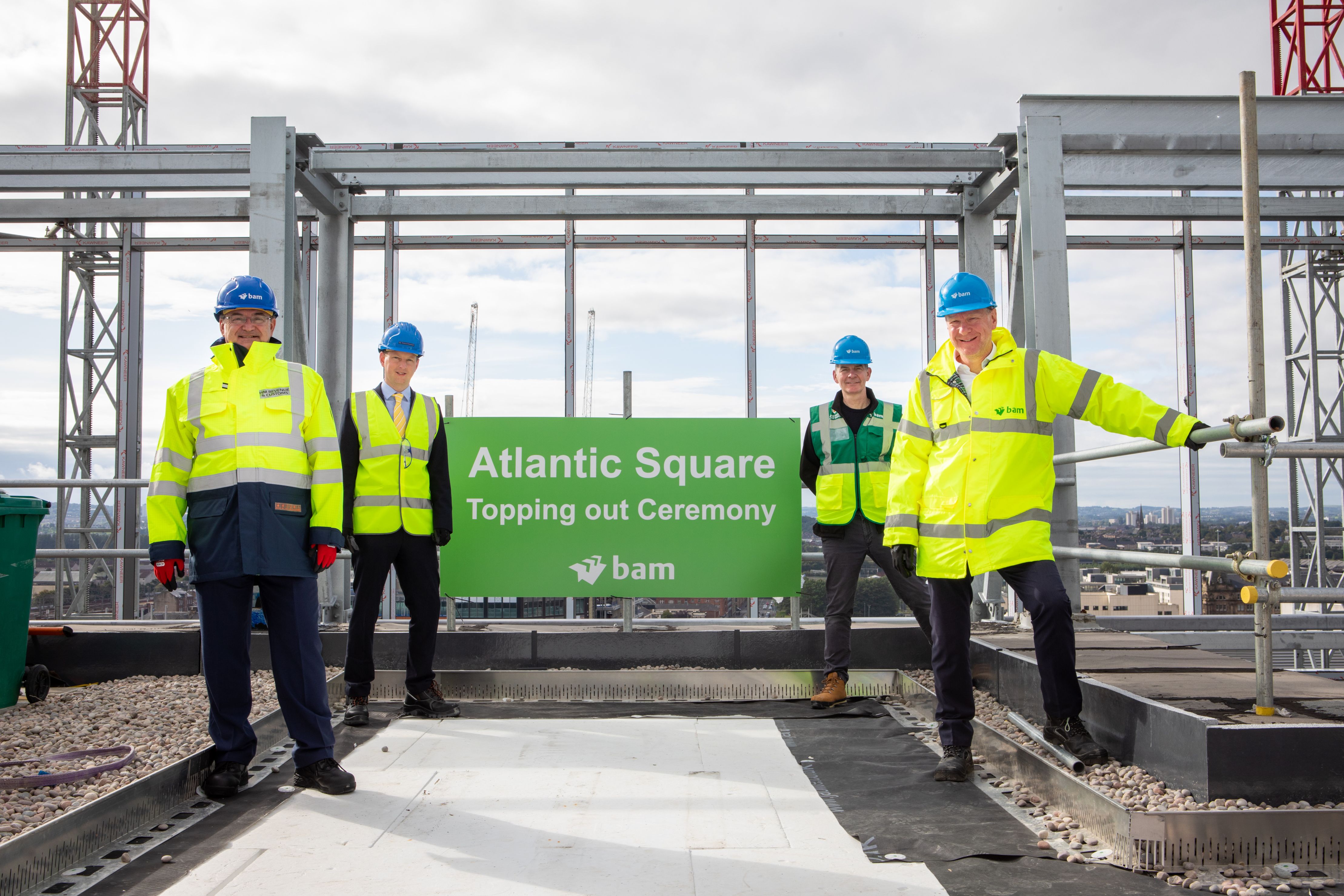 The £150 million project, comprising three buildings that will initially house 2700 employees for the HMRC, reached its highest point of construction.
HMRC will occupy the 10-storey 1 Atlantic Square on a pre-let agreement, which has allowed BAM – which is both joint venture property developer and construction partner – to speculatively develop and build 2 Atlantic Square. This offers Grade A office accommodation while 3 Atlantic Square will be a mix of residential and retail occupancy.
---
---
The combined 300,000 sq ft development organised a socially distanced occasion to mark the construction milestone, which brought together Brian Redford (HMRC), David Young (Turner & Townsend), Jim Ward (BAM Construction) and Dougie Peters (of BAM Properties).
Dougie Peters, the managing director of BAM Properties, said: "Despite these unusual times that have influenced how we stand and face each other atop the structure, it's clear that although the nature of the modern office may change, the need for better quality buildings remains.
"What has to move with the times is how we use our buildings and how our buildings contribute to society.
"2 Atlantic Square is designed to help attract and retain the best staff with features including 180 secure cycle spaces, eight electric cycle charging spaces, electric charging stations for cars, male, female and gender neutral showers, 240 secure lockers for cyclists and runners, a Wifi enabled business lounge and a parcel drop off and pick up facility for staff who choose to have packages delivered to the office."
---
---
Jim Ward, construction director for BAM, explained how a range of modern approaches are being deployed to create the complex suite of new buildings.
"Not only are the facilities going to be ultra-modern and sustainable, but so are the techniques we are using to create the building.
"We have maximised using digital tools to fabricate off-site servicer risers, modules and package roof plant rooms. This is a major benefit in a restricted city centre site for better quality and reducing waste.
"Our challenges here include incorporating the existing 1847 grade A-listed façade into the overall design. Digital technology was used to create a full point cloud survey capturing the detailed position of the facade and VR technology used to develop the faced retention system. Due to the age and condition of the existing façade, a vibration monitoring system was installed with sensors applied to it and optical prisms measuring for movement.
---
---
"Constructing the basement adjacent to the façade was delivered by using silent piling techniques to push 400 sheet piles 10m into the ground, reducing vibration risk and minimising noise."
Complying with pandemic restrictions brought works to a halt for three months. But Jim and his team adapted successfully.
"It's been remarkable to witness how our team and our supply chain have overcome this challenge by developing new ways of working to address the social distancing requirements. We currently have just under 300 operatives on-site fully complying with COVID-19 safe operating procedures, which is a great credit to them."
The building's 96,650 sq ft of Grade A accommodation which will be ready for occupation in spring 2021 is currently being marketed by JLL, CBRE and Ryden.
---
---
The project is designed by Cooper Cromer and BAM Design and built by BAM Construction, and is a joint venture development by BAM Properties and Taylor Clark, with forward funding of the HMRC building provided by Legal & General on behalf of Legal & General Retirement.
---