Hjaltland Housing Association continues to deliver new affordable homes for Shetland community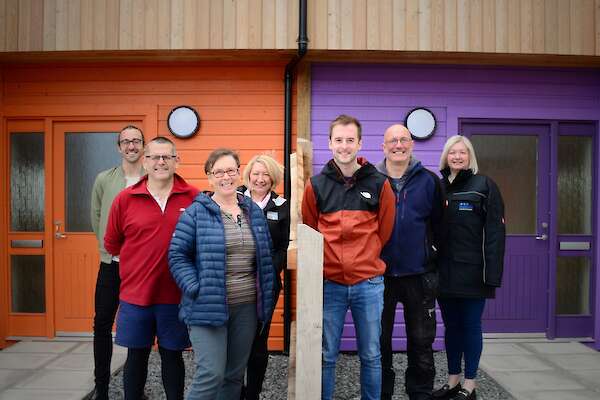 Hjaltland Housing Association has recently completed eighteen new homes on its Heathery Park and Wista sites in Gulberwick and Lerwick.
Despite the significant challenges over the last couple of years, Hjaltland Housing Association continues to provide new affordable homes in the islands.
With the support of the Shetland Islands Council and the Scottish Government, in addition to private finance secured from the Bank of Scotland, 18 new homes have recently been completed in Gulberwick and Lerwick.
---
---
The six new properties at Wista in Lerwick, designed by née gibson architects & Mott MacDonald Engineers were built by David Smith Building Contractor to a very high standard.
The £1.2 million project resulted in four 2-person flats and two 4-person houses being added to the Association's existing scheme and was supported with £850k in Scottish Government grant funding. All properties are rental, and keys were handed out to new tenants earlier this week.
Adrian Wishart, director of née gibson architects, said: "As designers we always look to ensure buildings sit within their landscape and this was a challenge with a small site with what are now probably the highest buildings in Lerwick!
"In common with many of our buildings, we like to contrast the darker seasons of the year with uplifting glimpses of colour on the houses. The design looks to minimise ongoing maintenance such as using durable unpainted Siberian larch cladding."
---
---
He added: "A strong emphasis is placed on airtightness and energy efficiency, which is made more effective with having a client such as Hjaltland Housing Association who are very knowledgeable on this too.
"The six new homes complement the existing properties at Wista, and we are delighted with the finished product, especially as they were constructed during the extremely difficult two years of the pandemic. As such, we'd like to congratulate the contractors and project team on achieving a high standard of new housing amidst these times. We hope they are enjoyable homes to live in and wish the new occupants well."
The 12 new homes at Heathery Park in Gulberwick were designed and built by DITT Construction Ltd based on the home-zone principle where shared surfaces are used to soften the hard landscaping in the scheme. There are four detached 5-person houses, four 2-person flats and four 3-person flats within the scheme. This £2.6m project will supplement the Association's existing scheme at North Heathery Park and was supported by a Scottish Government grant of £1.73m through its affordable housing supply programme.
Stuart Hughes, site agent with DITT Construction, added: "After a challenging few years due to Covid and other world events we're delighted to have completed this project. The twelve new properties are finished to a high standard and the central shared surface area ties the whole scheme together. I'm thankful to all involved for the hard work which has been put into the project. We wish the new tenants all the best in their new homes."
---
---
Paul Leask, head of investment with Hjaltland, commented: "It's always great to see new homes being completed and tenants moving in. We understand that it is really difficult at the moment for many people within our community to get houses, and whilst the last couple of years have been challenging, we have been working hard to bring projects like these to completion. We are currently onsite with projects in Scalloway and Brae and have plans for more housing in Aith, Walls and Lerwick which will help meet the very high demand for housing in our communities."
Ian Bray, HHA head of housing and customer service, said: "As expected, we experienced a significant level of interest in these much sought-after affordable homes, with demand peaking for our one-bedroom flats at Wista, where we received 98 expressions of interest. Affordable housing is much more than just bricks and mortar, or in this case Siberian larch, as it helps alleviate the key issues of poverty and inequality that does exist within our communities.
"Although we are delighted to welcome and support another 18 households, we understand many more will be disappointed not to receive an offer, and we will continue with our development programme to address the shortage of affordable accommodation throughout Shetland."
---