HSE initiates construction site dust crackdown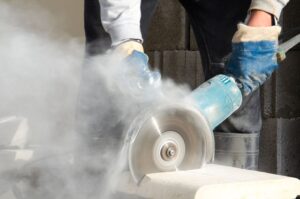 Inspectors from the Health & Safety Executive (HSE) will be targeting construction firms across Scotland to check that their health standards are up to scratch during a month-long inspection initiative.
Starting on October 4, the inspections will focus on respiratory risks and occupational lung disease, looking at the control measures businesses have in place to protect their workers' lungs from construction dust including silica, asbestos and wood dust. This is part of HSE's longer term health and work strategy to improve health within the construction industry.
While the primary focus will be on health during this programme of inspections, if an inspector identifies any other areas of concern, including immediate safety risks, they will take the necessary action to deal with them.
Inspectors will be looking for evidence of employers and workers knowing the risks, planning their work and using the right controls. If necessary, they will use enforcement to make sure people are protected.
---
---
The initiative will be supported by HSE's WorkRight campaign, aimed at influencing employer behaviour by encouraging builders to download free guidance and advice, increasing knowledge and capability to protect workers' health.
More than 3,500 builders die each year from cancers related to their work, with thousands more cases of ill-health and working days lost.
HSE's chief inspector of construction, Sarah Jardine, said: "Around 100 times as many workers die from diseases caused or made worse by their work than are actually killed in construction accidents.
"Our inspection initiatives ensure that inspectors are able to speak to duty holders and visit sites to look at the kind of action businesses in the construction industry are taking right now to protect their workers' health, particularly when it comes to exposure to dust and damage to lungs. These are mature health challenges that the industry ought to be managing effectively.
---
---
"There are a few simple things that everyone can do to make sure they are protecting their health and their future. Be aware of the risks associated with activities you do every day, recognise the dangers of hazardous dust and consider how it can affect your health. We want businesses and their workers to think of the job from start to finish and avoid creating dust by working in different ways to keep dust down and wear the right protective equipment."
HSE is being supported by the Health in Construction Leadership Group (HCLG) and Tier 1 industry contractors. Throughout October 2021, HCLG members will carry out more than 1,000 site visits to assess the effectiveness of measures in place to controls workers' exposure to respiratory risks from dust. Findings from site visits and a survey will allow industry to feed into HSE's broader commitment to improve the health of construction workers by providing HSE with a wider dataset to evaluate ongoing practices across industry.
Meanwhile, the Secretary of State for the Department for Work and Pensions has confirmed two non-executive director board appointments to the HSE.
Debbie Gillatt CBE is currently a magistrate and trustee at Penny Parks Charitable Trust. Previously she held NED roles with Companies House and Insolvency Service and was the director of business frameworks at the Department for Business, Energy and Industrial Strategy (BEIS).
---
---
Within BEIS, she led the teams responsible for the UK's company law, accounting standards and corporate governance rules, and those which lead on corporate transparency and anti-corruption initiatives. She also led on corporate responsibility and boardroom diversity initiatives.
Earlier in BEIS, Debbie managed a £3.2bn Government grant fund for business and led the cross-Whitehall team which supported Lord Heseltine in producing his report on the UK's competitiveness. She also worked in the Cabinet Secretariat and managed The Secretary of State's ministerial support team.
Her previous experience includes managing government's relationship with a range of business sectors from production machinery to telecoms, and ground-breaking work in both economic regulation and inward investment.
Reverend Professor Gina Radford currently serves as Vicar in the Dart and Avon Mission Community in Devon. Between 2015 and 2019, she was Deputy Chief Medical Officer (CMO) for England. She is a member of the National Police Ethics Committee and chaired Public Health England's COVID Non-Pharmaceutical Interventions Ethics Group.
---
---
Chair of HSE, Sarah Newton, welcomed both appointments to the board. She said: "I am delighted that Gina and Debbie will be joining us on the HSE Board. They both bring a wealth of knowledge and experience and I'm sure they will be a great asset to us. I look forward to working with them."
---