Hub West Scotland hails 'overwhelming response' for Winter Warmer Appeal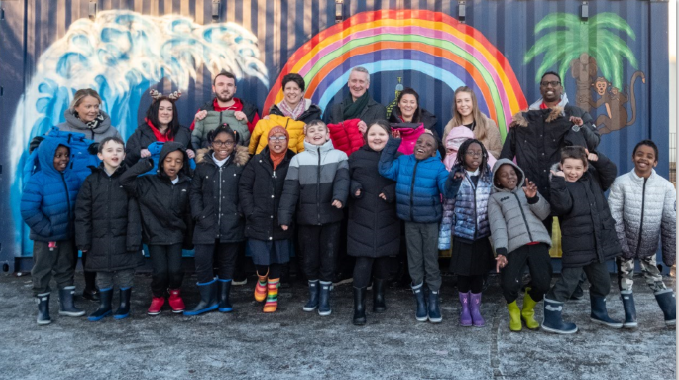 Hub West Scotland (hWS) said it has been overwhelmed by the incredible response to its fifth Winter Warmer Appeal on behalf of charity partner PEEK, (Possibilities for Each and Every Kid).
PEEK works to improve the life chances of children and young people living in the Glasgow area. 100% of the money raised was used to purchase warm winter clothing for those children that need it right across the city.
More than £9,500 was raised on the Just Giving Page and many more jackets were donated directly to PEEK. This is thanks to donations from Hub West's supportive supply chain partners of contractors and consultants, local companies, and generous individuals, who despite having many demands on them continue to support this wonderful initiative. This brings the total value since 2018 to over £90,000: a tremendous collaborative effort.
---
---
Iain Marley, CEO of hWS, said: "The past few years have been very challenging for individuals, families and communities with rising prices adding to the pressures created by the pandemic and other events. In this context, we are very much aware of the importance of maximising benefits in the form of employment, training opportunities and work for local business and we make that a key priority within our approach to the planning and delivery of our projects.
"For the past five years, it has been a privilege and an inspiration to work with PEEK and promote the Winter Warmer Appeal. It has allowed us to make a further and very practical contribution by facilitating the provision of essential items of winter clothing for children. Year after year the responses have been amazing but this year I was slightly hesitant when launching the appeal: Would it be one ask too many at a time of such financial challenges? That concern was swiftly wiped out as the responses came thick and fast: yet again the generosity of our partners and individuals has been mind-blowing. We are immensely grateful for all contributions and can guarantee that the PEEK team are ensuring that they are put to very good uses."
Michaela Collins, CEO of PEEK, said: "We are absolutely delighted about the success of this year's Winter Warmer Appeal. Through the support from Hub West Scotland, Speirs Gumley and the public we have supported over 1200 children and young people and families this winter with new warm winter jackets and wellies and other warm items such as pyjamas, hats, scarves, gloves and blankets. We know that many families are choosing between heating and eating as the cost of living crisis hits hard on families already living in poverty. Thank you to everyone who donated and ensured we can relieve some of the pressure over the cold months."
Hub West Scotland presented the donation to PEEK on Thursday 15th of December.
---
---
Alison Thewliss MP for Glasgow Central went along to the presentation and said: "It is phenomenal to see the work that PEEK does to ensure that children and families are supported as much as possible in times of hardship.
"Through responses and donations to this campaign, it is clear to see that people are keen on helping during these difficult times.
"While the cost-of-living crisis continues to hammer constituents across Scotland, it is so important that charities like PEEK are there in times of need.
"It is heartbreaking to know there are families who will be unable to heat their homes or afford warm winter clothing for their kids. I am so grateful for all the work that PEEK does and thank them for their continued support in my constituency."
---