Improved Aberdeen underpass unveiled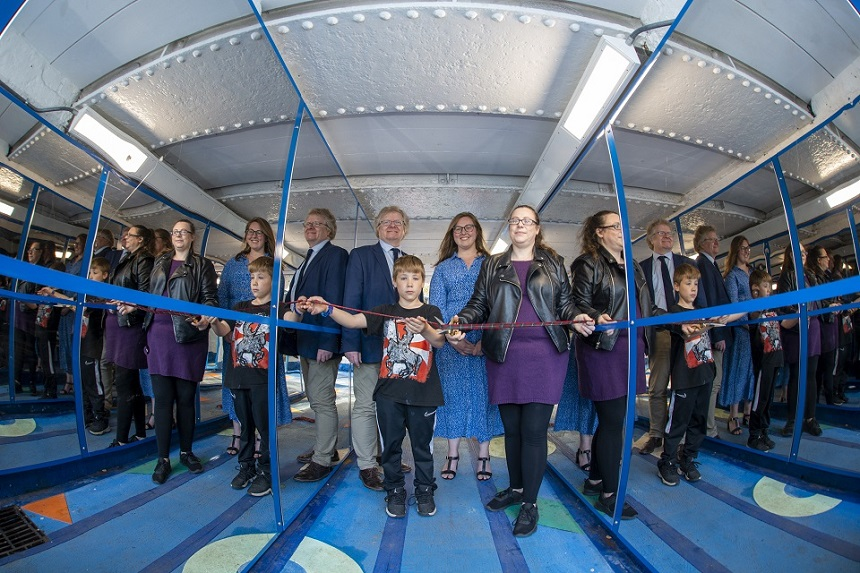 The Hayton Road underpass – which connects Woodside and Great Northern Road in Aberdeen – has been unveiled following a colourful redevelopment.
The revamp of the underpass was carried out to improve accessibility and safety following a community consultation.
Residents were invited to vote on nine proposed designs to help shape the future of the area and raise the standards of streets.
---
---
The new design for the underpass uses an array of colourful anti-slip paint to brighten the area, along with reflective panels and lighting to increase visibility and become more pedestrian-friendly.
The redevelopment was resourced by the Scottish Government Town Centre Regeneration fund and Aberdeen City Council's Place Based Improvement fund.
This forms part of a wider Street Design Project led by Sustrans and Aberdeen City Council, known as the Tilly-Wood Street Design Project, which aims to make Tillydrone and Woodside a more attractive place to live, work and move around independently by improving Hayton Road and Don Street.
The project builds on a traffic safety audit undertaken by Living Streets and the council's Community Development officer which identified potential solutions to address road safety in the area.
---
---
The project team have worked closely with residents in a co-design approach to understand the aspirations, needs and ideas of the local community.
Aberdeen City Council co-leader, Councillor Ian Yuill, said: "We are pleased to have worked with Sustrans to make improvements to the areas of Tillydrone and Woodside.
"This fantastic redevelopment is not only an attractive addition to the area, but it will improve safety and visibility for those who live in the community and utilise the Hayton Road Underpass for years to come."
Convener for the Operational Delivery Committee, Councillor Miranda Radley, said: "This is an exciting period of improvement for both Tillydrone and Woodside.
---
---
"We are delighted to be supporting a project that puts that residents priorities and opinions at the heart of the developments being made within their community."
Paul Ruffles, project manager, co-design Sustrans Scotland, said: "We are really pleased to see the redevelopment of the Hayton Road underpass complete.
"The transformation of the underpass is a genuinely positive step in encouraging more people to walk and wheel between the two communities of Tillydrone and Woodside."
---