James Frew Academy welcomes latest apprentice intake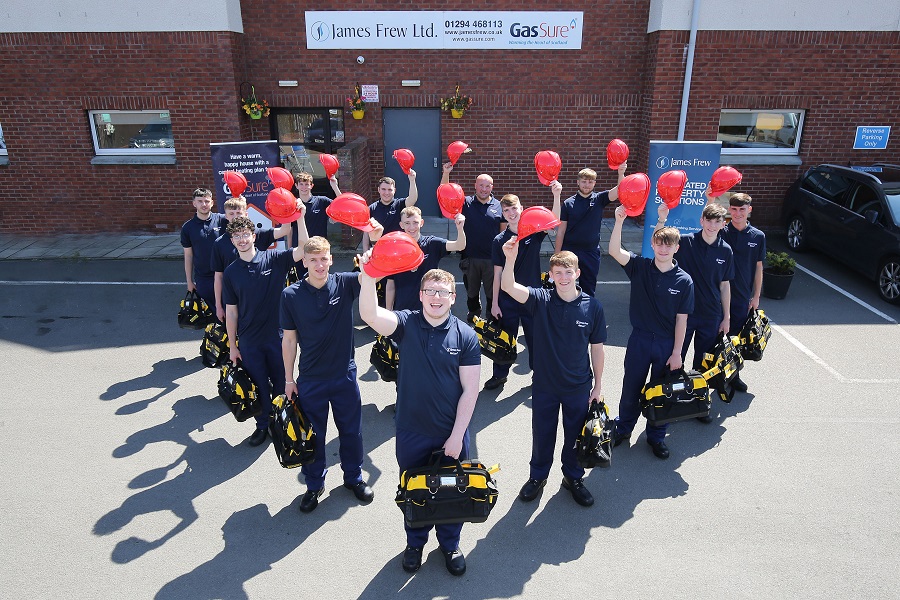 West College Scotland and James Frew have finally welcomed their 2022 Modern apprenticeship intake after months of rigorous interviews and selection tests.
With 15 new apprentices across three trade disciplines, the move further confirms the partners' commitment to investing in future talent, building capacity, and improving the life chances of young people.
The Induction Day, organised by training coordinator Elaine Kean, was a tremendous success and was attended by senior managers, former apprentices, current apprentices, and skills partners. Former and current apprentices were on hand to share their apprentice journey with our new recruits.
---
---
All Modern Apprentices will participate in off-the-job training at college at West College Scotland's Paisley campus and on-the-job training working with James Frew's business units and progress their learning within the Academy.
Elaine said: "All the new apprentices have settled in well and gained a valuable insight into the life and work of James Frew Ltd. Our apprentices are ambassadors for our organisation, and it is great to see them develop their skills."
This new cohort comes as a second group of 4th-year apprentice graduates from the programme before become time-served tradespeople, taking their first steps into the industry. The Academy to date has secured 54 individuals permanent positions with James Frew Ltd and a further 15 are currently participating in the pioneering programme.
Head of construction and building services, Paul Lynn, who leads the Academy for West College Scotland, said: "It is evident to see the overwhelming success that the partnership has achieved so far producing a skilled workforce for the future. We wish all the graduates the very best as they enter into the next stage of their career and look forward to see where the Academy journey takes our new recruits this year."
---
---
Modern Apprentice Paul Marshall picked up the West College Scotland 1st Year Outstanding Achievement Award which was presented to him by curriculum and quality leader Allan Bauld.
Allan said: "Paul is determined to succeed, and we wish him every success as he progresses his career."
Managing director Roddy Frew added: "The induction day is the start of a new journey for our Modern Apprentices, a journey I started myself a few years ago now. Many of our apprentices are now leaders within the organisation. I have always believed in promoting from within and it is such a rewarding experience to see our young people grow and develop. It is not just important to invest in future talent, but it is essential."
This wasn't the only success for the Academy recently with apprentices Conner Fettes and Ben Mitchell being chosen to represent West College Scotland in the SNIPEF SkillPLUMB competition which took place at Clyde College on Friday 10th June. Ben was delighted to achieve third place in the lead event, an excellent achievement against apprentices from colleges throughout Scotland.
---
---
Dr Lee Coutts, assistant principal technology & skills, said: "We are delighted to be able to welcome a new cohort of apprentices to the James Frew Academy. The success of the collaboration between the College and James Frew is evident in the fantastic achievements of our students."
---