Jeanette MacIntyre: Defining where innovation starts and stops can be a challenge for SMEs – at Indeglås it's an intrinsic part of the way we do things
Indeglås MD Jeanette MacIntrye outlines the importance of innovation when approaching projects such as the new atrium at the University of Glasgow's new Advanced Research Centre.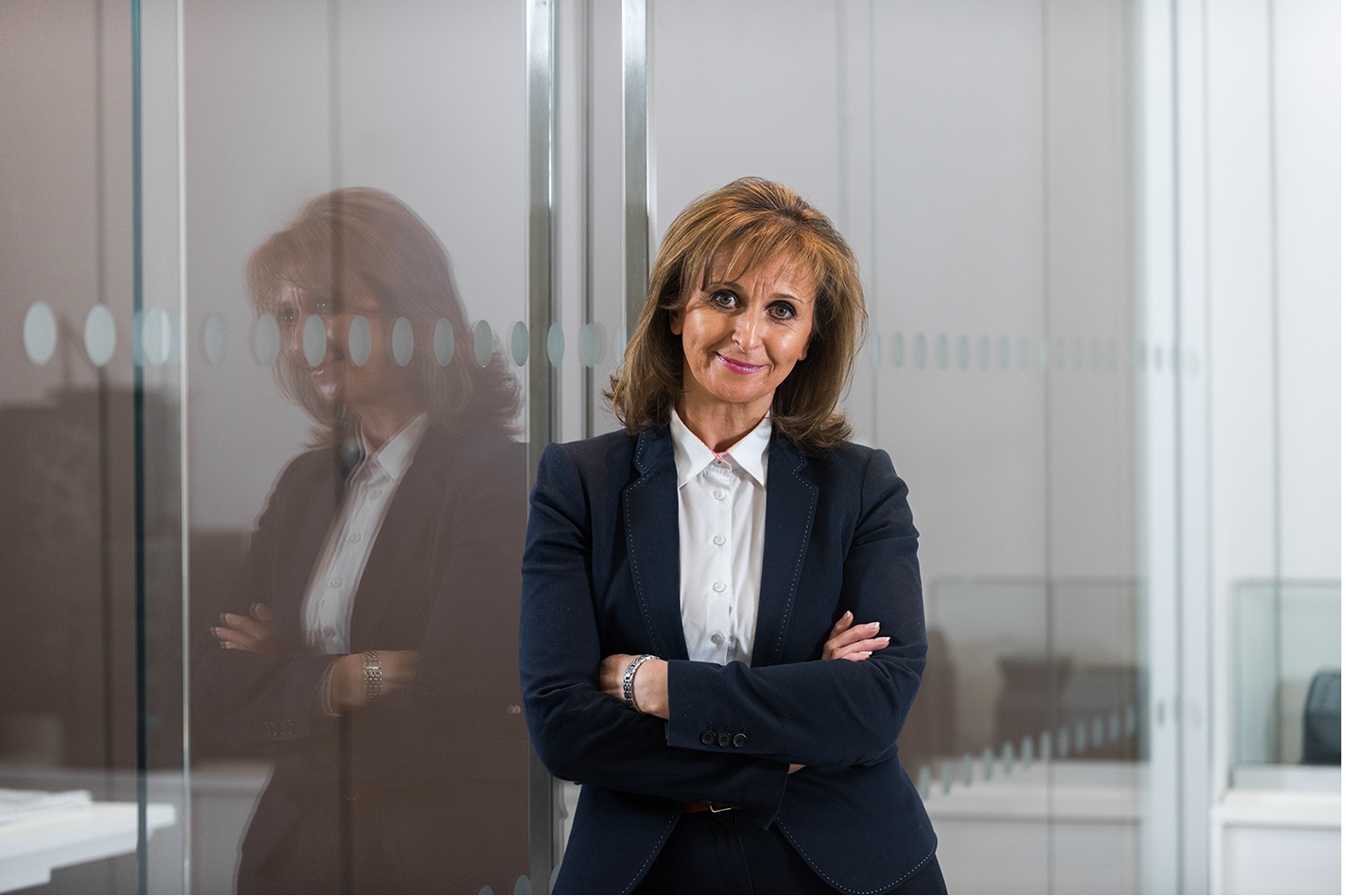 The UK Government's 'Build Back Better' plan emphasises the need for companies, suppliers, and research partners to "collaborate' and "innovate" to find solutions which are sustainable, effective and create long-term value.
Innovation is often perceived to be a project which runs completely separately from the day job, separately resourced, funded and programmed and for many smaller companies this type of investment seems impossible. Many progressive companies are already innovating, however, deciphering the point at which normal day to day problem solving becomes innovation can be a challenge.
---
---
At Indeglås, innovation has become so ingrained in our methodology, it has simply become an intrinsic part of the way we do things. A recent project, the £113m new build, Advanced Research Centre for the University of Glasgow, provides a splendid example of a collaborative and innovative partnership and the benefits it contributed to the project outcome.
Appointed by Multiplex to design, engineer and install all internal glass, including the bespoke atrium glazing system, the Indeglås team's approach was to evaluate and research the project brief through the application of our unique design methodology. Adopting this approach identified all areas to which we could apply tried and tested systems and highlighted three key areas which required wider collaboration and innovation.
Having spent many years developing trusted relationships with a carefully selected team of qualified advisors including specialist engineers, suppliers, lifting equipment technicians and steel fabrication specialists we created task teams, each challenged by a series of "what if" scenarios to find solutions. Timeframes were extremely tight; pressure, however, can often focus the mind. We understand the real-time pressures of construction phase developments at Indeglas and the strength of our network of collaborators provides our clients with trusted and well-considered proposals often way ahead of expectations.
Challenged to achieve performance criteria including structural integrity, fall from height safety, acoustic performance, resistance to explosion, slab edge support system and glass pane height of 4400mm for the atrium screens, our innovative approach resulted in bespoke, off site manufactured, modular steel supports which were locally manufactured and installed on the concrete slab edge on each floor level using advanced laser technology to achieve a tolerance of +/- 1mm.
---
---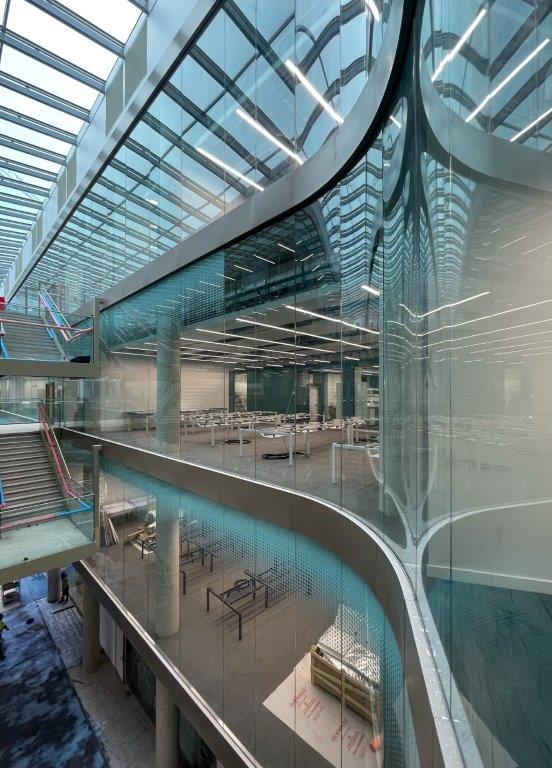 The identification and specification of the glass required a separate task team where supply chain knowledge, production techniques and logistic methodology were subjected to the same 'what if' scenario planning, leading to the identification of a robust and high-performance laminated glass product with project specific, high strength interlayer.
An extremely high level of accuracy was required to enable heavy glass panels to be crane lifted from the atrium side to each of the four floors individually using two specially adapted cranes before sliding the glass horizontally into place. This called for a trusted team of specialist lifting equipment technicians, suppliers, qualified operators and logistics specialists who were invited to collaborate to provide solutions for a complex number of access limitations as well as accounting for the handling of bespoke and curved profiles and the specialist training portfolio required.
Most innovative solutions contribute beneficial outcomes which are often hard to determine at the outset and the project at the Advance Research Centre was no exception.
---
---
Here are some of the 'wins' I believe arose from our focus on innovation:
Incorporation of a complete change in methodology of install without impacting the programme.
Impressive training certification portfolio upgrading skills for management, operatives, and logistics staff.
Circular economy benefits - all staff and glass supply, a major supply component, coming from supply chain within 5 a five-mile radius of the project.
Two labourers employed from within a ten miles radius of the project are both now fully qualified logistics wardens.
Atrium glass installation programme reduced by approx. three weeks.
Shared risk and reward on crane hire.
Collaborative partnership established with new customer Multiplex – leading to further contract award.
'Visual delight' achieved – a term used by daylight engineers to describe an interior which facilitates constant interaction with the variances of natural light enhancing human performance levels - a legacy benefit for University of Glasgow staff and visitors throughout the life cycle of the building.
Key to the support of successful innovation is the creation of an appropriate environment by the principal contractor and in this instance, we have the team at Multiplex to thank for contributing their considerable, collective expertise, support, openness, and collaborative approach throughout the design phase and beyond.
The resulting interior is testament to the partnership formed between our companies. Indeglås team members are excited to progress with Multiplex onto the next new campus building which will provide a home for the University of Glasgow's Institute of Health and Wellbeing.
---
---
For companies within the built environment sector looking to explore how innovation could further their service provision, the team at Construction Scotland Innovation Centre is on hand to support with partnership and research contacts, an impressive range of training and workshop options.
---