Local pupil's artwork wins Dandara competition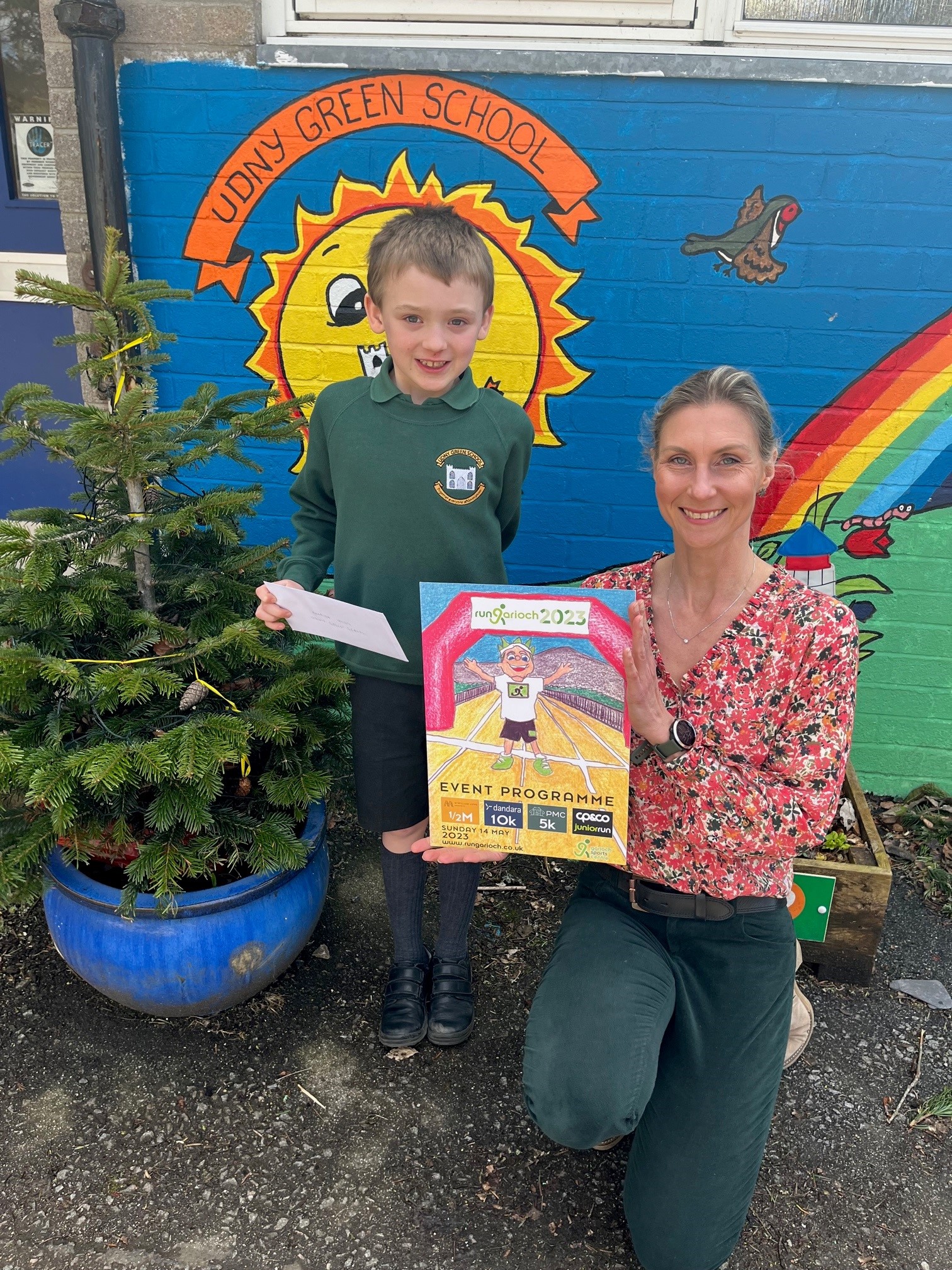 A young artist has won Dandara's yearly competition to design the front cover of the event programme for Run Garioch, which will be held in Inverurie on 14th May.
Eight-year-old Ruaridh Young's design, featuring a smiling runner crossing the finish line against a backdrop of picturesque scenery, beat more than 60 entries from schools across Aberdeenshire.
Ruaridh, who attends Udny Green Primary School, was presented with a £25 voucher from Strachan's toy shop in Inverurie. He explained the inspiration behind his design: "I ran last year at Run Garioch and saw Garioch the mascot. I decided to draw it but the colours were dark, so I changed them and drew Bennachie in the background as it is part of the Garioch."
---
---
Emma Gibb, Udny Green School's Head Teacher, said: "Ruaridh and his family are very active and do well in many sports. It's really good that their creativity is being showcased too."
Artistic talent runs in the family as Ruaridh's younger brother Padruig Young and sister Eilidh Young were also shortlisted for the prize.
Claire Bathgate, head of sales at Dandara Aberdeen, sponsors of the 10K run, was one of the judges. She said: "It was amazing that so many pupils took time to enter the competition and the standard was extremely high.
"There were lots of fruit and vegetable designs, no doubt inspired by last year's winning cover which featured a running avocado. However, we were all blown away by Ruaridh's design. It is so uplifting and joyful, which is what the race should be all about.
---
---
"I believe Ruaridh is running in the race again this year, we look forward to seeing him there…and we hope there will be blue skies on race day just like in his picture."
The Dandara 10K is part of Run Garioch, a major fundraiser for Inverurie's Garioch Sports Centre. The annual festival of running will also include 5K and Half-Marathon distance events, three children's runs and a bustling event village.
The 2023 Dandara 10K will mark 10 years of the housebuilder's support of Run Garioch and the local community. The company became the first sponsors of the festival's 5K race when it was launched in 2013, taking over sponsorship of its flagship 10K race when it became available in 2014.
Starting and finishing at the Garioch Sports Centre, the festival – which started life as the 'Garioch 10k' – has been part of Inverurie's community calendar since 2006. This year's event is set to be the greenest yet with bamboo medals and sustainable winners' trophies and has already attracted entries from more than 2300 runners.
---