Lord Provost of Glasgow marks topping out of Cadworks office development
A ceremony was held yesterday to mark the topping-out of real estate investment firm FORE Partnership's flagship Cadworks office development in Glasgow city centre.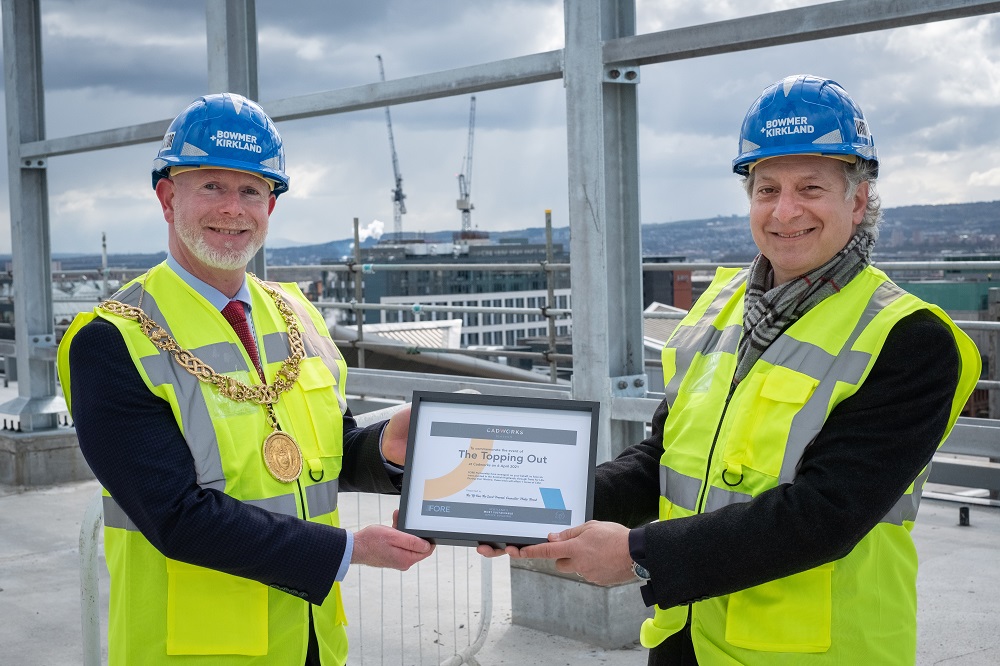 Alongside FORE Partnership's Basil Demeroutis, Aurélien Collignon and Giles Edwards, the Lord Provost of Glasgow, Philip Braat and Councillor Angus Millar, convener of the environment, sustainability & carbon reduction CP committee, and Chris Kirkland from contractor Bowmer & Kirkland, marked the socially distanced topping-out ceremony by planting a symbolic tree on the building's top floor as well as signing a steel column that completes the structure of Cadworks. Cadworks is FORE's flagship development in Glasgow city centre.
The 95,000 sq. ft. speculative office development will complete in time for COP 26, Glasgow's global climate summit, in November 2021. It will be one of the first office buildings in the city to be net zero carbon in operation. With the UK and Scottish Governments setting ambitious carbon-reduction targets, Cadworks will act as an exemplar building for the city's future. FORE's industry-leading commitment to be net zero across its portfolio by 2025 is exemplified in Cadworks, which uses no fossil fuel in its operation and is one of the only all-electric offices in Glasgow.
---
---
Cadworks focuses on improving health and well-being as well as the environment. It is the first commercial building in Scotland to use Airlite, a 100% natural paint technology that neutralises greenhouse gases and kills viruses. The Airlite paint at Cadworks has the same air purification power as more than three acres of forest.
Following the Scottish Government's coronavirus guidelines, the topping-out ceremony featured a tour of the site and a visit to the roof of the ten-storey development to mark this important milestone for the city and the building. Provost Braat and Cllr Millar were toured around the property by Demeroutis and Collignon, including a visit to the cycling facilities. Cadworks will offer the country's only integrated cycle access ramp and the city's most comprehensive facilities for cyclists with 119 bike stations, 138 lockers, 11 showers, a cool down zone, stretching area, with an airing station and fold out ironing station.
Cadworks is targeting a BREEAM rating of 'Excellent' and an EPC 'A' rating and has also been awarded a WiredScore highest 'Platinum' accolade for its hyper digital connectivity.
The building's main contractor, Bowmer & Kirkland, started on site in August 2019, and with the main part of the building now complete, work has begun on internal framework and fit-out.
---
---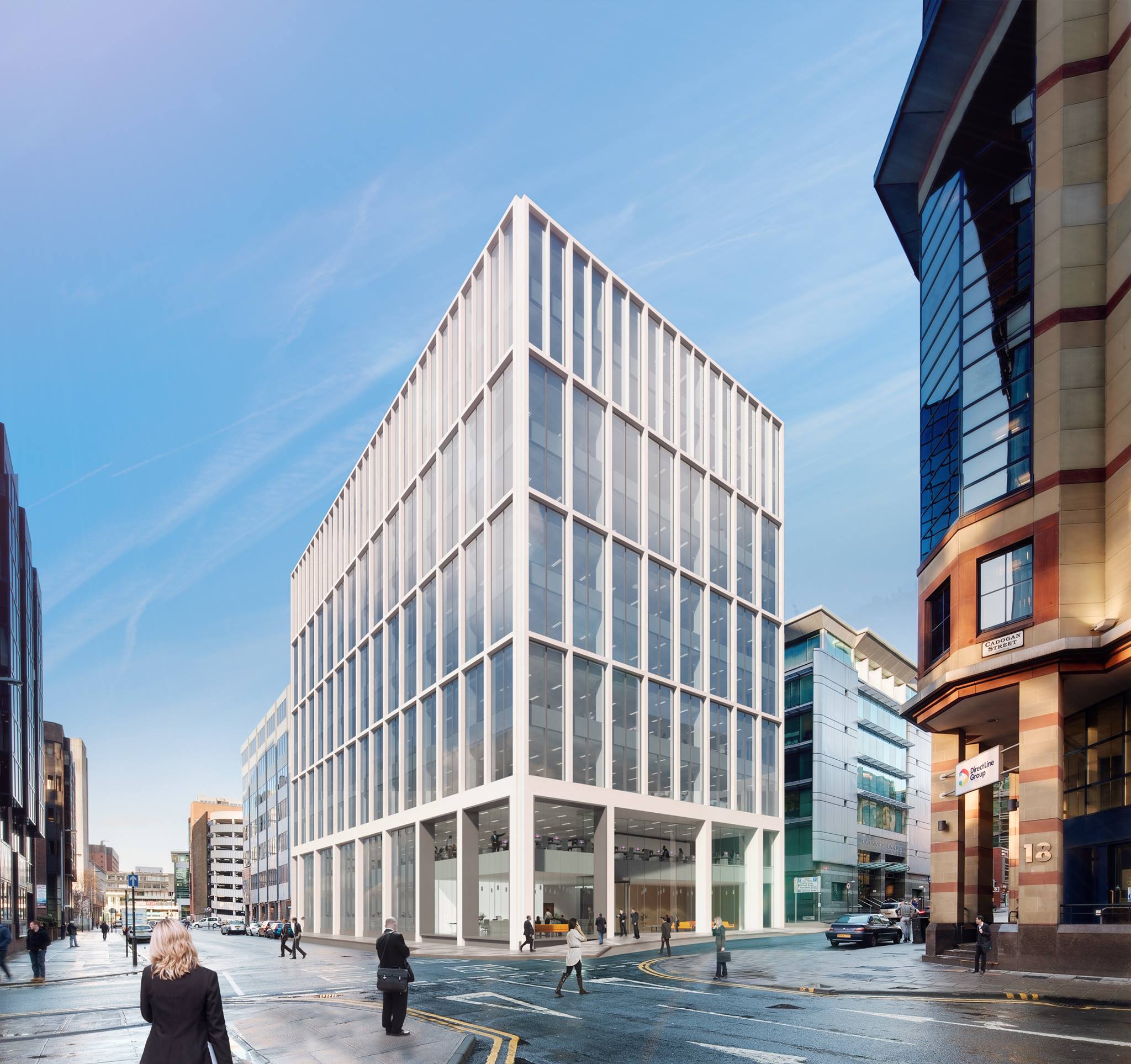 Lord Provost Philip Braat said: "In more ways than one, Cadworks is a development that captures something really positive about today's Glasgow.
"In the year of COP26, its credentials as a sustainable building are clear – and, as we seek our environmental, social, and economic recovery from the pandemic, it also promises to be a workplace in the heart of the city that is healthy, inclusive, and focused on people."
FORE managing partner, Basil Demeroutis, added: "Technology, climate change, shifting demographics, social upheaval – and yes, Covid-19 – are causing us all to re-imagine our urban systems: how we live, work, and interact. Cadworks is at the heart of the "new economy" that has emerged to capitalise on these forces and the transition to a low carbon, more inclusive future.
---
---
"The last year has not been easy, especially when we had a key part of our funding pulled overnight. But I'm very pleased that we persevered, and with the support of our senior lenders at Bendall Greenoak in particular, we have managed to get to this major milestone some four weeks ahead of schedule.
"We are certified as a B Corporation, part of a movement driving and using business as a force for good. Our partnerships focus on similarly ethical firms up and down our supply chain – and in the local community in particular. These have proven to be great examples of how when we work together collaboratively, we can tackle great challenges."
FORE's over-arching mission is to accelerate the transition to a low carbon economy and to do so in a just way by supporting local communities wherever it is present. Cadworks is driving tangible and enduring social change in Glasgow and is an exemplar of good sustainable stewardship of the built environment, in line with the city's 2030 zero carbon emissions target.
The project has been designed by Glasgow-based architects Cooper Cromar and Bowmer & Kirkland is the main contractor. Ryden, Savills and Avison Young are jointly marketing Cadworks.
---