Mears employee wins top facilities management award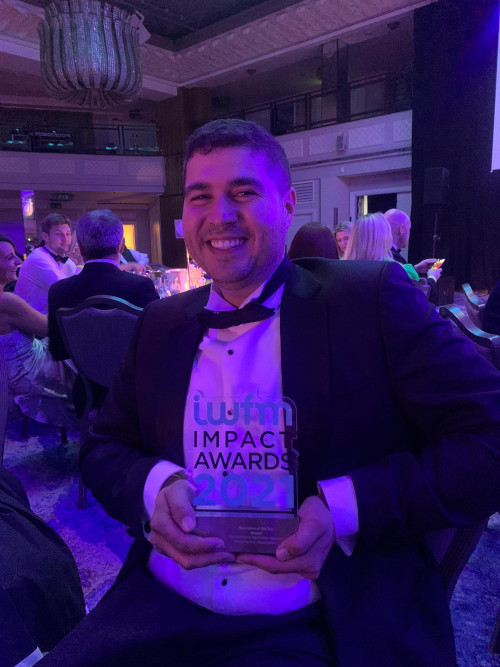 Mears has celebrated the achievement of its facilities general manager Alex Ballintine after he won the 2021 IWFM Award for Newcomer of the Year.
The award recognises exceptional new talent in the profession, identifying individuals who have made a significant impact on the provision of the workplace and/or facilities management services within the first three years of their journey in the profession.
The IWFM Impact Awards is the workplace and facilities management industry's most prestigious event; it celebrates and showcases outstanding best practices and ingenuity from an influential profession that touches many areas of life, including some of the greatest challenges facing economies and communities across the globe.
---
---
In a glittering ceremony hosted by comedian and TV regular Mark Watson, 63 finalists vied for the hotly competed categories with the winners reflecting the fundamental contribution that the workplace and facilities sector is making to contemporary challenges at every level, from frontline care to smart innovation.
Mr Baillintine has been with Mears Facilities Management (FM) for two years and runs its largest contract, a complex 30-year TFM and lifecycle Private Finance Initiative contract for Alpha Schools Ltd in the Highlands estimated to save the council £1 million over the life of the contract.
Commenting on his award, Mr Ballintine said: "I am absolutely over the moon to be recognised with this award. I have never felt so proud to work for a company before.
"We have such a great team at Mears FM and I want to thank everyone for supporting me and helping me learn and grow within this industry – and what an industry to work in. I'm just blown away!"
---
---
Kevin Woodcock, managing director of Mears Facilities Management, said: "We're all delighted that Alex has won this prestigious award. He has had a tremendous impact since joining our business in all areas.
"His can-do attitude and delivering on promises made, makes him stand out with everyone who meets him. A true professional and someone who has an enormous future ahead."
---