MSP visits new Persimmon homes site in Kirkintilloch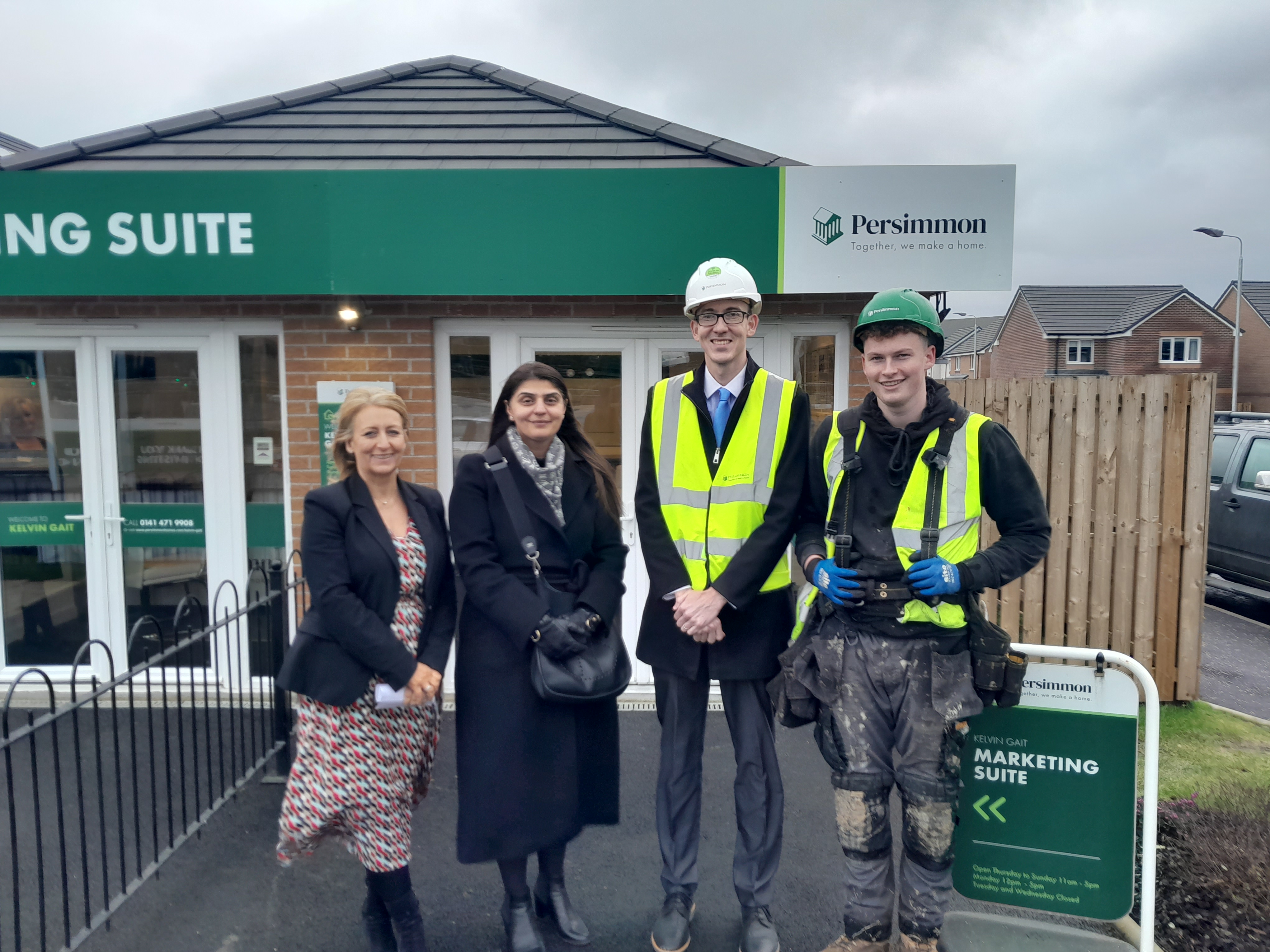 West Scotland MSP Pam Gosal visited Persimmon's Kelvin Gait development in Kirkintilloch and met with workers and apprentices to hear about the home builder's investment in East Dunbartonshire and across West Scotland.
Kelvin Gait features 84 energy-efficient new homes, ranging from one to four bedrooms – 17 of which are being transferred to Sanctuary Housing Association. The new homes were built on a derelict brownfield site beside the old headquarters of East Dunbartonshire Council, transforming the area from an eye sore into a modern, accessible and affordable development.
As well as being within a 10-minute walk of the town centre, local school and sports centre, the site is designed to encourage active travel and includes a section of cycle way that connects to the National Walking and Cycling Network.
---
---
Ms Gosal, shadow minister for higher and further education, youth employment and training, was given a tour of the site and met with the local Persimmon team to discuss the opportunities and challenges facing the housing sector, as well as the home builder's successful apprenticeship programme.
Chris Logan, Persimmon West Scotland managing director, said: "It was great to welcome Pam to our Kelvin Gait development to show her the new homes and investment that has regenerated a key gateway into Kirkintilloch.
"The development is not only delivering much-needed housing, it embodies the twenty-minute neighbourhood principle, with fantastic connections to the town centre, local facilities and public transport.
"With the average price of a Persimmon home 16% below the average price of a new build in Scotland, we're proud to be opening the door to home ownership for more families in East Dunbartonshire and across West Scotland."
---
---
Pam Gosal MSP added: "I am delighted to see Persimmon's Kelvin Gait development near completion. This site has supported apprentices to gain vital hands-on experience. The affordable homes which have been built on this site are important in rejuvenating the area and giving many an opportunity to get on the property ladder."
---