Network Rail and Balfour Beatty bring back Forth Bridge abseil with charity partner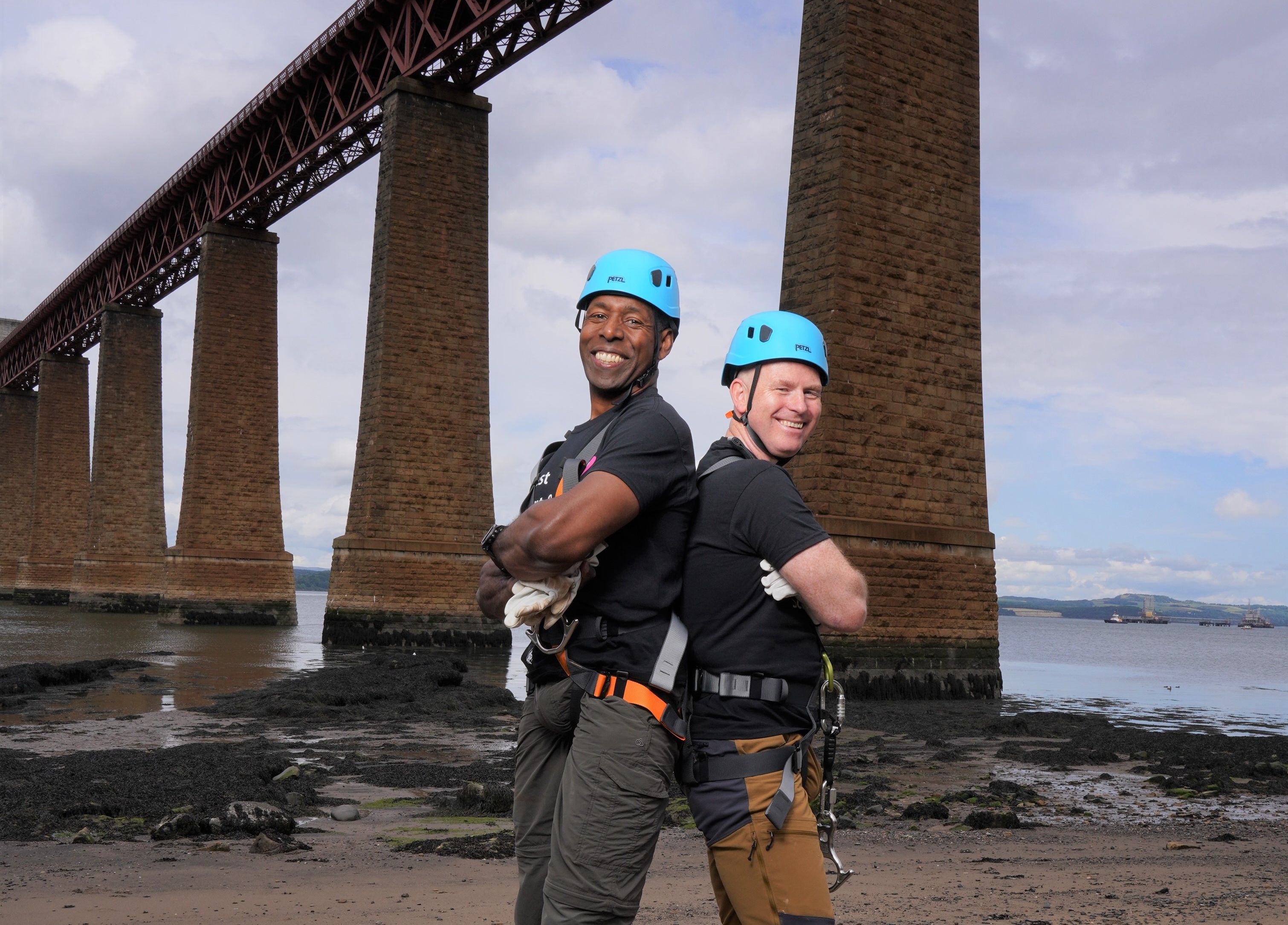 Stroke survivors Andy Ward and Troy Johnson took on a challenge of a lifetime by abseiling 165 ft off the Forth Bridge to bring back Scotland's largest charity fundraising event.
They were joined by Alan Ross, director of engineering and asset management at Network Rail, along with Carol Milligan, finance director at Balfour Beatty, and Kirsten Sadler Balfour Beatty stakeholder engagement lead.
The pair are urging adventure-seekers to sign up to take part in the ultimate abseiling experience from the iconic Forth Bridge – Scotland's Best Loved Landmark, and a UNESCO World Heritage Site, whilst raising much needed funds for Chest, Heart & Stroke Scotland and other partner charities.
---
---
The event will return on 8th October 2023, 20 years on from when it first launched 2003, with over 600 abseiling places available. The abseil last took place in 2019 before taking a break due to the covid pandemic.
Since the event launched in 2003, it has raised at over £3m for charities including Chest, Heart & Stroke Scotland, allowing the charity to support the 1 in 5 people across Scotland living with chest, heart and stroke conditions.
Lawrence Cowan, director of income generation at Chest, Heart & Stroke Scotland, said: "We're thrilled to bring back our iconic Forth Bridge Abseil for 2023.
"Our events are all about bringing out the joy in doing good. The Forth Bridge Abseil is a great way to get your friends together, challenge yourselves and raise money to help people live life to the full. The event has raised over £3m for good causes since it launched in 2003 and we want to make this one the biggest and best yet.
---
---
"We look forward to welcoming more fantastic fundraisers to take part in the event this year, supporting us to ensure that there is no life half lived in Scotland."
Alan Ross, director of engineering and asset management at Network Rail, said: "We can't wait to welcome back Chest, Heart and Stroke Scotland to the Forth Bridge. The abseil offers people the chance to experience the bridge in a unique and thrilling way, whilst raising money for charity. We're delighted to lend our structure to such a worthwhile cause."
Carol Milligan, finance director for Balfour Beatty's Regional business in Scotland, said: "I was delighted to join with colleagues from Chest, Heart & Stoke Scotland and Network Rail today, to mark the 20th anniversary of the iconic Forth Bridge Abseil charity event.
"The event has raised millions for charity since its inception and we can't wait to unlock the doors to the Forth Bridge once more, to make this year's abseil the biggest and most successful to date."
---
---
Andy Ward lives in Paisley with his wife, Linda. A board director of a technology company, he experienced a haemorrhagic stroke in September 2023 and was left with aphasia. Told he might only recover a small percentage of his ability to communicate, Andy threw himself into his recovery with the help of Chest Heart & Stroke Scotland's men's stroke peer support group in Paisley. Since then, Andy has taken part in a number of physical fundraising challenges, including walking the West Highland Way to raise money for CHSS, and most recently cycling from Paisley to Inverness.
Troy Johnston lives in Longniddry, East Lothian, with his wife Pippa. A former Royal Marine Commando, Troy had a stroke whilst out for a cycle in 2020. Being much younger than many people on the stroke ward at the time of his recovery, Troy struggled to find the support he needed. He was later helped by Chest, Heart & Stroke Scotland's Lead Stroke Nurse in the area, Audrey Bruce, who as well as helping Troy deal with the clinical aspects of stroke recovery, also put him in touch with CHSS's Community Support Services to give him more emotional and psychological support, where he was able to meet with like-minded individuals with similar experiences to his own.
Troy's also no stranger to a challenge. A cyber security specialist since leaving active service, Troy has always been fit and active. In the year of his 50th birthday, he completed 50 challenges, including triathlons, unassisted open sea kayak navigations, open sea swims and Munro bagging. One year on from his stroke, Troy cycled 56 miles to raise funds for CHSS and recently returned from the 2023 Veteran Games in Israel where he won a gold and a silver medal.
Speaking at the launch event, Andy Ward commented: "Since having the stroke, I have pushed myself as hard as I can to recover as fully as possible. It's not been an easy journey, but it's given me a determination to continue to challenge myself, and in the last six months I've walked and cycled hundreds of miles to raise funds for CHSS and other charities.
---
---
"Taking part in the abseil today is just another way of living my life to the fullest extent possible! It's been a great experience and once that I hope hundreds of others will sign up to take part in too."
Commenting at the abseil, Troy Johnson said: "Taking part in the abseil today has been a fantastic experience. As a former Royal Marine, I have always worked hard to challenge myself physically and mentally and have continued to take that approach to living my life after experiencing stroke.
"Chest, Heart & Stroke Scotland supported me at a very difficult time in my life. I hope the Forth Bridge Abseil helps to raise much needed funds to support others living with chest, heart and stroke conditions across the country."
If you are interested in signing up for the iconic fundraising event, visit www.abseil.scot.
---