New £16m centre for subsea development opens in East Kilbride
TÜV SÜD National Engineering Laboratory has delivered a new £16 million centre for subsea development in East Kilbride.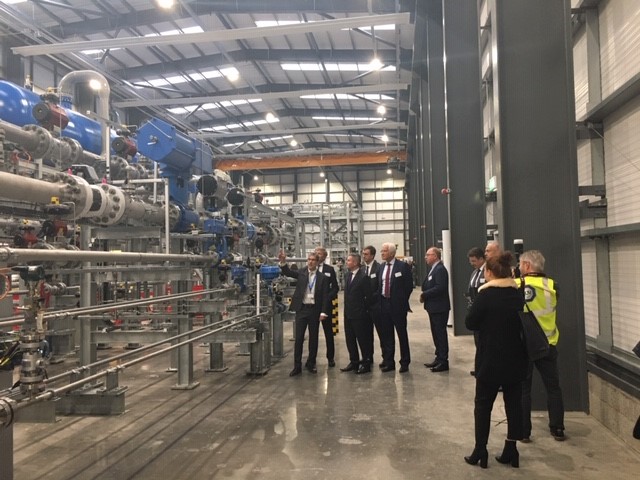 Aimed to position Scotland as a world leader in multiphase flow measurement, the centre gives Scotland a unique global capability, builds on its position as a leader in flow metrology for subsea engineering and oil & gas innovation and makes a significant contribution to growth ambitions of companies operating within the oil & gas sector.
Known as the Advanced Multiphase Facility (AMF), the new centre is part of TÜV SÜD National Engineering Laboratory's East Kilbride facilities and was officially opened during a visit by cabinet secretary for finance, Derek Mackay.
---
---
Mr Mackay said: "TÜV SÜD National Engineering Laboratory's £16m investment into this facility is great news for Scotland.
"The Scottish Government is working hard to establish stronger trading links between Scotland and Germany and this news is testament to Scotland's ability to attract inward investment in spite of the continuing uncertainty around Brexit."
Dr Brian Millington, managing director of TÜV SÜD National Engineering Laboratory, said: "The AMF's world-leading research facilities will support the global oil & gas industry with both current and future measurement challenges, from well optimisation to fiscal accounting. While significant production opportunities exist in extreme environments, higher operating pressures and temperatures can impact the performance of multiphase flow measurement devices.
"The AMF will increase the viability of well exploitation by helping operators to more accurately measure multiphase flow and better understand the performance of production operations in these challenging but potentially profitable environments."
---
---
Time-lapse video footage of the AMF build
The new facility will focus predominantly on the £50-billion-per-annum global subsea sector, facilitating company-led industrial projects and product development, hands-on industry training and academic research.
TÜV SÜD National Engineering Laboratory started construction of the new laboratory in September 2017 and secured a £4.9m R&D grant from Scottish Enterprise as a contribution towards its £11.1m investment in the centre, taking its total investment to £16m.
---
---
The centre will also offer potential benefits to companies in other sectors such as food and drink, aerospace and renewable energy. Creating at least 17 new jobs, the centre will future-proof the delivery of innovative technical services to the oil and gas production market for the next 25 years.
David Smith, director of national opportunities for Scottish Enterprise, said: "It's fantastic to see the centre open and ready for business. Our £4.9m R&D grant was the catalyst for TÜV SÜD National Engineering Laboratory to secure over £11m of funding from its German parent company. Doing this means we can anchor the skills and expertise in the East Kilbride facility for the long term and create more economic opportunity for the families and communities in the area."
The centre has technology that can provide high definition images of how fluids and gases behave that gives companies intelligence on the efficiency of their operations and how to plan for future flow.
The new facility doubles the previously available testing capabilities on-site and has the highest flow rate in the world for both gas and liquid within one facility.
---