New Madras College building officially opened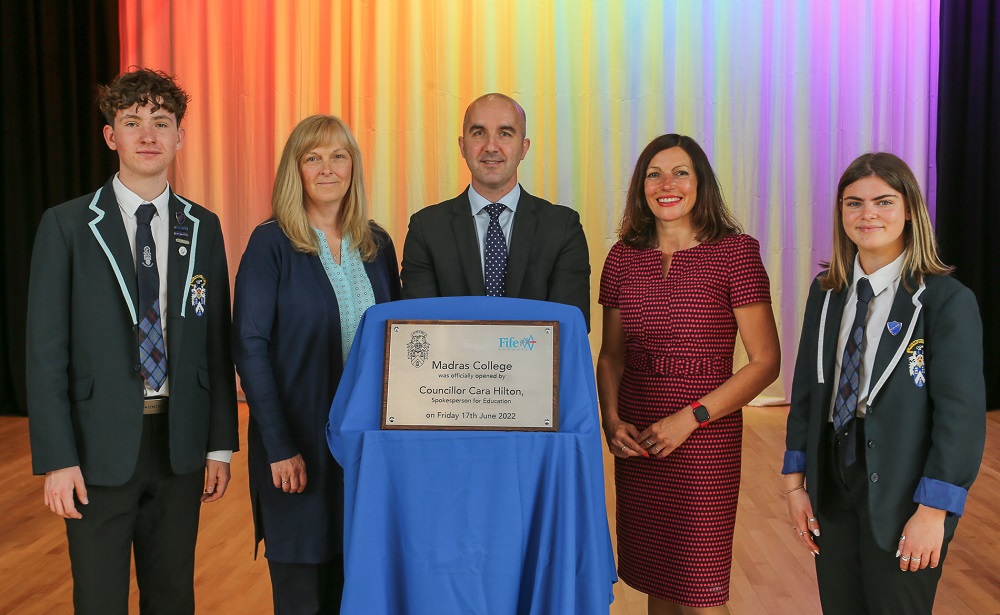 The new Madras College and Community Use building was officially opened on Friday with the unveiling of a new plaque.
Pupils and staff have been using the new Madras College building, which was delivered by BAM Construction, since the start of the school year.
Guests were welcomed by Madras Pipe Band, before being treated to a variety of performances from the school's drama and music groups.
---
---
Cllr Cara Hilton, spokesperson for education at Fife Council, said: "It has been a real pleasure to officially open the new Madras College and Community Use building, as one of my first duties as Spokesperson for Education.
"There's no doubt it was a long time coming but anyone who has had the pleasure to look round the school can't fail to be impressed. The new building has brought together the junior and senior schools, after decades of split site learning, into a space that has been designed and built with everything that's needed for a first class, 21st century education. The clever use of space and light creates the best conditions possible for quality learning and teaching and the purpose built classrooms are all fully equipped with the most up to date technology.
"The community use facilities are also second to none. Madras College has always been an integral part of the St Andrews and North East Fife community and I'm glad to see that this not only continues in the new building but is still thriving.
"During the opening ceremony today we were treated to some amazing performances from some of the students, providing just a taste of the talent that exists in the school. I'd like to thank all those who have been involved in making this day a reality and to headteacher Ken Currie, the staff and pupils for making us all feel so welcome. And I wish the current and future pupils of Madras College all the very best of luck for the future."
---
---
Ken Currie, headteacher, was there to welcome the invited guests and give them a look around the building.
He said: "We are so lucky to be able to work and learn in this amazing building and I'd like to thank the hundreds of people involved through the years, who have made this happen. The whole build faced some huge challenges during Covid but everyone pulled out all the stops to make sure that we were able to move in at the start of the new school year.
"Feedback from our staff and pupils tells us that they love their new space and are enjoying finally being together as one school, at one location. "
Work on the new Madras College began in July 2019 as part of Fife Council's £250m+ Building Fife's Future Programme.
---
---
Gary Bushnell, chief executive, hub East Central Scotland, said: "We are proud to have delivered such a high quality school for Fife Council which will fulfill an important role in the community for many years to come. Everyone on the project team worked incredibly hard to overcome the challenges of the pandemic and ensure that the school was open in time for staff and students to enjoy their new learning space."
---