NFRC kicks off 2023 programme of young people's slating masterclasses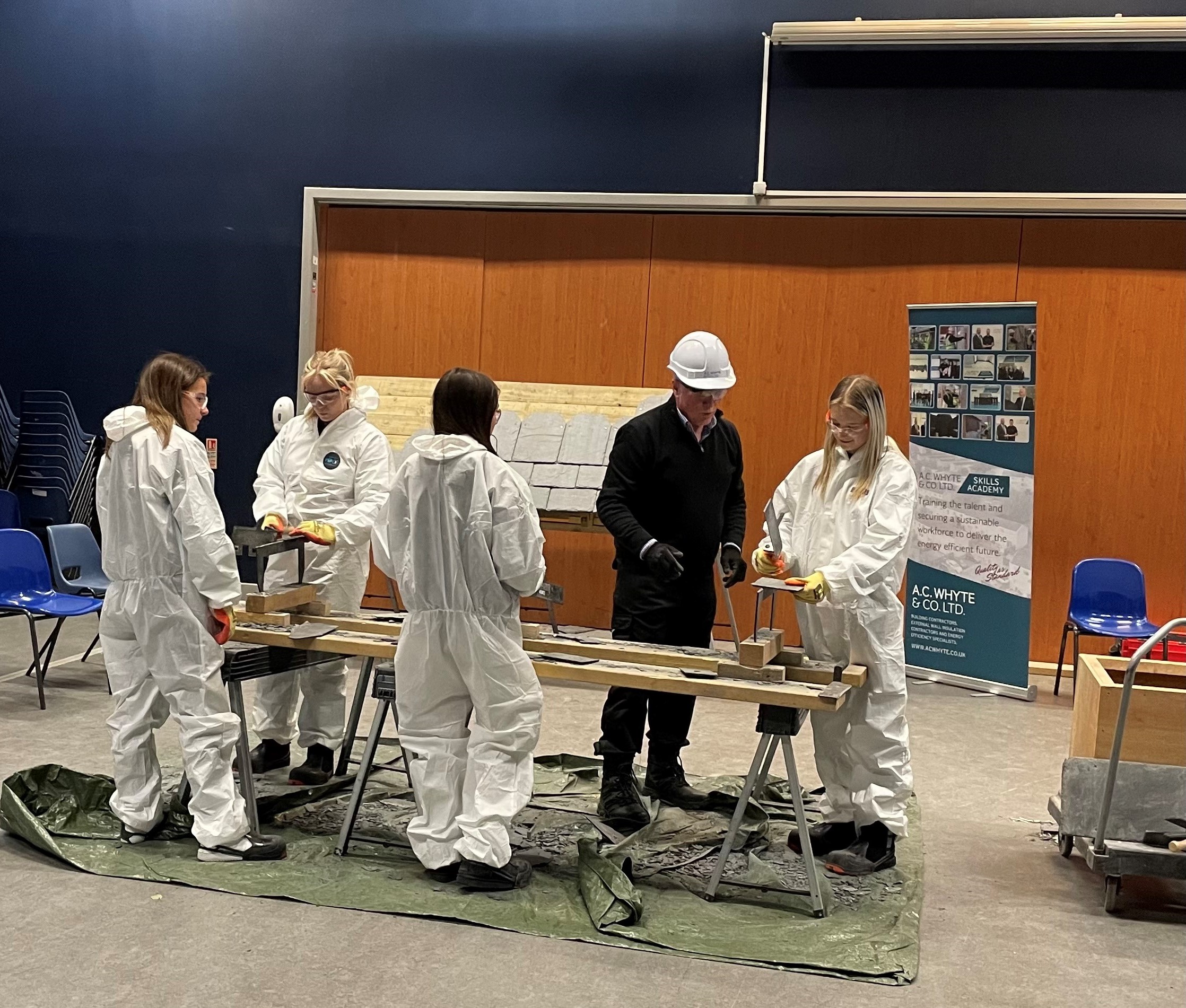 The National Federation of Roofing Contractors (NFRC) has begun its 2023 programme of skills demonstrations in Scotland, following a history of successful demonstrations in conjunction with Build Your Future.
This year's work began in Edinburgh: pupils at Gracemount High School and Liberton High School received a mini-masterclass in roof slating from NFRC member A C Whyte & Co Ltd.
In these sessions, pupils have the chance to take a hands-on approach to roof slating, and are shown how to properly install slate roofs before having a go themselves on a rig. This is accompanied by demonstrations from other construction trades such as stonemasonry.
---
---
Last year, NFRC delivered events across Scotland from Lochgilphead to Jedburgh and demand from schools for these events is very high. Further mini-masterclasses are planned for this year at several different locations. Any NFRC Members interested in participating can contact the Regional Manager for details on how they could help deliver a mini-masterclass.
NFRC works to support anyone who wants to enter the industry or bring new individuals into their business. Young people, career changers and anyone who wishes to learn more about accessing a career in the roofing sector, and what it can offer, can access free information and resources via the NFRC Careers Service. This service also has resources available for roofing firms who want to improve their approach to hiring and developing new talent.
Councillor Joan Griffiths, education, children and families convener at The City of Edinburgh Council, said: "These slating masterclasses are another great example of our commitment to working with partners like NFRC to showcase the variety of roles available within the construction industry including traditional trade apprenticeships. Skills demonstrations are being delivered in our secondary schools which supports our young people in providing them with the skills and experience to secure employment."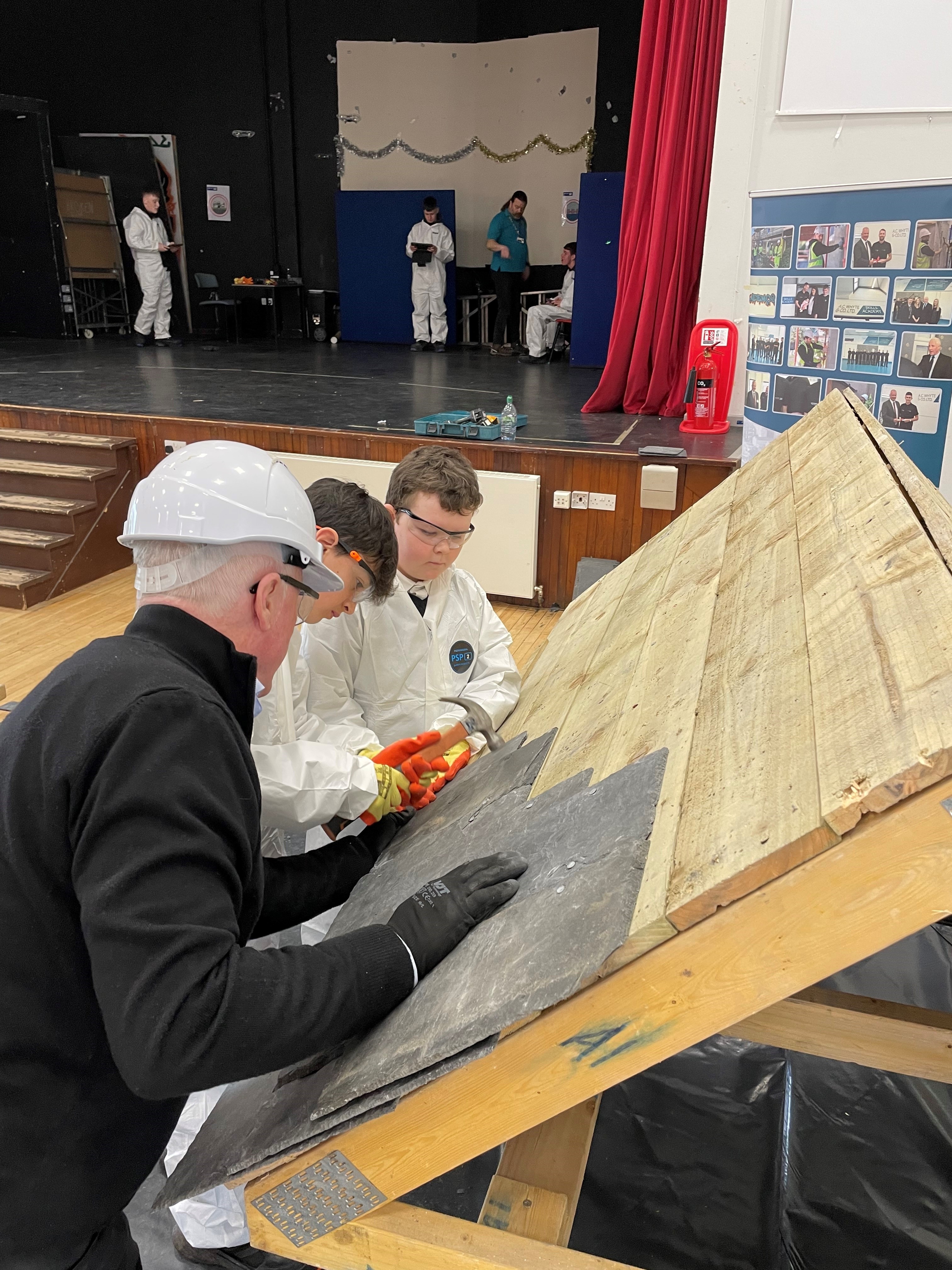 Dee Scott, deputy headteacher at Gracemount High School, said: "The session was fantastic. Pupils loved getting the chance to try out the stonemasonry, roof slating and drones in construction sessions, with a number of young people commenting about how it had really helped them figure out what they might like to do for a job in the future."
---
---
Scott Miller, NFRC Scotland chair, said: "NFRC continues to work with stakeholders across the supply chain to promote the many and diverse careers in construction. We are delighted to continue to work with The City of Edinburgh Council and others to roll out the construction skills demonstrations across Edinburgh to give the young people in the city the insight into the industry to allow them to make informed decisions about their future careers."
Lorna Preston, client relationship manager at AC Whyte Ltd, said: "A.C. Whyte is committed to fostering collaboration with third-party organisations, support groups, and educational institutions to promote a range of green and future-focused career opportunities, within the construction industry for young people. As part of this commitment, A.C. Whyte has delivered educational, practical sessions and events to support community wealth building in partnership with The City of Edinburgh Council.
"A.C. Whyte is currently involved in major retrofit projects in Westerhailes and Murrayburn and continues to prioritize promoting diverse green career opportunities for young people through its partnerships with local organisations and institutions. By encouraging a pipeline of skilled workers and promoting sustainable career paths, A.C. Whyte is dedicated to building a greener future for all."
---