North Lanarkshire Council helps pupil build a career in construction
The hard work of a former Airdrie pupil is being rewarded as he's now on the pathway to a career in construction thanks to expert advice and job coaching from North Lanarkshire Council's Supported Enterprise Service.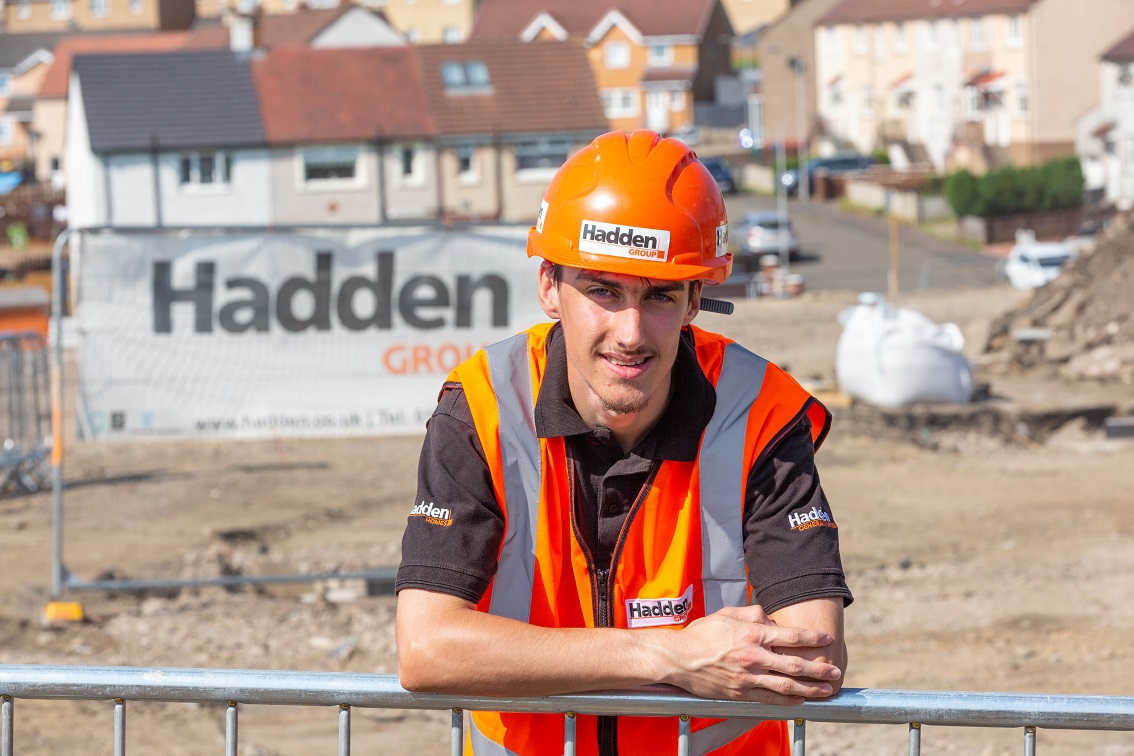 The service assists people with disabilities and those facing challenging barriers find a job and following a referral to the service while in 6th year at Buchanan High School, William Davidson began his journey into work.
Supported by his job coach, William undertook different job tasters in a variety of work settings. It soon became clear that his interests lay in one area only - construction, and he showed a keen interest in becoming a labourer. Now, William is enjoying full time work as a labourer for the Hadden Group, working on one of our new council house building sites in Airdrie.
---
---
William, who's now 18 and lives in Airdrie, is delighted to be in employment.
He said: "I felt great when I got offered the job. I look forward to getting up early in the morning to go to work. It's good to learn new and interesting facts. Getting my wages feels rewarding as I can now treat myself to the things I want. It's amazing to be working as part of a team rather than being stuck at home all day, feeling bored."
Before securing employment and with assistance from Routes to Work, his school and his job coach, William began his training to complete the Construction Skills Certification Scheme and gained his Green Card, allowing him to work in the industry. Despite undertaking this during the challenging times Covid brought, William passed on his first attempt.
The council's Community Benefits Team also became involved and helped William secure an interview with Hadden Group for a labourer position. William was successful in the interview and gained the position with a three-month probationary period.
---
---
Stephen Lynas, business development director at Hadden Group, said: "We're delighted to have William as part of our team. He's involved in the day to day running of the site, undertaking lots of physical work and has excellent communication skills. William's also gaining valuable experience, knowledge and insight from other, more experienced staff on site, who have also been extremely supportive."
During his probation and as part of his role he has completed Asbestos and Moving and Handling Training.
"It's been a real team effort," added Donella Duff, supported enterprise manager, "and William is just one example of how services across the council, partners and businesses can work together to make a real difference to people and local communities.
"We are all delighted to have supported William through every stage of his employment journey. However, it's down to William's drive, determination and hard work that he has achieved his goal. We wish him every success in his future career."
---
---
As part of the council's new plans to deliver 5,000 new homes by 2035, each new build project involves developers delivering a range of community benefits. These can include local training and employment opportunities, grants to community groups and funding local projects. The Hadden Group is delivering a range of community benefits as it builds 31 new, affordable homes on the site at Northburn Avenue.
---