Ocean Kinetics breathes new life into 200-year-old Copeland Lodberry on Lerwick waterfront
One of Shetland's most distinctive and historic built heritage features – the 200-year-old Copeland Lodberry in Lerwick – is to be renovated and transformed by local engineering company Ocean Kinetics.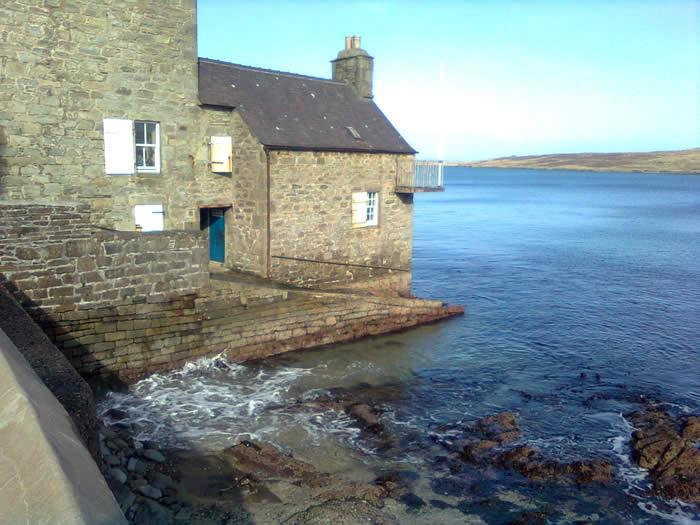 The company, which specialises in a wide range of marine work and fabrication services for sectors including energy, renewables, fishing, aquaculture and marine salvage, purchased the building in November and using traditional and local construction techniques, it will create a new marine training resource here for its staff.
"The Copeland Lodberry is one of the few lodberries left on Lerwick's seafront," said Ocean Kinetics managing director John Henderson, "and over the next six months we will be restoring and preserving it so that it will continue to be a wonderful feature of our islands for centuries to come."
---
---
Lodberries, once numerous in Shetland but now rare, were merchants' dwellings usually from the 17th or 18th centuries which included a house, courtyard, warehouse and pier. Most recently the Lodberries have gained fame as the home of detective Jimmy Perez in the television series 'Shetland'. The Copland Lodberry often features, as it is attached to the detective's iconic home.
Ocean Kinetics are working with architect Colin Sim from Malcolmson Architects in Scalloway and Karl Tait from Arch Henderson's on the project, and all the work will be carried out by local craftsmen reusing as much of the original materials as possible.
"The stonework is generally in good repair," said John Henderson, "but the roof and internal timbers, including windows and doors, are in poor condition and will need extensive work. We will also require new plumbing and electrics.
"The ground floor will be covered in traditional stone flagstones, reusing the old flags wherever possible. The internal layout will be open plan downstairs, including a small meeting area; upstairs will also be open plan with an area for training.
---
---
"The courtyard and pier are being repaired, with the deck of the pier being relayed to allow it to be used safely."
Another significant challenge is flood prevention and this will be provided in a number of ways. Arch Henderson have designed a heavy floor slab and tanking system that will overcome the high tides and storm surges that are predicted over the decades to come. Internal drainage and pump sumps will give additional protection, along with storm gates and shutters fitted to protect windows and doors.
"It's important for us to maintain the unique character of this building and retain its architectural integrity," said John Henderson, "so all of these measures will be well concealed and the finished appearance will be outstanding.
"It is a real privilege for us to be restoring this great piece of Shetland history, but even more importantly to be bringing it back to its use as a working building with its focus and purpose linked once again to the sea. That's very rewarding, and we think the merchants who once traded from here would approve."
---