Official launch of £20m Inverclyde cruise visitor centre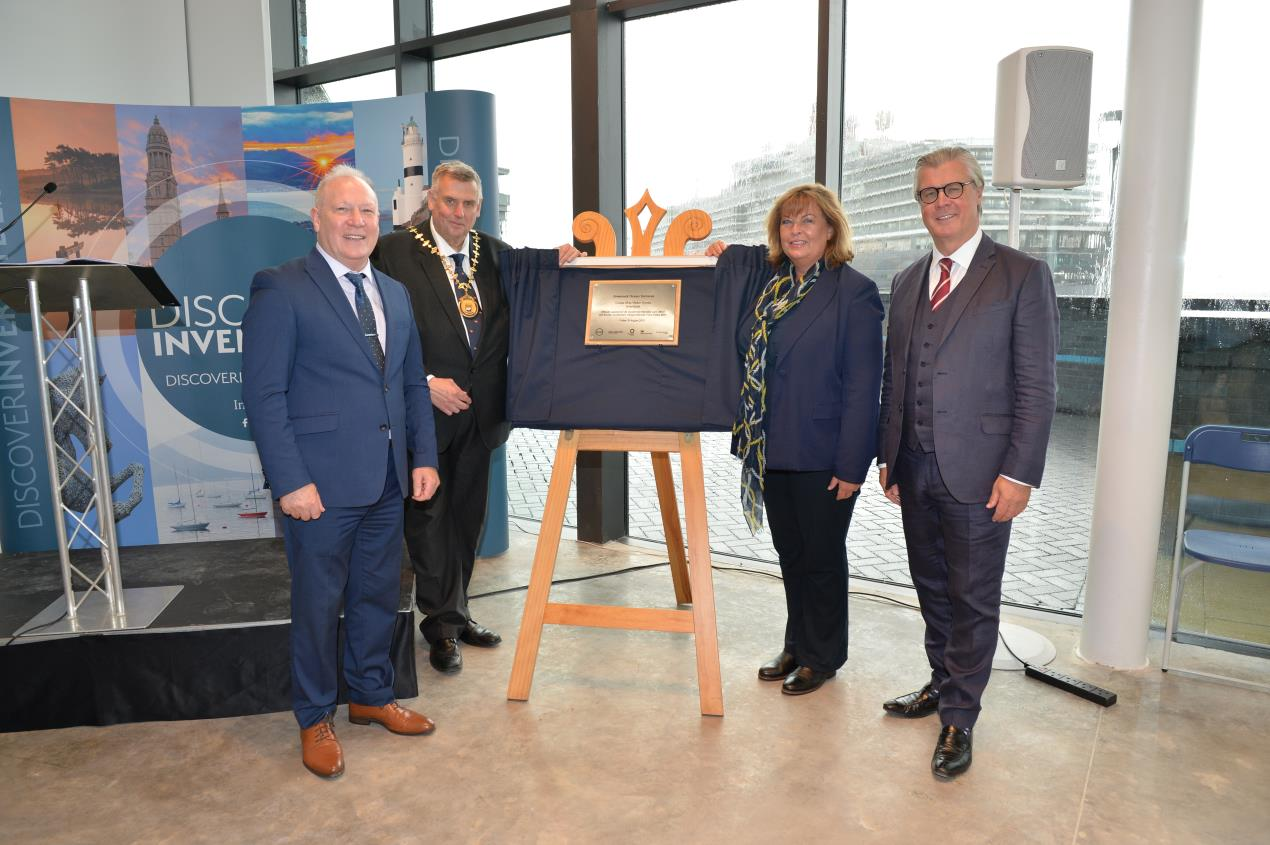 Inverclyde's new £20 million cruise ship visitor centre was officially launched last week.
The project, led by Inverclyde Council, is part of the £1 billion Glasgow City Region City Deal funded by the Scottish and UK governments (£10.4m), with contributions from Peel Ports (£8m), operators of the existing Greenock Ocean Terminal, and the George Wyllie Foundation via Dunard Fund (£1.7m).
The aim of the development was to increase visitor numbers to 150,000 passengers a year and that has already been surpassed.
---
---
The project is expected to provide a £26m boost to the Scottish economy and over 70 jobs have also been created.
The dedicated cruise ship visitor centre features an arrivals/departure hall operated by Peel Ports Clydeport, as well as a museum and art gallery, the Wyllieum, paying tribute to the late, world-famous artist George Wyllie, who worked as a Customs Officer in Greenock and lived for many years in Gourock.
There is also a high-end Scotts restaurant and roof terrace with panoramic views of the River Clyde that has created over 70 jobs.
A new 200-metre floating pontoon was also completed by Peel Ports in partnership with the council as part of the overall project, providing a dedicated cruise ship berth linking to the state-of-the-art new visitor centre.
---
---
The new Greenock Ocean Terminal building was designed by Richard Murphy Architects and delivered by construction company Heron Bros.
The opening ceremony featured representatives from key stakeholders involved in the development, as well as local, regional and national partners.
Provost of Inverclyde, Councillor Drew McKenzie, said: "This is a magnificent venue that Inverclyde can be proud of. Our warm welcome is famous around the world and now we have a first-class venue befitting of that for visitors from near and far to enjoy all-year round, as well as the local community.
"It's a project that has been a long time in the making but has been delivered through hard work and determination by all involved and really does epitomise partnership working at its best.
---
---
"With financial support from the Scottish and UK governments through the Glasgow City Region City Deal and investment from our partners, we can build on the success of Greenock as a major port and grow Inverclyde as a tourist destination and reap all the benefits that come with that for the local area and across the wider city region.
"There's never been a better time to discover Inverclyde and the many wonderful things we have to offer."
UK Government minister for Scotland, Malcolm Offord, said: "The opening of the new Ocean Terminal today is the result of the combined efforts of the public and private sector working together, including £5.2m investment from both the UK and Scottish governments - showing the power of working together to deliver for our communities.
"Thousands of visitors from around the globe will step ashore at this new facility in Greenock and receive a proper Scottish welcome combined with a taste of our creativity through the art of George Wyllie.
---
---
"This presents a huge opportunity for local businesses, and I am confident that we will see further investment in the town and new jobs being created as a result."
Scottish Government transport minister, Fiona Hyslop, said: "Today is a landmark day for Inverclyde and its visitor economy. The £26 million boost to investment produced by thousands of visitors to the Ocean Terminal every year can help transform our supply chain and create more jobs.
"Cruise tourism is an important and growing component of the visitor economy across the country and this impressive new facility, made possible by Scottish Government and partners' investment through the City Region Deal, can only help boost Inverclyde – and Scotland's – profile to visitors.
"It gives Inverclyde the chance to play a valuable part in developing our country's position as a sustainable and responsible cruise destination for the 21st Century."
---
---
The official opening took place on the day Cunard cruise ship Queen Victoria stopped off.
Inverclyde has a historical link with the cruise line as the first Cunard ship and subsequent ships were built in Greenock in the 1800s during the early days of the company and the area has maintained strong links ever since.
Jim McSporran, port director at Peel Ports Clydeport, said: "It's a really special moment welcoming guests to Greenock Ocean Terminal for our cruise visitor centre opening ceremony today.
"The centre itself looks incredible and has been a huge success with the tens of thousands of passengers who have passed through it so far this year.
"We've invested significantly with our partners on upgrading our facilities, which we believe take our offerings at the port to the next level.
"We are now looking to build on a record year for cruise liners and continuing to attract and grow those tourist numbers to the terminal in the years ahead."