Ofgem approves project to repurpose natural gas pipelines to hydrogen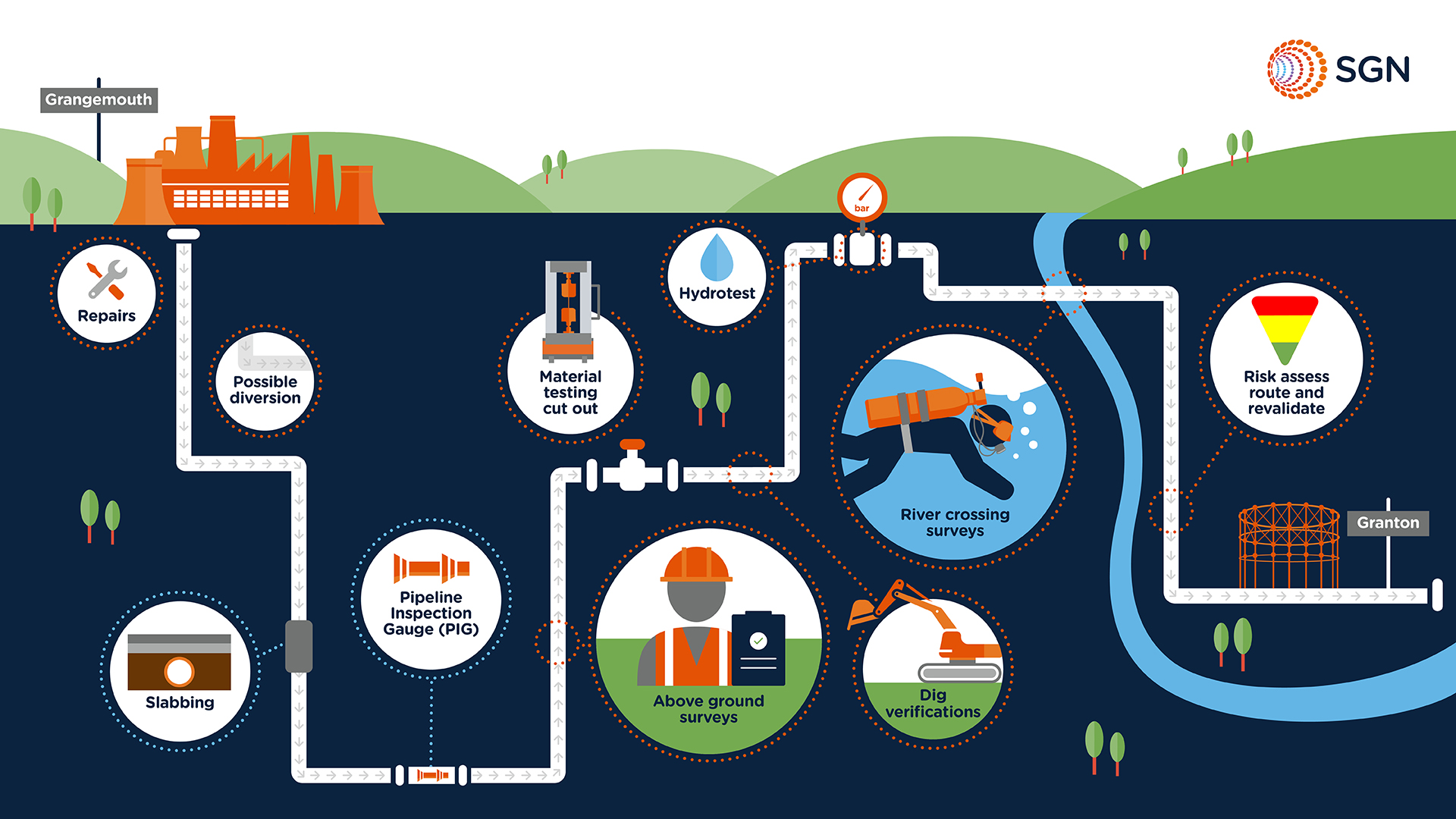 Gas distribution company SGN has been given approval by Ofgem to proceed to the next stage of its project to trial 100% hydrogen gas through a 30km decommissioned pipeline between Grangemouth and Granton.
Repurposing Great Britain's gas grid to hydrogen, could help decarbonise multiple sectors including industry, transport and heat. Gas infrastructure firms are helping to build an evidence base for hydrogen which will inform UK Government heat policy decisions expected in 2026.
SGN's £30 million LTS Futures project is verifying the compatibility of Great Britain's local transmission system (LTS) with hydrogen gas. The company has been carrying out tests on the suitability of a decommissioned pipeline for a live hydrogen repurposing trial. This pipeline is 30 km long and runs from Grangemouth refinery to Granton, on the outskirts of Edinburgh.
---
---
Over the past year, a team of SGN engineers and researchers have carried out surveys and assessments to determine the integrity of the pipeline. The tests included an operation which involves pushing a Pipeline Inspection Gauge (PIG) through the pipeline using compressed air to clean it and identify any critical defects. A hydrotest was also conducted, for which engineers filled the entire pipeline with water exceeding the pressure the pipeline will be exposed to during the live trial. The team has also inspected the condition of the pipeline above ground, below ground and at river crossings.
SGN submitted evidence gathered from the testing to Ofgem, which has confirmed the suitability of the pipeline for hydrogen testing – giving the green light for the project to progress to the next stage.
Gemma Simpson, SGN director of LTS Futures, said: "We're delighted Ofgem has allowed us to continue to the second stage gate for this critical project which will be to connect the existing pipeline to a hydrogen supply from our project partners, INEOS. Offsite trials will allow us to test procedures for making new connections to the pipeline. This includes the first ever live welding procedure on a hydrogen pipeline.
"If we're successful we'll be able to proceed to a live trial in 2024 which will deliver a blueprint for repurposing Great Britain's LTS network, driving decarbonisation and supporting our net zero goals.
---
---
"We believe hydrogen has the potential to provide customers with a choice on how they heat their homes as part of a whole systems approach for decarbonising heat."
Rebecca Pickett, Ofgem head of future gas policy, networks, said: "We welcome SGN's progress with LTS Futures and recognise the potential importance of exploring innovative solutions to decarbonise our energy sector."
---