Order books take a hit as materials and staff shortages slow down construction sector
The UK construction sector suffered from another growth slowdown in September as softer demand played a role and supply chain pressures continued to make their presence felt.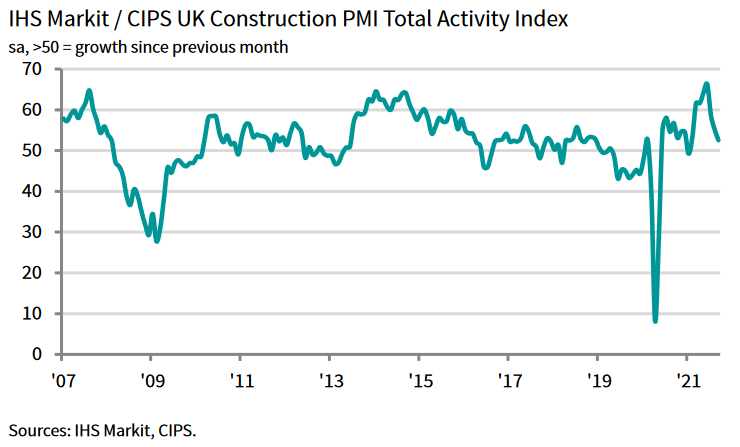 The latest figures from the IHS Markit/CIPS UK Construction PMI survey revealed output volumes rose to the smallest extent for eight months with respondents also citing disruptions on site from unavailable transport, a severe lack of materials and continued staff shortages.
A rapid drop in sub-contractor availability was reported in September. Imbalanced demand and supply contributed to the steepest rise in sub-contractor charges since the survey began in April 1997. Some firms noted that the unpredictable pricing environment had slowed clients' decision-making on new orders and led to delays with contract awards.
---
---
At 52.6 in September, down from 55.2 in August, the headline seasonally adjusted IHS Markit/CIPS UK Construction PMI Total Activity Index dropped further below the 24-year high seen in June (66.3). The latest reading signalled only a moderate expansion of total construction output and the weakest speed of recovery for eight months. Reports from survey respondents linked the slowdown to a combination of supply chain issues and softer demand.
All three broad categories of construction activity saw a loss of momentum in September, with the biggest slowdown seen in civil engineering (51.0, down from 54.8 in August).
House building also decelerated in September, with the latest expansion the weakest since the recovery began in June 2020 (52.8). This left the commercial segment (53.6) as the best-performing category during September. Resilience in this sub-sector reflected a continued boost to order books from the reopening of the UK economy.
Construction companies recorded a moderate increase in new work during September, with the rate of growth easing sharply to its weakest since the start of 2021. The slowdown was linked to hesitancy among clients and less favourable demand conditions.
---
---
September data indicated another strong rise in employment numbers across the construction sector, driven by greater workloads and stretched business capacity. However, the latest rise in staffing levels was the least marked since April, which partly reflected long wait times to fill vacancies.
A lack of sub-contractor availability added to the squeeze on labour supply in September. Shortages of sub-contractors also led to additional cost pressures, with rates charged for sub-contracted work increasing at a survey-record pace.
Purchase prices increased rapidly in September, although the rate of inflation eased further from June's all-time peak. Around 78% of the survey panel reported a rise in their cost burdens, which was mostly linked to supply shortages and transport surcharges.
Meanwhile, the latest survey illustrated that construction firms remained highly upbeat about the business outlook. Just over half (51%) forecast rising output, while only 8% anticipate a decline. However, the degree of confidence was weaker than August amid some concerns that the supply chain crisis will hinder growth.
---
---
Tim Moore, director at IHS Markit, which compiles the survey said: "September data highlighted a severe loss of momentum for the construction sector as labour shortages and the supply chain crisis combined to disrupt activity on site.
"The volatile price and supply environment has started to hinder new business intakes as construction companies revised cost projections and some clients delayed decisions on contract awards.
"As a result, the latest survey data pointed to the worst month for order books since January's lockdown.
"Shortages of building materials and a lack of transport capacity led to another rapid increase in purchase prices during September.
---
---
He added: "There was also a considerable decline in the availability of subcontractors, with survey respondents citing shortages of bricklayers, drivers, groundworkers, joiners, plumbers and many other skilled trades.
"Measured overall, prices charged by subcontractors increased at the fastest rate since the survey began in April 1997."
Duncan Brock, group director at the Chartered Institute of Procurement & Supply, said: "Construction activity suffered another setback in September, as builders were hammered by staff and material shortages, delivery delays and higher business costs as this phase of the post-pandemic recovery became the shakiest for eight months.
"Housing and civil engineering bore the brunt of the slowdown with residential building the weakest since June 2020 during the early stages of the pandemic.
---
---
Over 60% of supply chain managers said their deliveries were taking longer and 78% were paying more for their goods as inflation remained stubbornly high.
He warned: "Unless stronger supply chain performance is nailed down along with headcount, we are heading towards a stagnant autumn because the sector is certainly not on an even footing at the moment."
Sector response
Mark Robinson, group chief executive at SCAPE, said that spending on public sector projects will be critical to maintaining industry confidence and generating economic growth.
He added: "The winter months are likely to be challenging for the construction industry, despite these latest figures and renewed emphasis being placed on the government's 'Build Back Better' ambitions this week. As weather conditions inevitably slow progress, the industry will also need to negate the ongoing volatility surrounding materials and labour supply, which has been impacting the speed and cost at which projects are being delivered for some time now.
"Public sector spend will continue to play an important role in maintaining confidence and setting the standard in terms of managing risk across the supply chain should inflationary pressures persist. In addition to rigorous scenario planning through procurement, developers – public and private – will need to encourage open dialogue and prompt payment practices to support the health of our supply chains, who will ultimately be the engine room of any growth this winter."
Fraser Johns, finance director at Beard, said: "Today's stats show the construction sector is still being significantly hampered by labour shortages and supply chain issues.
"With output volumes rising by the smallest extent for eight months, and a rapid drop in sub-contractor availability, strong relations with suppliers have never been more critical.
"To build these relationships and to reassure clients, contractors need to ensure prompt payment and regular collaboration with suppliers is fundamental to all projects.
"Inflationary price pressures and supply shortages continue to hinder new business, with clients re-considering decisions in the current environment. This may continue until such pressures begin to ease, a time period which is still unclear."
Matthew Farrow, director of policy at the Association for Consultancy and Engineering (ACE), said: "Autumn is here and the figures have not substantively improved. As in many other sectors we are facing the spectre of rising people costs as well as delays and inflationary pressures on materials. This is a potent combination which will hold back post-pandemic recovery in both the construction sector and the wider economy.
"Despite these challenges, the fact that respondents remain largely upbeat with a positive business outlook is good news. It remains to be seen whether this withstands the next few months of 2021 which are unlikely to see any substantial change in the circumstances we are working in."
Ian Cooper, Ddirector at global legal business DWF, added: "The September data shows another slowdown in growth in the construction sector, with output volumes rising to the smallest extent for eight months. Understandably, some construction businesses may be holding off on construction decisions until the market conditions show some signs of stability.
"On the flipside the confidence of construction firms remains high and this is good news for job seekers as the demand for skilled labour is relentless.
"Aligned with the current experience of other industry sectors, skilled labour supply chain issues remain a challenge for construction. However, this also reveals opportunities for increased productivity initiatives such as pre-fabricated / off site construction."