Outlook remains upbeat despite supply pressures impacting construction activity
UK construction companies signalled a further increase in output volumes during August, however the pace of growth eased notably from the previous survey period, according to the latest IHS Markit/CIPS UK Construction PMI Total Activity Index.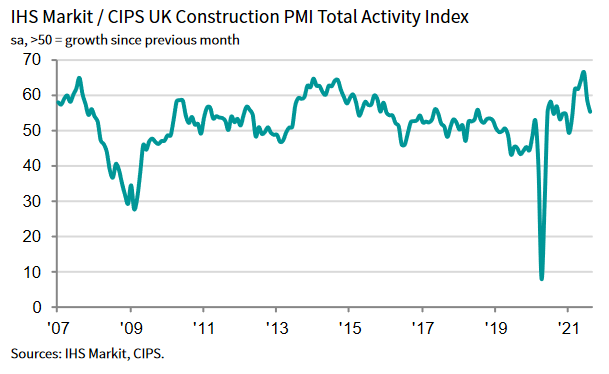 August's construction PMI of 55.2, down from 58.7 in July, was the lowest in six months. But the PMI pointed to a sector still growing at a decent pace. As with other sectors, slower momentum appears to be an outcome of supply-side shortages, not weaker demand.
Commercial work (index at 56.0) was the best performing broad category of construction output in August, followed closely by housebuilding (55.0), while civil engineering remained the slowest growing subsector (54.8) for the fourth month in a row.
---
---
Total new work increased for the fifteenth consecutive month in August. While the latest improvement in order books was marked overall, the rate of growth softened to the weakest since March. Businesses noted a continued resumption of projects that had been delayed due to Brexit and the COVID-19 pandemic, though client confidence was dampened by volatility in raw material supplies and increased cost burdens.
Amid softer growth in new orders, the rate of job creation eased to a four-month low in the latest survey period. Firms continued to note that strong market conditions had sustained demand for new employees, though additional cost burdens and a lack of skilled workers began to weigh on the rate of hiring.
Input buying expanded at the slowest pace since January. Strong rises in demand for construction materials continued to stretch supply chains however, as some firms noted difficulty in sourcing and receiving purchased inputs. This occurred as supplier delivery times continued to lengthen at a substantial rate, though one that was slightly improved from June's record deterioration. Anecdotal evidence suggested that ongoing material shortages were exacerbated by a lack of transport and freight availability, compounding existing issues related to the supply of materials due to port congestions and demand and supply imbalances.
As a result, input cost inflation accelerated to the second-fastest rate in the 24-year history of the survey, surpassed only by the record rise two months prior. Among those materials reported as up in price, the most common were concrete, fuel steel and timber.
---
---
Looking ahead, construction companies remained highly upbeat about their growth prospects over the coming 12 months. Positive sentiment was underpinned by hopes of an expected rise in new contract awards across all subsectors of construction.
Duncan Brock, group director at the Chartered Institute of Procurement & Supply, said: "Formidable supply chain pressures restrained purchasing activity and building projects across the board in August as 68% of construction companies reported even longer delivery times for materials compared to July.
"A combination of ongoing covid restrictions, Brexit delays and shipping hold-ups were responsible as builders were unable to complete some of the pipelines of work knocking on their door.
"Material and staff costs went through the roof as job hiring accelerated to fill the gaps in capacity left behind by employee moves, overseas worker availability and brought on by skills shortages.
---
---
"Paying higher wages for experienced staff along with low stocks of materials at suppliers meant inflationary pressure rose at a rate almost on a par with June's survey record. 84% of supply chain managers reported paying more for their purchases.
"These obstacles to construction's progress are set to continue and are now affecting last year's strongest performer – house building, which will exacerbate the problem of housing supply.
"However optimism improved on last month as more than half of building firms believe that output will continue to rise in the year ahead."
Usamah Bhatti, Economist at IHS Markit, which compiles the survey, added: "Evidence that the UK construction sector began to feel the impact of ongoing supply chain disruption was widespread midway through the third quarter of 2021.
---
---
"Growth rates for overall activity as well as the three monitored subsectors eased further from the recent highs earlier in the summer.
"Similarly, new business inflows have continued to increase at a marked pace, yet even here the rate of growth has eased to a five-month low.
"Supply chain disruption continued to disrupt activity across the UK construction sector, as demand for materials and logistics capacity outstripped supply.
"Average vendor performance continued to deteriorate at a near-survey record rate, as firms noted severe shortages of building materials, a lack of available transport capacity and long wait times for items from abroad due to port congestion.
---
---
"As a result, the rate of input cost inflation faced by construction companies accelerated to the second-fastest on record, while the increase in subcontractor rates hit a fresh series high, fuelled by supply shortfalls in the sector.
"Despite this, businesses noted a stronger degree of optimism regarding the year-ahead outlook, as more than half of survey respondents predicted a rise in activity.
"This was underpinned by expectations that new contracts would be brought to tender across the construction sector as markets continued to recover from the economic disruption caused by the pandemic."
Industry response
Mark Robinson, group chief executive at SCAPE, said: "Continued output growth in August is testament to the resilience of contractors across the supply chain and their commitment to driving the ongoing economic recovery. However, across the country, the harsh reality of materials and labour shortages is threatening to derail the speed at which projects can be delivered.
"The construction industry has never been afraid to tackle challenges head on and managing the short-term risk caused by inflation must remain the priority if we are to stay true to the 'build back better' mantra. To do this, greater collaboration between clients, contractors and their supply chains is vital to help alleviate any mid-project issues that might arise and ensure that an accountable and healthy environment is created from outset. This also includes holding large contractors to fair payment practices to boost cashflow for SMEs and lessen the pressure on smaller suppliers."
Fraser Johns, finance director at Beard, said: "Today's stats really underline the concerns expressed at the start of the year that the supply chain issues would undermine the post-pandemic recovery in construction.
"With the slowest level of growth in five months and now client confidence dampening as a result of the uncertainty over supplies, it feels a long way from the wave of optimism felt at the end of 2020 and into Q1 this year.
"It puts real emphasis once again on relations with supply chains – ensuring prompt payment for example - and requires a proactive approach in terms of multi-stage procurement and working more closely with customers to keep them well informed about the situation.
"We don't look to be turning a corner any time soon on the supply crisis, so it's key for the industry to pull together and collaborate right through the supply chain to try to lessen the impact of these issues."
Gareth Belsham, director of the national property consultancy and surveyors Naismiths, added: "The construction industry is fast becoming a victim of its own success. The supply chain problems are no longer just project speed bumps; they're applying the brakes to new orders as well.
"Soaring prices of key building materials, not to mention patchy availability and lengthy delays, have forced some construction firms to admit to clients that they simply cannot keep up with demand for building projects.
"With steel, timber and fuel costs all mushrooming, contractors are seeing their margins eaten away. The pipeline of new work is still healthy by historical standards, but orders are now coming in at the slowest rate since March.
"But despite a growing sense that the post-lockdown boom may have peaked, the mood in the industry remains overwhelmingly upbeat. More than half of the builders surveyed for the PMI predict a further increase in activity over the coming year.
"Cool heads in the industry have seen this all before, and experienced developers and builders are recalibrating prices and schedules and getting on with it.
"But there is still the nagging question about the painfully high levels of material cost inflation; is it a blip, or will it start to impact not just the delivery of projects, but demand as well?"