Output sees largest monthly growth since March
Output in the UK construction sector increased by 3.5% in volume terms in November to record the largest monthly rise seen in construction output growth since March 2021, official figures have revealed.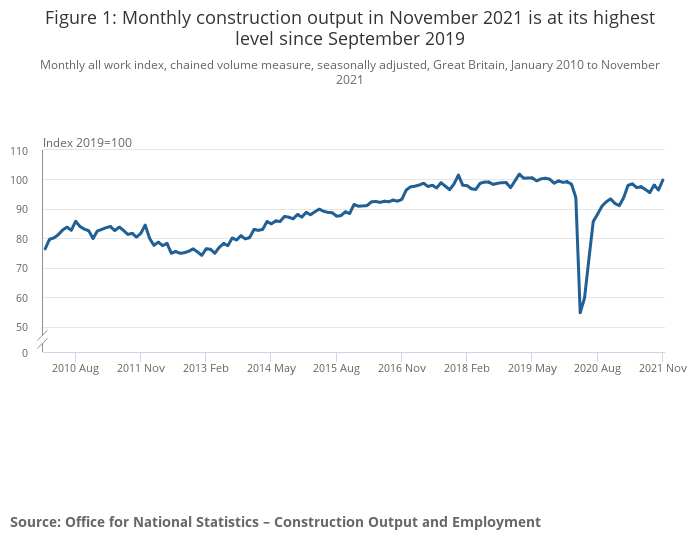 Anecdotal evidence from the Office for National Statistics (ONS) survey returns suggested the strong demand for work, in combination with supply chain bottlenecks for certain products easing and the unseasonal mild and dry weather were the main reasons for the increase.
The increase came solely from an increase in new work (5.7%) as repair and maintenance saw a slight decline of 0.2% on the month.
---
---
Because of the strong monthly growth and minimal revisions to previous months, the level of construction output in November 2021 was 1.3% (£197 million) above the February 2020 pre-coronavirus pandemic level. Although new work was 1.6% (£148m) below the February 2020 level, repair and maintenance work was 6.9% (£345m) above the February 2020 level.
The recovery to date, since the falls at the start of the pandemic, is mixed at a sector level, with infrastructure 49.3% (£923m) above and private commercial 28.0% (£698m) below their respective February 2020 levels in November 2021.
Alongside the monthly increase, construction output rose 1.6% in the three months to November 2021, the first three-monthly increase since July 2021, with similar increases seen in both new work, and repair and maintenance (1.5% and 1.6% respectively).
Mark Robinson, group chief executive at SCAPE, said: "Further growth in the autumn, set against the context of the long-term inflation and labour supply challenges that characterised much of last year, clearly demonstrates the industry's resilience. However, the impact of Omicron in exacerbating ongoing staff shortages means that the sector is likely to endure further disruption over the coming months.
---
---
"Public sector construction will continue to make up a significant volume of the industry's output. But, with the overhaul of the government's procurement standards gathering pace, those looking to capitalise will need to invest heavily in their ability to deliver enhanced social value and meet the net-zero ambitions of clients in the sector."
---