Paisley High Street building back in business
A formerly-empty building on Paisley High Street has been brought back to life as a new home for businesses and residents – in what is believed to be the first new residential development on the street in decades.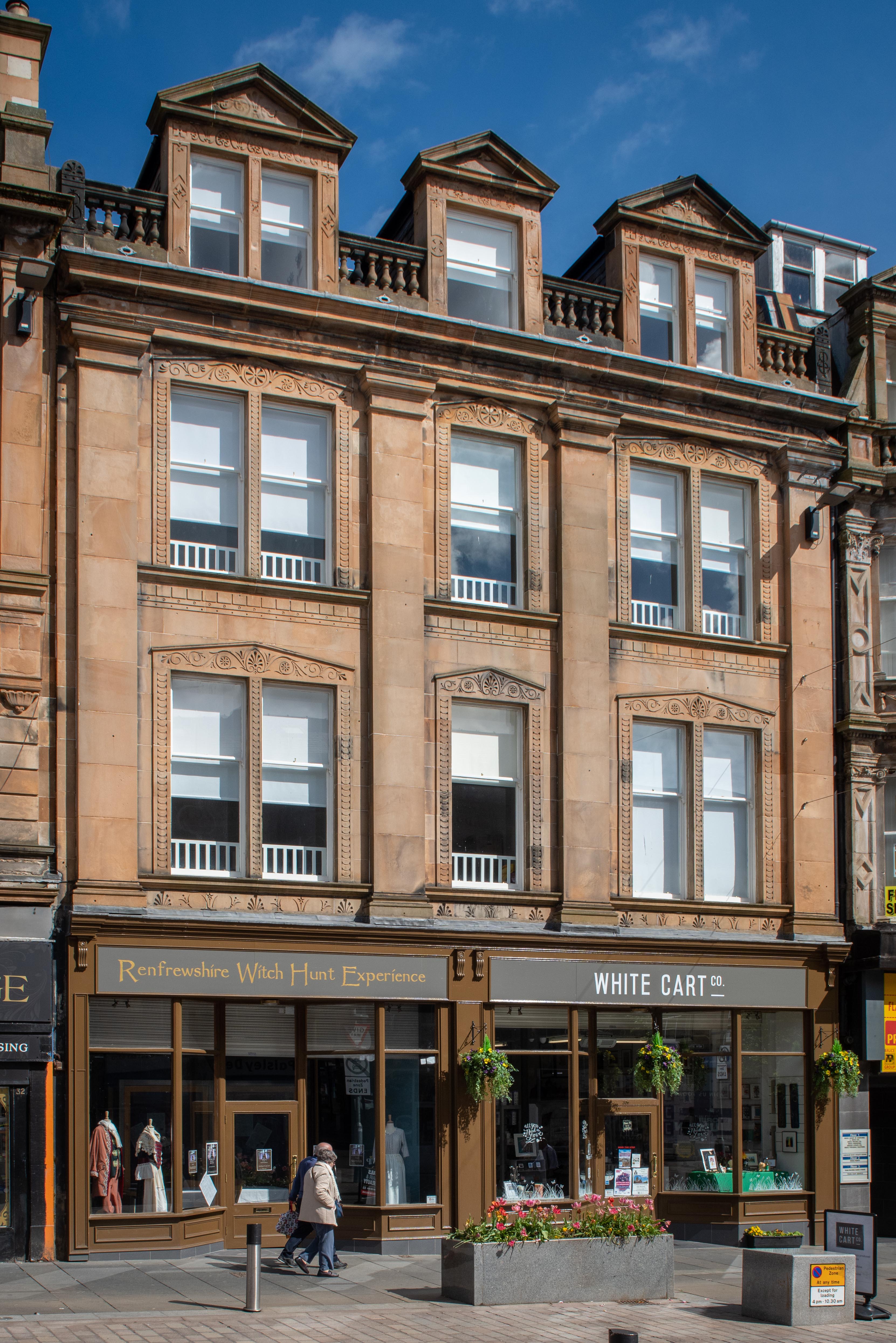 The four-storey building at 30 High Street has been comprehensively refurbished by its owners – local family-owned building firm Calside Contracts – who fitted out two retail units and six flats on the upper floors.
The ground floor was soon filled by two distinctively Paisley businesses – White Cart Company and Renfrewshire Witch-Hunt Experience – and all the flats above were quickly rented out to residents attracted by the idea of living in the heart of the town centre.
---
---
Calside Contracts bought the building at auction in 2016 and soon refurbished it to a high standard. And their work was hailed by Renfrewshire Council's leader as an example of how other town centre building owners can benefit themselves and the town by investing in their properties.
Cllr Iain Nicolson said: "The team at Calside Contracts have done a fantastic job renovating the inside and outside of this building – it would be fantastic to see other owners follow their example.
"The council is often asked what we can do to bring new business to Paisley High Street but one big challenge is the buildings are privately owned.
"Old buildings are harder to maintain and in some cases when tenants have left, units were allowed to deteriorate to the point major investment was needed, which made them unattractive for new business to move in.
---
---
"Calside on the other hand did invest - and the speed at which they were then able to let out the whole building shows big demand is there from businesses and residents for high-quality commercial and residential accommodation in the town centre.
"Paisley town centre is changing for the better with the council overseeing a once-in-a-generation £100m investment in venues and outdoor spaces, including transformations of Paisley Museum and town hall, and a new learning and cultural hub at 22 High Street.
"That will preserve our heritage buildings and support the ongoing work to make the town a key destination for visitors and events – driving new footfall and life into the town centre.
"And in turn we hope that creates attractive conditions for the private sector to invest – we would call on other town centre property owners to look at what can be achieved here if they do so."
---
---
The improvements to the ground-floor shopfronts were part-funded through the council's five-year £4.5 million TH.CARS2 scheme, which provides grants to restore buildings and improve shopfronts in the town centre, and a programme of community activity promoting the town's culture and heritage.
Mary Grogan of Calside Contracts said: "We are a building firm run by myself and my two sons Craig and Christopher Stewart. We are from Paisley and wanted to put something back into the town. The flats were really easy to let – they were all snapped up straight away.
"We appreciate the help we got from the TH.CARS2 team to help finish the shopfront section of the building – and we suggest owners of other buildings in the town centre should get in touch to see what help might be available."
The TH.CARS2 scheme is funded by National Lottery Heritage Fund and Historic Environment Scotland, and council support is available for other owners within the project area. More information can be found at www.renfrewshire.gov.uk/thcars2
---
---
The council also operates a retail improvement scheme offering grants to improve the frontage of businesses in retail areas throughout all parts of Renfrewshire.
---