Peebles High School replacement set for redesign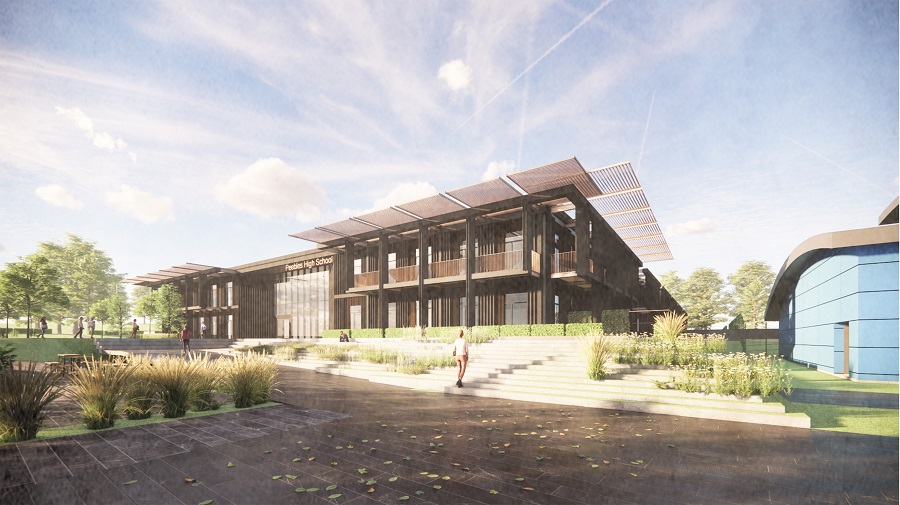 The project team behind the £46 million replacement for Peebles High School are to make some revisions to the designs after concerns were raised about the approved plans during community engagement sessions.
About this development:
Authority:

Scottish Borders

Type:

Education

Applications:

Team:
Scottish Borders Council granted planning permission for the campus in July last year, marking an important next step in the replacement of the existing High School which was seriously damaged in a fire in 2019.
The decision paved the way for further planning, design and development to be undertaken alongside further consultation with the local community to talk through the approved plans ahead of construction.
---
---
However, parents have criticised the consultation process and the size of the proposed dining and assembly areas, while the Deaf Children's Group (DCG), a group representing parents of deaf children, circulated a 'position paper' to Scottish Borders Council (SBC) which voiced what they believe to be critical flaws in the design
DCG spokesperson Heather Young, a member of Peebles Community Council, said: "We are a group of parents of deaf and/or neurodiverse children who will one day attend the new Peebles High School.
"We have raised a number of serious concerns with SBC about the internal plans for the school and whether it will provide a supportive learning environment for our children."
Edinburgh Napier University acoustics expert, Richard Mackenzie, who advised the group, added: "The current design will result in unacceptable levels of distraction and disturbance to pupils trying to learn and will be particularly bad for children with hearing loss and children with learning difficulties, going against the principle of inclusivity."
---
---
The local authority thanked the community for a strong turnout at the engagement sessions and assured them that the feedback will be evaluated.
A spokesperson said: "Following these sessions, the project team are now evaluating the feedback received and making some alterations to the design of the building floor plans.
"Further communication will be issued once this has been completed and updated plans will be available to view online as soon as possible."
Further engagement sessions will be scheduled for later this spring for the amended designs to be viewed.
---
---
Councillor Leagh Douglas, executive member for Education & Lifelong Learning, said: "I would like to place on record my sincere thanks to everyone who attended the Peebles High School engagement sessions and contributed their feedback on the current designs.
"Your feedback is truly valued and will now be carefully reviewed before informing any further changes to the design of the school and its current floor plan.
"As a council we are committed to providing the very best educational facility possible for our young people of Peebles, allowing them to excel and reach their true potential."
BAM Construction will be responsible for the campus construction, replacing the High School which was seriously damaged in a fire in late 2019.
---