Private hospital group completes £20m expansion of Glasgow facility
Ross Hall Hospital, part of Circle Health Group, has completed its brand-new state of the art expansion at Braehead.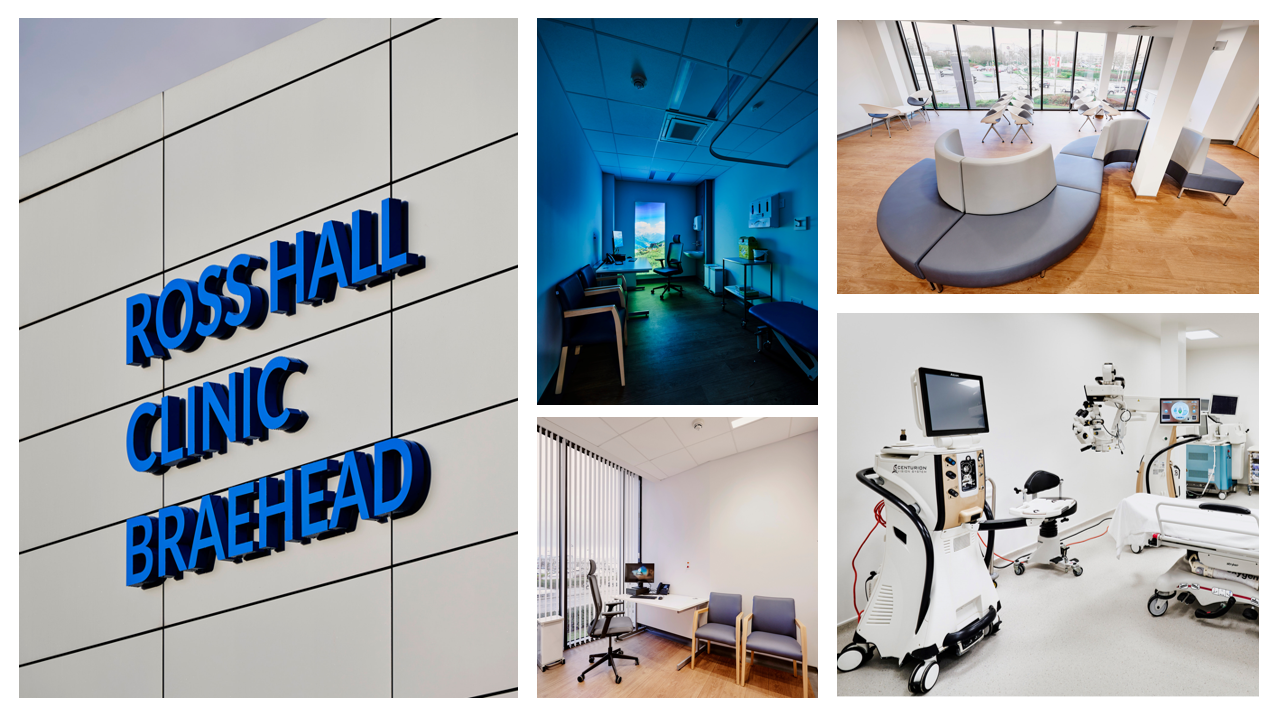 The £20 million clinical facility is situated within the Titanium Business Park and offers 17 new consulting rooms, in addition to now playing host to Eye Care Scotland, Ross Hall Hospital's dedicated ophthalmic complex. The newly opened hospital complex follows a need to expand existing operations in response to an exponential increase in demand within Scotland's private healthcare market.
The project was delivered via a truly collaborative approach with design partners IKON Architects and contractor Morris & Spottiswood Limited, working in partnership with the team at BMI Healthcare to ensure a high-quality facility was delivered.
---
---
Work officially began in June 2021 on the landmark expansion to operations of the Glasgow-based hospital. The look and feel of the new clinic is clean and modern, enhancing the patient experience and streamlining the journey from consultation to treatment. A plethora of glass encasing the entirety of the building was chosen to maximise the amount of natural light in both patient waiting areas and consulting rooms. The lighting alone creates a pleasant and calming environment making the experience of visiting Ross Hall Clinic Braehead a truly unique.
The clinic's owners, Circle Health Group, have been begun a significant investment program across their estate of hospitals which has brought industry leading imaging equipment to Scotland. The new facility at Braehead now boast a new MRI scanner alongside a new respiratory, colposcopy and urodynamic departments.
The development has also meant that the operational capability of Eye Care Scotland has been enhanced. The relocation from Crookston Road has now offered Ross Hall Hospital's ophthalmic complex, four consultation rooms, two diagnostic rooms and two surgical theatres. All of which have been specially designed with eye care patients in mind. Ross Hall Braehead ensures that those requiring a range of procedures, from cataract surgery to corneal transplants can be appropriately diagnosed and treated.
The successful opening took place on January 10 and is a huge achievement for the staff and doctors at Ross Hall Hospital. It is hoped that the success of the hospital will continue to grow with more key milestones planned.
---
---
Mhairi Jefferies, executive director of Ross Hall Hospital, said: "This is a significant investment in the most advanced equipment and services for patients in Scotland, in a state-of-the-art building. The new facility has been designed with patients and clinicians in mind, it transforms the patient experience while enhancing the services and care we can offer to patients."
Ross Walsh, site manager at Morris & Spottiswood, added: "It has been such an incredible journey with amazing results. This project is genuinely the result of the dedication and commitment by all involved from start to finish, and is by far the biggest achievement of my career to date. It was a pleasure to work with the BMI Healthcare Team."
---