£60m vision unveiled for Glasgow's Met Tower as full plans submitted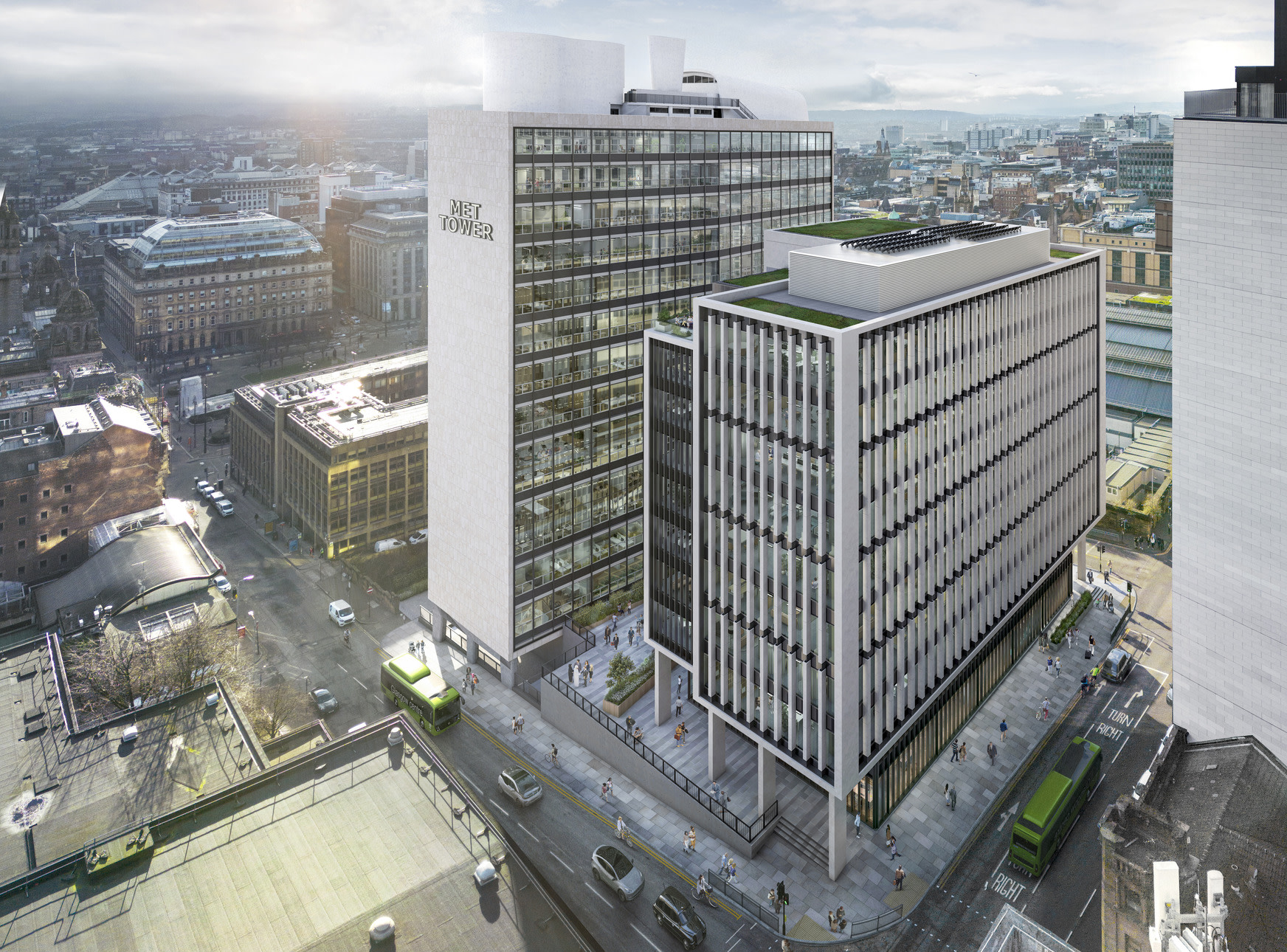 Detailed plans for the forthcoming transformation of Glasgow's iconic Met Tower have been unveiled.
Proposal by Bruntwood SciTech, the property provider dedicated to the growth of the science and technology sector, include both its refurbishment vision for the former City of Glasgow College building as well as detailed plans for a new, adjoining tower which collectively will create a new technology and digital hub in the heart of Glasgow's city centre and Glasgow City Innovation District.
The £60m investment will see Bruntwood SciTech bring the current Grade B-listed building back into use and open in Summer 2025, following a 10-year period of vacancy, and construct the new, adjacent building set to open in 2026. Combined, the two towers will offer more than 200,000 sq ft of serviced and leased office space to supercharge the growth of the city's tech sector. Enabling works on the site are already underway, with work on Met Tower expected to commence this winter, subject to planning.
---
---
Bruntwood SciTech, a joint venture between Bruntwood and Legal & General, has a long-standing reputation for supporting the creation of thriving innovation districts across the UK. The plans for Met Tower will see the iconic structure transformed into a commercial hub where tech and digital university spinouts, startups, scaleups, and high-profile tech businesses can co-locate and benefit from being part of an innovative, collaborative tech cluster, with world-class workspace available for two people through to large businesses requiring multiple 10,000 sq ft floors.
A local team has been appointed to work with Bruntwood SciTech on the redevelopment of Met Tower and the new tower, consisting of Cooper Cromar, Woolgar Hunter, Atelier Ten, Savills, Ryden, and Thomas & Adamson, and supported by a wider team of consultants.
The new building is expected to achieve net zero carbon in construction and with both buildings achieving net zero operation in their shared spaces, and development activity at Met Tower expected to retain as much of the building's existing fabric as possible, significantly reducing the embedded carbon impact of the re-development. The proposals include carefully selected materials to reduce the environmental impact of the building, vertical fins for active solar shading, and expectations to achieve BREEAM Excellent status, a NABERS 5 Star rating and an EPC A rating once operational. Both buildings have been designed in line with smart technology and wellbeing principles and will feature extensive biophilia.
The detailed scheme outlines how the existing 110,000 sq ft 14-storey Met Tower will be redeveloped to offer 2-40 person serviced offices and larger leased office space, accompanied with multiple meeting rooms including a 16-person boardroom, flexible breakout spaces, a wellness and treatment room, grab and go cafe, and multi-faith room. In efforts to retain as much of the original tower's fabric as possible, Met Tower's recognisable 'upside down boat' roof structure will be retained and transformed into a 60-person lounge and double height event space with floor to ceiling windows, innovation hub, and an expansive view that will reach as far as Ben Lomond. The leased space available on the first floor will have its own private entrance onto a new plaza space, whilst the 13th floor has its own unique, private staircase directly into the lounge and event space above.
---
---
The 95,000 sq ft new 10-storey tower will offer medium-large office spaces, along with breakout space opening out into the new plaza, a grab and go cafe, speed gates for additional security, a secondary retail space, and a roof terrace, with direct access into all facilities in Met Tower.
Both buildings will be interconnected by a double height atrium which will provide wellbeing and leisure facilities, including a wellness workout studio and wellbeing breakout lounge, showers, changing facilities and a sports kit drying room, and a large internal secure cycle store with repair and maintenance stations. The landscaped space between the buildings and in front of Met Tower will become unique public open spaces for the city to improve connectivity to and from the neighbouring Queen Street station on North Hanover Street.
Pete Crowther, property director of Bruntwood SciTech, said: "Met Tower is the perfect location to build a new tech and digital cluster in Glasgow; not only is it located mere 50m from Queen Street Station, it's in the heart of the Glasgow City Innovation District surrounded by two exceptional universities and the College, where future talent and some of the most exciting university spin-outs in Scotland and all of the UK can be found. We've already been establishing relationships so that as soon as Met Tower opens its doors businesses have direct access into places for collaboration opportunities and to access highly skilled STEM talent.
"We're delighted to reach this milestone and unveil our vision for Met Tower and the new building, where there will be world-class spaces available for all sizes of tech and digital business, whether you're a startup or a global household name, all with the same access to a host of standout facilities and amenities. We know that Glasgow is on its way to becoming a world-leading hub for tech and hope Met Tower can support in galvanising this momentum."
---