£90m of ongoing regeneration works currently onsite at Dalmarnock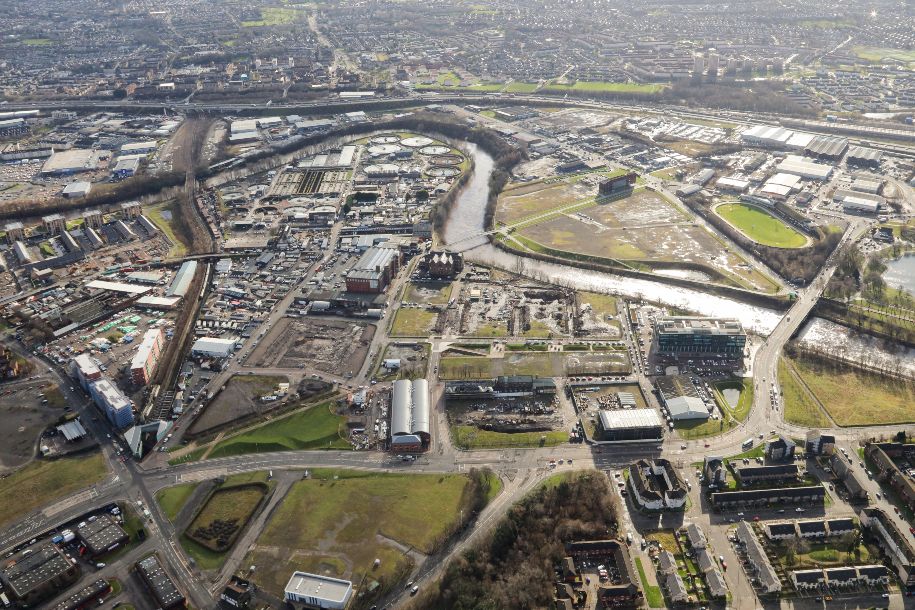 This new year will see the regeneration of the Dalmarnock area in Clyde Gateway flourish with hundreds of new homes under construction, the refurbishment of derelict industrial buildings, as well as the addition of a new bakery and supermarket.
The projects make Dalmarnock one of the busiest construction sites in Glasgow with almost £90 million of projects currently underway. The raft of these projects are led by Clyde Gateway, the largest urban regeneration organisation in Scotland.
Spectrum Properties recently received planning permission to regenerate a B-listed former garment factory into a cafe and bakery. The development is also home to an arts and community venue which shares its name with its French Street location.
---
---
Across Dalmarnock, more than 475 residential homes are under construction with many more in the pipeline. This includes 141 units from the Springfield Homes development on Dalmarnock Road and the Keepmoat Homes development on French Street, where 28 of 48 homes have already been reserved, with the first phase of occupiers due for entry in April.
The Swan Group is developing land adjacent to the Police Scotland HQ. 151 homes are already under construction with completion of the project expected in around 18 months.
Spectrum Properties, alongside its French Street development, are also in the process of planning over 100 homes next to the Clyde.
To meet the demands of all the new housing, Lidl recently successfully applied for planning permission to build a new store. The 1,904 sqm premises for the discount retailer will include solar panels and electric vehicle charging points.
---
---
Other projects due to complete shortly include the EastWorks development of the former purifier shed into contemporary office studios and the construction of Scotland's first and only district heating system capable of providing cooling as well as renewable heating to business premises.
The new £3.1m Riverside Park, officially opened by a government minister late last year, is the fourth new greenspace delivered by Clyde Gateway in the regeneration area, and is supporting the creation of more new homes and commercial units across Dalmarnock.
Angela Rowley, head of property and development at Clyde Gateway, said: "The regeneration of the East End of Glasgow continues at pace with almost £90 million of work currently underway in Dalmarnock.
"This is not just about building houses. It's about creating attractive communities to live, work and play with all of the local amenities and green space to go with it.
---
---
"Clyde Gateway is spearheading this redevelopment and it is incredibly exciting to see the wide array of projects being delivered on the ground."
Stewart Borthwick, development manager, Spectrum Properties said: "It is very encouraging to see so much investment and activity across Dalmarnock and Spectrum are proud to be playing our part.
"The redevelopment of the garment factory on French Street into a cafe and arts space will honour and preserve Glasgow's industrial heritage whilst revitalising it for the modern community it will now serve.
"Clyde Gateway and its partners have made the area an attractive and desirable place to live. Our 125 new home development on the Clyde will build on this and allow even more families to be part of Dalmarnock's future."
---