£9.4m investment secured for Whitelee green hydrogen facility
The Green Hydrogen for Scotland partnership has secured £9.4m of funding through the Storage at Scale competition run by the Department of Business, Energy and Industrial Strategy (BEIS).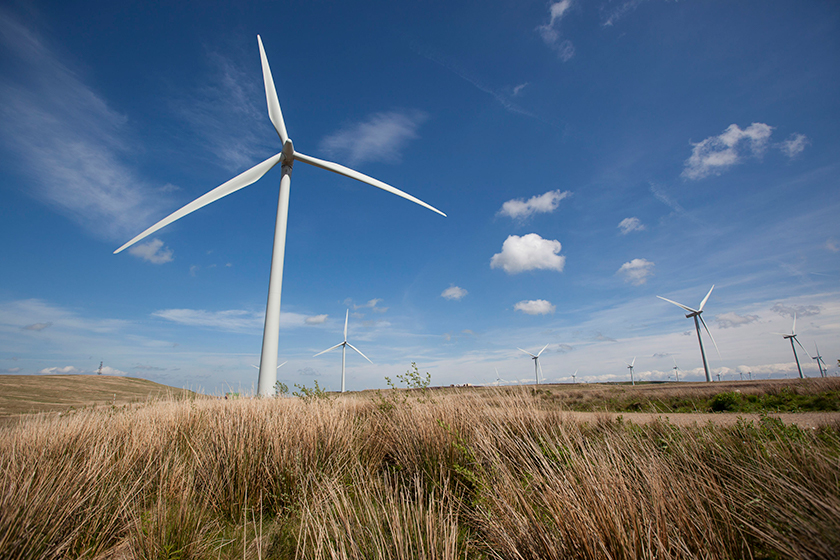 Greg Hands, minister of state for business, energy and clean growth, announced the funding today at ScottishPower's Whitelee windfarm where the 20MW hydrogen production and storage facility will be built.
Mr Hands said: "Innovative green technologies like this pioneering hydrogen project here in Whitelee will drive forward the UK's green industrial revolution and support us as we shift to a clean energy future.
---
---
"Supported by £9.4 million in UK government funding, it will bring green economic growth to Glasgow, and put Scotland at the heart of plans to create a thriving low carbon hydrogen sector in the UK."
Secretary of state for Scotland Alister Jack said: "This tremendous investment at Whitelee Wind Farm illustrates how serious the UK Government is about supporting projects that will see us achieve net zero by 2050.
"In the weeks following COP26 in Glasgow, it has never been more important to champion projects like this one, which embraces new hydrogen technology while creating highly-skilled jobs. We can, and will, achieve a greener, cleaner future."
The funded through the BEIS Energy Innovation Portfolio funding of £9.4m will support investment for the first phase of development of the 20MW project which is the first project to be delivered by the Green Hydrogen for Scotland partnership.
---
---
The partnership, made up of ScottishPower, ITM Power and BOC, is currently going through the planning process for the new facility and aims to have green hydrogen available to the commercial market by 2023.
The green hydrogen facility would be powered by the mix of technologies at Whitelee which includes a new solar farm, battery energy storage system and the existing windfarm. The hydrogen will be used to provide a zero-carbon fuel for heavy transport and high temperature industrial processes, helping to decarbonise local transport and improve air quality for communities across Glasgow and wider region.
The 20MW project, once complete, would be capable of providing enough zero-emission hydrogen to power up to 550 hydrogen buses to travel from Glasgow to Edinburgh and back again each day.
Green hydrogen uses renewable energy to power an electrolyser which splits water into its two core elements; hydrogen and oxygen. The hydrogen can then be easily stored and transported to where it is required. The zero-emission fuel complements efforts to electrify, by providing a zero-carbon fuel alternative to sectors and industries where electrification can't or won't reach.
---
---
The funding support marks an important step for the creation of commercial-scale green hydrogen production which will be critical in reducing carbon dioxide and greenhouse gas emissions across the economy.
Barry Carruthers, ScottishPower's hydrogen director, said: "Green hydrogen production at Whitelee is our flagship project, demonstrating how clean, zero-emission hydrogen can be produced and used at a commercial scale. Glasgow has ambitions to be the first city in the UK to achieve Net Zero by 2030 and green hydrogen being available by 2023 to support heavy industries and fleets to decarbonise in and around the city will be critical to this goal being achieved.
"We're pleased to be working with our partners ITM Power and BOC who helped secure this vital funding for the project. Now COP26 has drawn to a close we must take action to secure the zero carbon energy the UK needs to reach its climate change targets and seeing this sort of support for commercial green hydrogen by the UK Government shows their commitment to driving this clean technology forward and their recognition of the role it will play in helping the country decarbonise."
Graham Cooley, CEO of ITM Power Ltd, said: "We are very pleased to be a partner in Green Hydrogen for Scotland and this first project, Green Hydrogen for Glasgow, will see the deployment of the largest electrolyser to date in the UK."
---
---
Jim Mercer, business president, BOC UK & Ireland, added: "The Green Hydrogen for Glasgow project is both innovative and exciting. It will help to shape the future of energy storage and demonstrate the value of hydrogen to Scotland's growing low-carbon economy. This project will accelerate development across multiple disciplines – from production and storage, to transportation and end use."
---