Purchasing managers report strongest construction expansion since September 2014
Output growth in the UK construction sector reaching its strongest since September 2014, according to new data.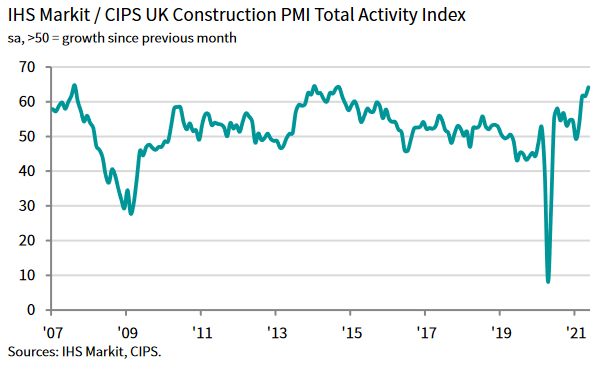 The construction PMI rose to 62.4 in May from 61.6 in April with all sectors achieving strong expansion led by housebuilding. Commercial work saw its strongest growth since August 2007.
All elements of the construction survey were at elevated levels in May with most hitting long-term highs. New business growth was at a record high. Employment rose the most since July 2014, adding to the recent encouraging news on the UK labour market. Confidence in future output was strong.
---
---
A concern for construction companies was that input costs rose at a survey record rate amid stretched supply chains. This will add to current mounting inflation concerns.
Duncan Brock, group director at the Chartered Institute of Procurement & Supply, said: "The construction sector continued its expansion programme with a phenomenal acceleration in growth and the strongest for seven years as new orders filled in at the fastest rate for almost a quarter of a century.
"Residential work was back in the top spot as house building rose at the quickest pace since August 2014, serving as an antidote to the recent scarcity in housing for lets or buy, and driven by consumer demand and a boost from the stamp duty holiday.
"Busy purchasing managers were under pressure to keep up and buying up at the fastest rate since April 1997, changing sourcing strategies to find depleting essential materials and stocking up just as supply chain problems continued to mount along with prices.
---
---
"With inflation for goods and raw materials at a 24-year high, companies will be concerned that much-needed profits will be eaten away as building projects take shape and could be held up by some of the longest delivery times on record.
"Skills shortages are also becoming a problem, with recruiters finding talented labour hard to find, as job creation was at robust levels and the threat of staffing cutbacks has become a distant memory."
While workloads and activity remain strong, the Federation of Master Builders (FMB) warned that the skyrocketing price of building materials continues to dampen construction's economic recovery and is disproportionately impacting the industry's smallest firms.
Brian Berry, chief executive of the Federation of Master Builders, said: "Rising material prices are continuing to limit the ability of local builders to build back better from the pandemic. It's incredibly worrying to hear that the overall rate of input price inflation was the highest on record. This is consistent with FMB State of Trade data that shows 93% of builders reported material price increases in Q1 of this year. Against the backdrop of high levels of inquiries for building work, it's imperative that smaller businesses have the same access to materials as the larger firms during these difficult times."
---
---
Mark Robinson, group chief executive at SCAPE, said: "Despite another month of strong growth, the construction industry cannot afford to become complacent as it approaches peak building season amid a concerning rise in material costs.
"As the wider economic recovery continues to accelerate, it is at this point – with material shortages driving record levels of inflation – that project timetables and the stability of contractors may be affected.
"With trade barriers unlikely to be removed in the second half of the year, attention will need to turn to careful project and cost management to ensure that supply chains remain resilient, new schemes start as planned and the recovery continues at pace."
Fraser Johns, finance director at Beard, added: "The headline figures tell a great story about the construction sector's recovery, which suggests a rapid rise in new business and orders at the highest level since 1997.
---
---
"It's clearly very welcome to be talking up prospects and seeing the trends going in the right direction, but there has to be a reality check taken as the ongoing crisis in materials shortages threatens to undermine the fast-paced recovery we're seeing.
"Supply chains are stretched like never before as the drop in factory output across Europe due to the coronavirus is really biting into delivery times, coupled with the ongoing difficulties at our ports due to Brexit.
"Confidence is returning to the economy and customers are forging ahead with plans that have been put on hold, our own head of work reflects the buoyancy of the market in that sense. But in order to keep confidence high, contractors must work smart and take a collaborative approach with suppliers and customers, to mitigate for the long lead-in times. Strong relationships with suppliers all the way down the line are going to be crucial to get through what is likely to be a difficult second half of the year in terms of the materials issue."
---