Renfrewshire Council to provide 'whole house' retrofit to 3,500 homes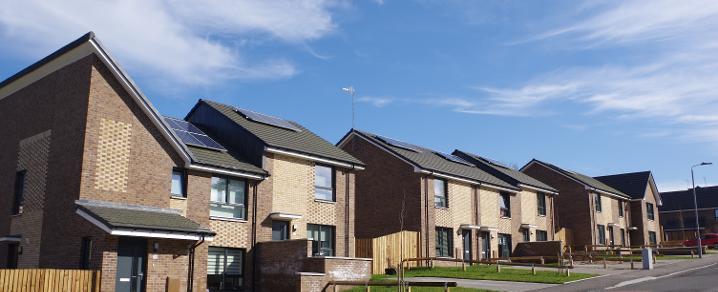 Renfrewshire Council is to embark on a major new social housing retrofit programme that will see up to 3,500 local authority dwellings renovated to either Enerphit or the AECB Retrofit Standard over the next four years.
Low energy and Passivhaus architects ECD have won a £4 million design contract to lead the retrofit of between 3,000 and 3,500 dwellings for the local authority — which includes suburbs like Paisley, Linwood and Johnstone to the west of Glasgow.
Duncan Smith, former housing strategy and asset manager at the council, who wrote the specification for the contract, said that it was designed to ensure quality control and a high standard of retrofit.
---
---
"These retrofits will benefit some of the most vulnerable, some of the poorest people in our communities, those most at risk of the cost-of-living crisis and fuel poverty," he said. "It's about reducing energy demand, closing the performance gap, and designing homes that are fit for purpose."
As well as stipulating that all dwellings must be retrofitted to Enerphit, as an ideal target, and the AECB Retrofit Standard, as a backstop, the contract also requires that retrofits adhere to PAS 2035 principles.
The AECB (Association for Environment Conscious Building) is a network of individuals and companies with a common aim of promoting sustainable building.
The AECB Retrofit Standard is a whole-house, fabric-first standard that is based on the Passive House Institute's Enerphit specification, but less onerous, with a space heating demand target of 50 KWh/m2/yr, as opposed to 25 KWh/m2/yr for Enerphit.
---
---
PAS 2035 is a new process for the energy retrofit of UK domestic buildings. It was developed as part of the 'Each Home Counts' process, which was established to tackle the high level of failure in domestic retrofit under government-backed schemes, though widespread adoption of PAS 2035 has been slow to date.
PAS 2035 mandates a number of specific roles on retrofit projects, including project designer, project manager, retrofit coordinator, and retrofit assessor, with minimum qualifications and/or professional accreditations for each.
Renfrewshire's contract stipulated that RICS professionals must be appointed to the key roles of retrofit assessor and retrofit co-ordinator.
The AECB said it welcomed the announcement.
---
---
Andy Simmonds, CEO, said: "We are inspired by Renfrewshire Council leading by example and trialling a well-structured, standards-based approach to retrofit that could be replicated at scale across the UK. The challenge for the UK is how to scale up retrofit solutions that are ambitious and effective yet flexible enough to be appropriate for individual homeowners as well as the social housing sector.
"Solutions need to be pragmatic, appropriate for the UK, fair and affordable. They should provide a range of not only energy and fuel bill related benefits, but also important non-energy benefits such as climate change resilience, comfort, health and well-being, reduced local pollution and climate change emissions and of course energy security.
"Retrofit projects and programmes need to start by adopting an appropriate – and adaptable - retrofit standard. Certification to the AECB Retrofit Standard requires submission of a whole house plan and other key items of design and as-built evidence. It offers a moisture-robust route to a successful building retrofit.
"This standard is based on the Passive House Institute's Passivhaus methodology (as used for its own Passivhaus retrofit standard, 'EnerPHit'. However the AECB standard responds to the type of housing typically found across the UK and, bearing in mind the increasing decarbonisation of the national grid, and the exciting potential of low carbon heating systems such as heat pumps, sets a more relaxed space heating demand target of 50 KWh/m2/yr, as opposed to 25 KWh/m2/yr for Enerphit.
---
---
"The AECB is currently researching extending the standard to also allow certification for projects where capital funds are more limited and a heat pump is being installed: under the 'heat pump ready' version of the standard less fabric-related measures can be balanced with excellent heat pump system efficiency and good attention to minimising the 'performance gap'. The whole house plan will ensure that deeper retrofit measures - if required later - will not be blocked or made unduly expensive and will be attractive to retrofitters who are in interested in making significant CO2 emissions reductions whilst only paying the same or less for their heating energy after they have removed fossil fuels from their homes."
Sarah Lewis, policy & research director at the Passivhaus Trust, added: "The scale & ambition of the Renfrewshire retrofit programme is exactly the leadership we need to see from local and national Governments to tackle the immediate & urgent fuel poverty crisis, as well as the climate emergency.
"We applaud Renfrewshire Council's understanding of the need for 'whole house' approaches to retrofit. It is great that the programme references the EnerPHit (Passivhaus retrofit) standard as an exemplar approach, with the AECB retrofit standard, which draws on the Passivhaus methodology, as a backstop position.
"The project offers an inspiring beacon during the energy bill and cost of living crisis."
---