Russell Roof Tiles gifts woodland to long-serving employees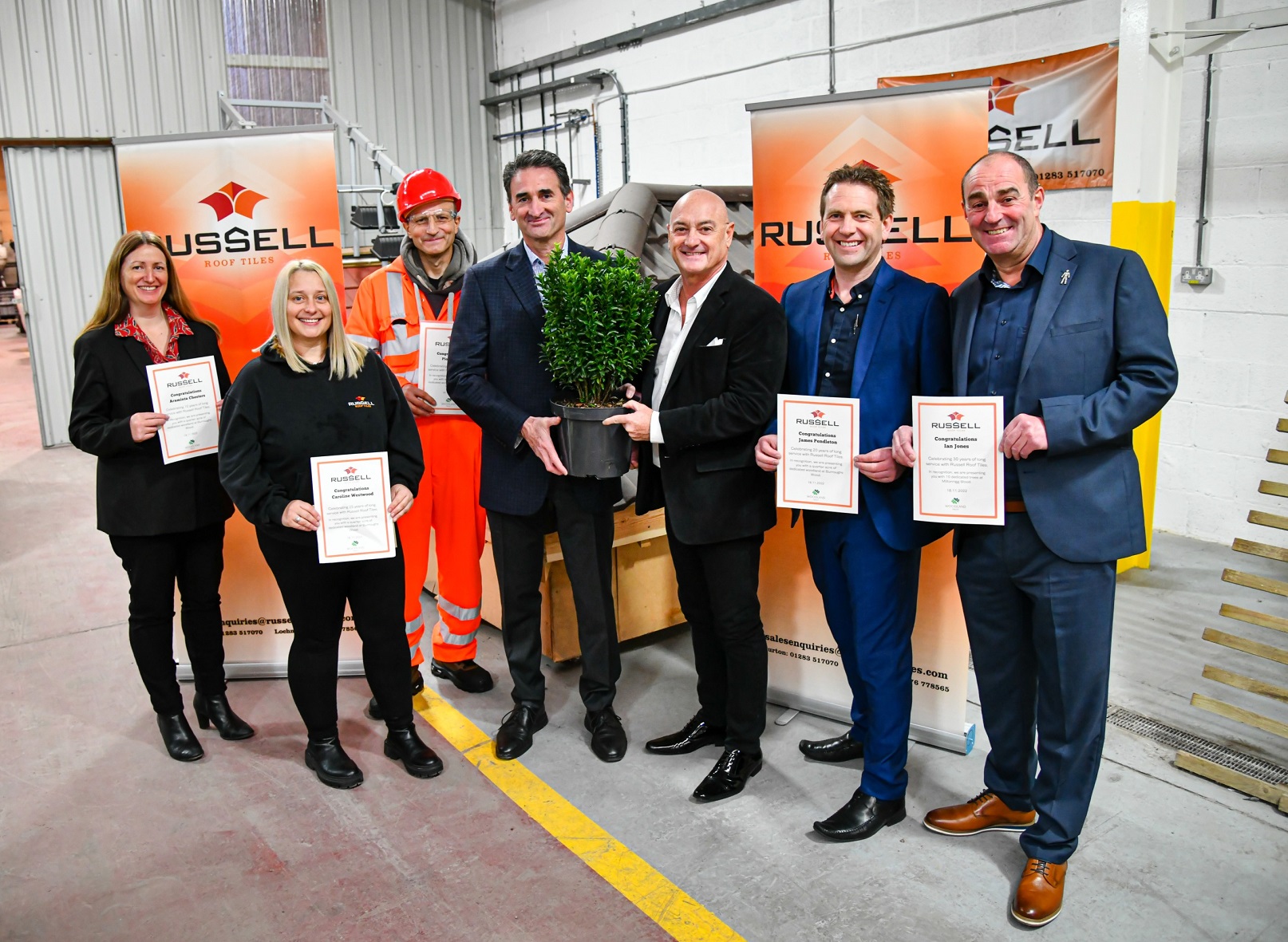 Pitched roof tile manufacturer Russell Roof Tiles (RRT) has presented new sustainable long service awards to the team who have a combined 120 years' service.
As part of its dedication to sustainability, the company has launched a new Long Service Programme giving long serving staff managed woodland, from The Woodland Trust, to tie in with Russell Roof Tiles' sustainable values and goals and net zero pledge. The Woodland Trust is the largest woodland conservation charity in the United Kingdom and is concerned with the creation, protection, and restoration of native woodland heritage.
To commemorate their hard work and dedication, woodland near the firm's by the Burton base has been dedicated to each long-serving team member. Team members from Lochmaben are presented with dedicated trees at a Woodland Trust site in Scotland.
---
---
Andrew Hayward, managing director at Russell Roof Tiles, said: "We are proud to have come up with a new, innovate and sustainable programme that is all about legacy. We're incredibly proud of, and grateful for, our team at Russell Roof Tiles. This new initiative helps us again invest in our local community whilst thanking our team at the same time.
"Having woodland that our team can visit, and add to, encourages eco-consciousness and reflects our sustainability mission perfectly. A huge congratulations and thank you to them for their continued efforts at Russell Roof Tiles."
The first recipients of the new scheme are Ian Jones, works manager, based in Lochmaben, who has worked for the company for 30 years, and Araminta Chesters, finance director (based at the HQ in Burton) who has worked for the company for 10 years.
Araminta Chesters said: "Receiving woodland that we can go and visit, and add to, is a lovely gift that ties in with our net zero pledge. This is a lovely inheritance to show my time at the company."
---
---
Other long-service recipients are Piotr Osses, an operative in Burton, who has worked for the company for 15 years. Vicky Gibbs, purchase ledger in Burton has worked for the company for 20 years, and Caroline Westwood, customer service supervisor, has been at RRT for 25 years, as has Paul Erskine, works manager in Burton.
James Pendleton, regional sales director, who has also worked for the company for 20 years, said: "Having worked for Russell Roof Tiles for two decades now, has meant that I've been able to grow with the company and see all our developments over the years.
"The focus on sustainability and innovation is highlighted through our teams work, and it's an honour to receive a long service award that reflects our legacy in a sustainable way."
---