Scottish Housing News celebrates its first 20 years! 
This week marks the 20th anniversary of Scottish Housing News. From a handful of subscribers in 2001, it has grown to become an essential part of the working day for Scotland's dynamic social housing sector, sharing uplifting stories of best practice and innovation while at the same time campaigning to support Scotland's housing associations and the ongoing campaign to eradicate homelessness.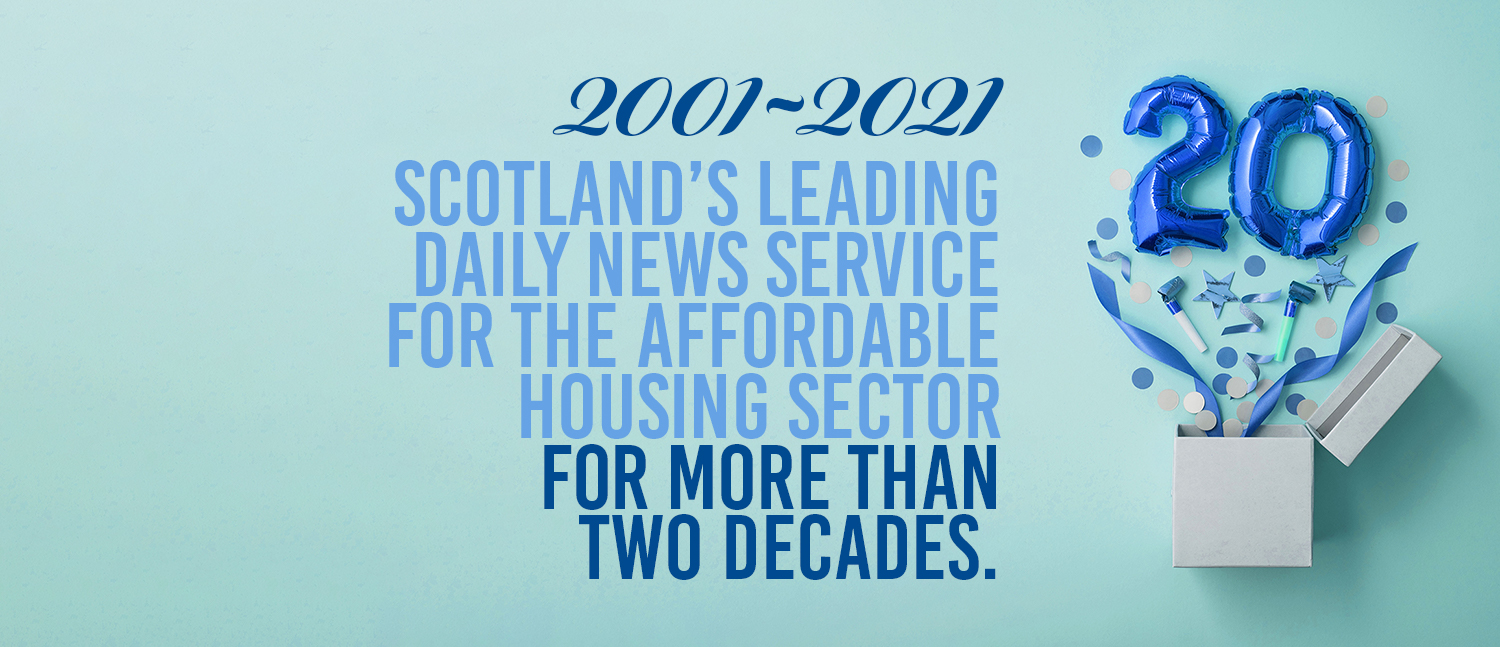 SHN began in 2001 as a daily newsletter going out on Hotmail with no pics and no supporting website!
Managing editor Graham Ogilvy said: "Our first issue went out to just 13 pals of mine in the social housing sector. It was sometimes tough to get sufficient stories at a time when most housing associations were not geared up to issue press releases. But we hammered away at it and as we built up the news flow, the readership steadily climbed and the job advertising came in. It astonishes me that after 20 years SHN still records new readers signing up every day."
---
---
Last month Scottish Housing News had 7,827 daily subscribers while the SHN website was visited by 97,971 unique visitors. Social media followers on Twitter, Linkedin and Facebook were 19, 237.
Mr Ogilvy added: "The success of Scottish Housing News allowed us to develop a model that we eventually rolled out with Scottish Construction Now in 2004 followed by Scottish Legal News and Scottish Financial News. At a time when the traditional print media was sadly collapsing, we were able to create good, sustainable journalism jobs and we are continuing to develop the services."
Scottish Housing News and its sister publications now go out daily to 43,448 subscribers with 426,481 unique visitors to the websites last month. The services also have a combined social media following of 79,328.
Mr Ogilvy continued: "I would like to thank our loyal readers and valued advertisers for their continuing support. Thanks also go to the PR professionals who keep the stories coming and to our own editorial, advertising and admin staff."
---
---
SHN editor Kieran Findlay said: "It has been great to see the continued growth of Scottish Housing News and to be part of its success. Scotland should be proud of its dynamic social housing sector which is doing so much to build communities as well as decent, energy-efficient and eco-friendly homes. At SHN we're certainly proud to fly the flag for sector every day."
Keep an eye on SHN's social media channels Twitter, LinkedIn and Facebook over the coming days where we will be sharing endorsements and messages of congratulations for our anniversary. Please use #SHN20years if you wish to join in!
---