ScotWind offshore wind auction raises almost £700m
Crown Estate Scotland's application process for ScotWind Leasing, the first Scottish offshore wind leasing round in over a decade, has raised almost £700 million.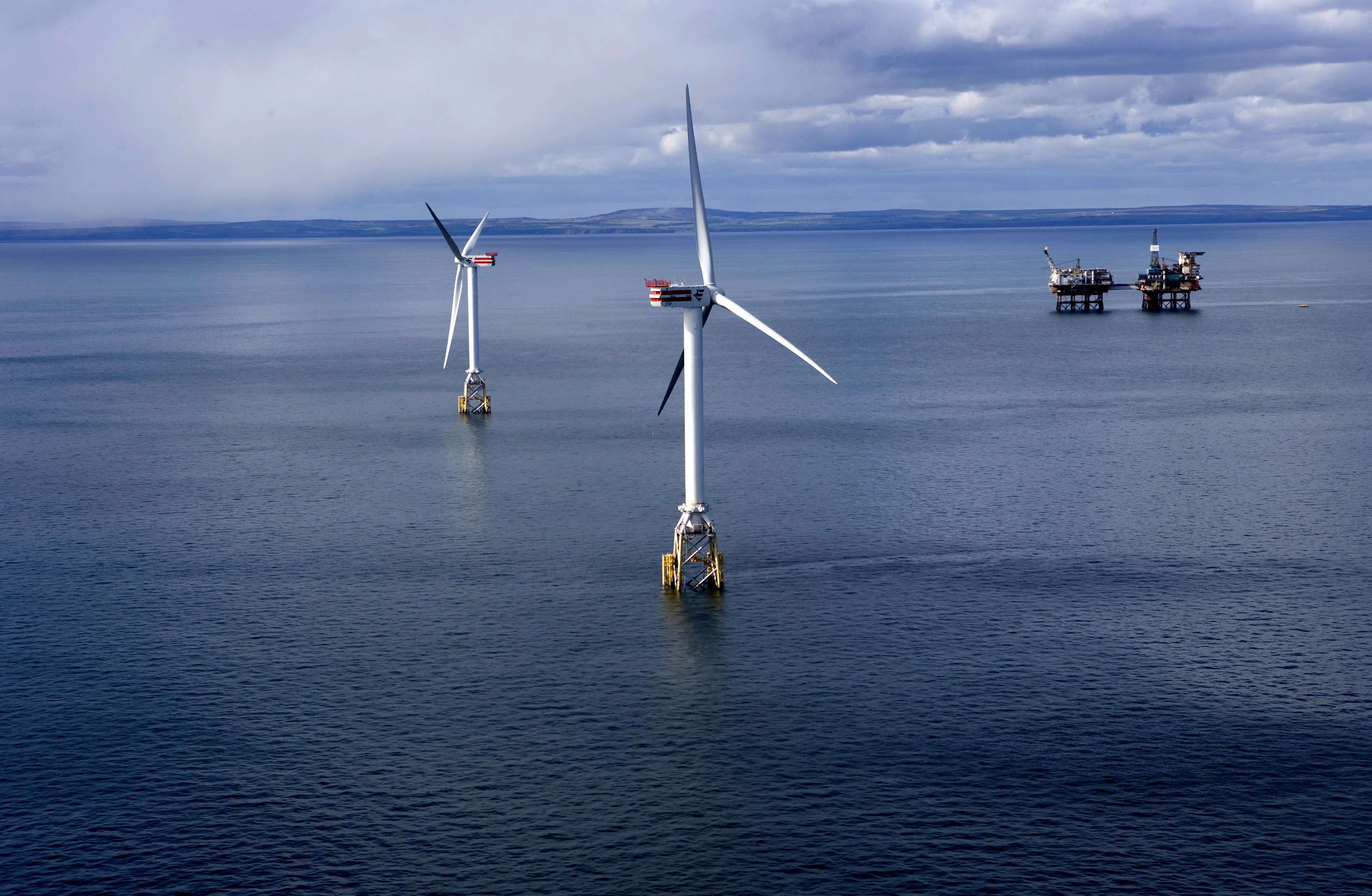 A total of 17 projects have been selected out of a total of 74 applications, and have now been offered option agreements which reserve the rights to specific areas of seabed.
Just under £700m will be paid by the successful applicants in option fees and passed to the Scottish Government for public spending.
---
---
The area of seabed covered by the 17 projects is just over 7,000km2 (a maximum of 8,600km2 was made available through the Scottish Government's Sectoral Marine Plan).
Signalling the first-ever leasing round since the management of offshore wind rights were devolved to Scotland, initial indications suggest a multi-billion-pound supply chain investment in Scotland.
ScotWind projects selected
| | | | | |
| --- | --- | --- | --- | --- |
| Map reference | Lead applicant | Option Fees | Technology | Total capacity (MW) |
| 1 | BP Alternative Energy Investments | £85,900,000 | Fixed | 2,907 |
| 2 | SSE Renewables | £85,900,000 | Floating | 2,610 |
| 3 | Falck Renewables | £28,000,000 | Floating | 1,200 |
| 4 | Shell New Energies | £86,000,000 | Floating | 2,000 |
| 5 | Vattenfall | £20,000,000 | Floating | 798 |
| 6 | DEME | £18,700,000 | Fixed | 1,008 |
| 7 | DEME | £20,000,000 | Floating | 1,008 |
| 8 | Falck Renewables | £25,600,000 | Floating | 1,000 |
| 9 | Ocean Winds | £42,900,000 | Fixed | 1,000 |
| 10 | Falck Renewables | £13,400,000 | Floating | 500 |
| 11 | ScottishPower Renewables | £68,400,000 | Floating | 3,000 |
| 12 | BayWa | £33,000,000 | Floating | 960 |
| 13 | Offshore Wind Power | £65,700,000 | Fixed | 2,000 |
| 14 | Northland Power | £3,900,000 | Floating | 1,500 |
| 15 | Magnora | £10,300,000 | Mixed | 495 |
| 16 | Northland Power | £16,100,000 | Fixed | 840 |
| 17 | ScottishPower Renewables | £75,400,000 | Fixed | 2,000 |
| Totals | | £699,200,000 | | 24,826 |
Crown Estate Scotland said the potential power generated will provide for the expanding electrification of the Scottish economy as the country moves to net zero.
---
---
Simon Hodge, chief executive of Crown Estate Scotland, said: "Today's results are a fantastic vote of confidence in Scotland's ability to transform our energy sector. Just a couple of months after hosting COP26, we've now taken a major step towards powering our future economy with renewable electricity.
"In addition to the environmental benefits, this also represents a major investment in the Scottish economy, with around £700m being delivered straight into the public finances and billions of pounds worth of supply chain commitments. The variety and scale of the projects that will progress onto the next stages shows both the remarkable progress of the offshore wind sector, and a clear sign that Scotland is set to be a major hub for the further development of this technology in the years to come."
Should any application not progress to signing a full agreement, the next highest scoring application will instead be offered an option.
Once these agreements are officially signed, the details of the supply chain commitments made by the applicants as part of their Supply Chain Development Statements will be published.
---
---
This is just the first stage of the long process these projects will have to go through before we see turbines going into the water, as the projects evolve through consenting, financing, and planning stages. Responsibility for these stages does not sit with Crown Estate Scotland, and projects will only progress to a full seabed lease once all these various planning stages have been completed.
ScottishPower has been awarded the seabed rights to develop three new offshore windfarms off the coast of Scotland – including two new floating windfarms being developed in conjunction with Shell.
The projects – with a total capacity of 7GW – will more than treble ScottishPower's existing offshore wind pipeline from 3.1GW to an incredible 10.1GW, significantly boosting the company's position in the UK's offshore wind market. Globally Iberdrola now has over 35GW of operational capacity, pipeline, and early-stage developments in offshore wind.
The new Scottish projects, which have the potential to create enough clean energy to power almost 8.5 million homes – more than three times the number of homes in Scotland – comprise:
---
---
MarramWind joint venture (in partnership with Shell) off the north-east coast of Scotland (3GW floating)
CampionWind joint venture (in partnership with Shell) off the east coast of Scotland (2GW floating)
MachairWind project off the coast of Islay (ScottishPower only 2GW fixed).
The MarramWind and CampionWind sites, which are in deeper waters than the Islay site, will be among the world's first large-scale floating offshore windfarms, heralding the start of a new era for floating wind that will kick start a new green global offshore industry – with Scotland and the UK leading the way.
Iberdrola's chairman and CEO, Ignacio Galán, said: "Offshore wind is essential for a Net Zero world as it delivers large volumes of clean energy at competitive prices, as well as boosting industrial development and creating significant employment.
"Iberdrola is a global leader in offshore, with investments of more than 5.5 billion euros already delivered in the UK, Europe and the US. By 2030, we aim to invest 30 billion euros delivering projects in existing markets, as well as new markets, such as Asia.
"The UK is where our first offshore projects were built, and it is home to our global centre of excellence. In total, 3 billion euros of investment has been made in UK offshore, delivering 1,000MW of capacity. The ScotWind award increases our pipeline to 10,000MW, which could see investment of 30 billion euros, and demonstrates our commitment to Scotland and the UK.
"The significant investment opportunities for this technology is also encouraging new partnerships, such as the one we have created with Shell. This builds on other partnerships we have developed globally with companies such as Total and Macquarie."
Online supply chain registration portals for all three projects are now live, giving organisations the chance to get involved in working with ScottishPower and Shell to shape the next chapter for the offshore wind industry.
Keith Anderson, CEO of ScottishPower, said: "It's absolutely brilliant to get the green light to develop new floating technology in partnership with Shell, while expanding our renewables presence in Argyll and Bute into the offshore industry. Offshore wind is set to become the backbone of the UK's energy mix and will do the heavy lifting as we ramp up the production of clean electricity on the journey to Net Zero. Our ScotWind projects will play a massive part in that and make the best use of our fantastic natural resources to help power the UK's transition from fossil fuels to renewables and a better future, quicker.
"They will also deliver investment, support jobs and boost supply chains – particularly in areas like the north-east that play a key role in the energy sector – opening up immense opportunities for businesses and institutions across the country. This is a pivotal moment that will reinforce the UK's position as the global leader in offshore wind and boost the UK economy, with ScottishPower right at the heart of that transformation. We look forward to working with Shell and our supply chain partners to make that happen – come and talk to us now."
Wael Sawan, integrated gas and renewables and energy solutions director at Shell, added: "Shell and ScottishPower can now look forward to generating floating wind power at significant scale in the UK to accelerate the country's transition towards Net Zero. Floating wind plays to our strengths in deeper offshore projects, and we are well placed to help advance the wider take-up of this important clean energy source. Renewable electricity will play an increasingly important role in our customer-focused strategy, as we provide more low-carbon products and services customers need for their own journey to Net Zero."
Claire Mack, chief executive of Scottish Renewables, said: "Today's announcement on the outcome of the first ScotWind leasing round is an exciting and significant moment in Scotland's renewable energy story, with offshore wind set to make a major contribution to bringing about our net-zero future. The potential for 17 new projects creates huge ambition for our sector to deliver on, and will require strong collaboration to deliver maximum impact for our economy and environment. The scale of commitment to Scotland's supply chain outlined alongside today's announcement creates an incredible platform for industrial transformation and revitalisation.
"These lease offers add greatly to our existing pipeline of projects in construction and development. Scotland now has an extensive and attractive offshore market, and the most seabed dedicated to commercial floating wind development anywhere in the world. These 11 floating wind projects give Scotland a historic opportunity to create a major new sector to drive the blue economy, drawing on our deep water expertise and making a just energy transition a reality in the North Sea.
"Many congratulations to the winning companies, who were amongst a huge number of strong proposals to deliver the next generation of wind farms in Scotland's seas. Many challenges lie ahead but I am delighted to see a range of both established and new faces who will invest so much over the coming decade to bring these projects to life.
"It is particularly exciting to see wind farms able to progress right around our coast, from Islay in the west, to Lewis and Orkney and right down the east coast. This means a new range of communities are set to benefit from the growing economic impact of the offshore wind sector. Throughout this leasing process bidders have put forward their plans to maximise their use of Scottish suppliers, and now the whole sector is able to move forward in a strategic way to invest for the long-term success of our ports and supply chain."