Second stage of £40m Bellsmyre regeneration given green light
The major regeneration project at Bellsmyre in Dumbarton is taking shape with four families moving into their new homes and the council giving the green light for the next phase of development.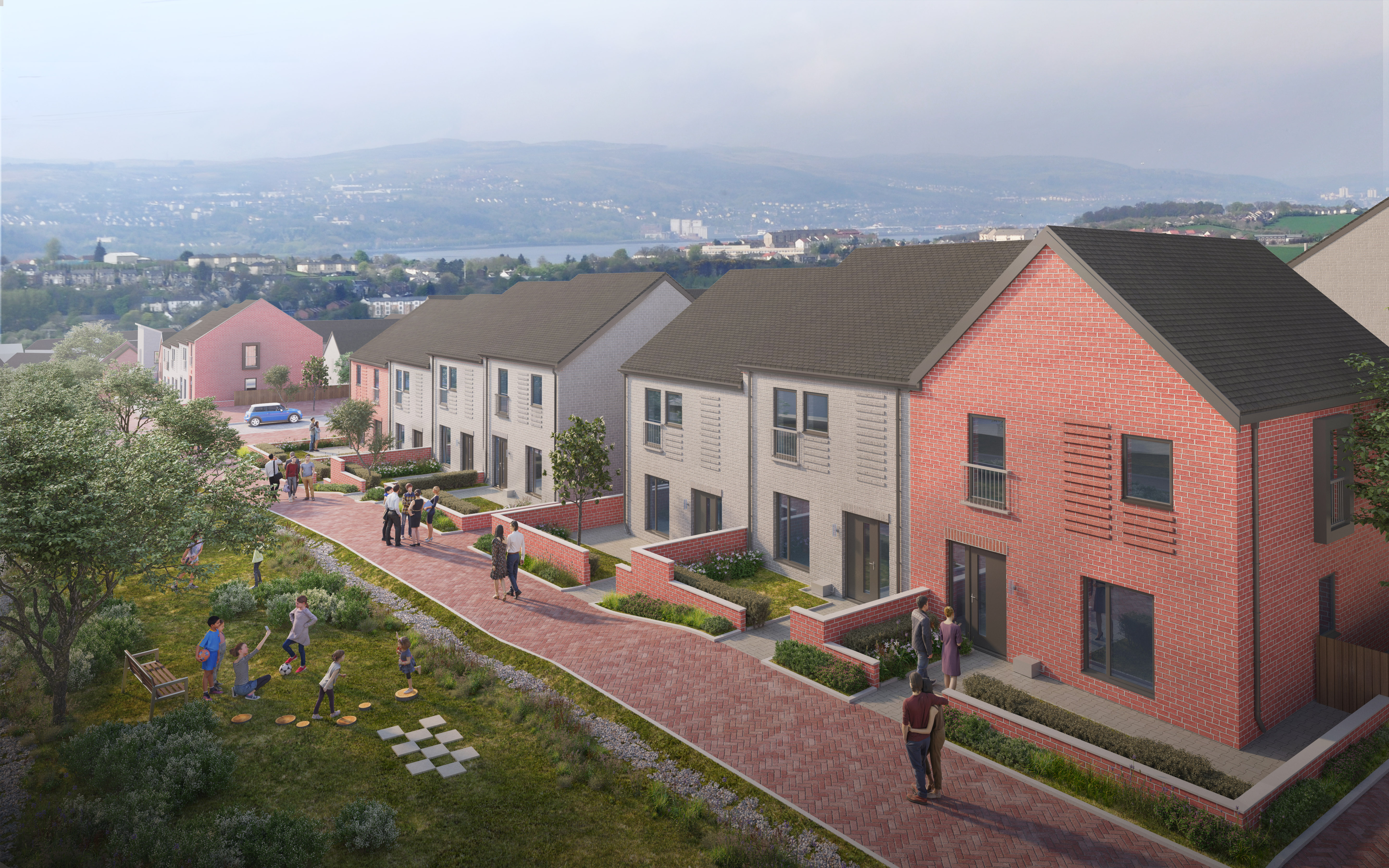 The first tenants have been handed keys to their brand new homes at Muir Road for Caledonia Housing Association. A further 62 homes will be completed by May this year providing much needed, high quality and affordable housing for the area.
The brownfield site along Muir Road is the first phase of Caledonia Housing Association's multi-million-pound regeneration for Bellsmyre. The new development is designed by ECD Architects and constructed by CCG (Scotland). The first new homes to be completed are three-bedroom family houses. The properties look across over the Clyde to Dumbarton Rock.
---
---
The new homes constructed at Muir Road will be a mix of houses and flats with one, two and three bedrooms to cater for a wide range of families and individuals. There will be a further 40 two and three-bedroom houses, and 22 one and two-bedroom flats.
Construction at Muir Road used modular offsite building methods allowing for enhanced levels of performance and quality for the new build construction. It also limits the need for heavy machinery on site and reduces work force traffic resulting in less disruption for tenants moving in and for the community nearby.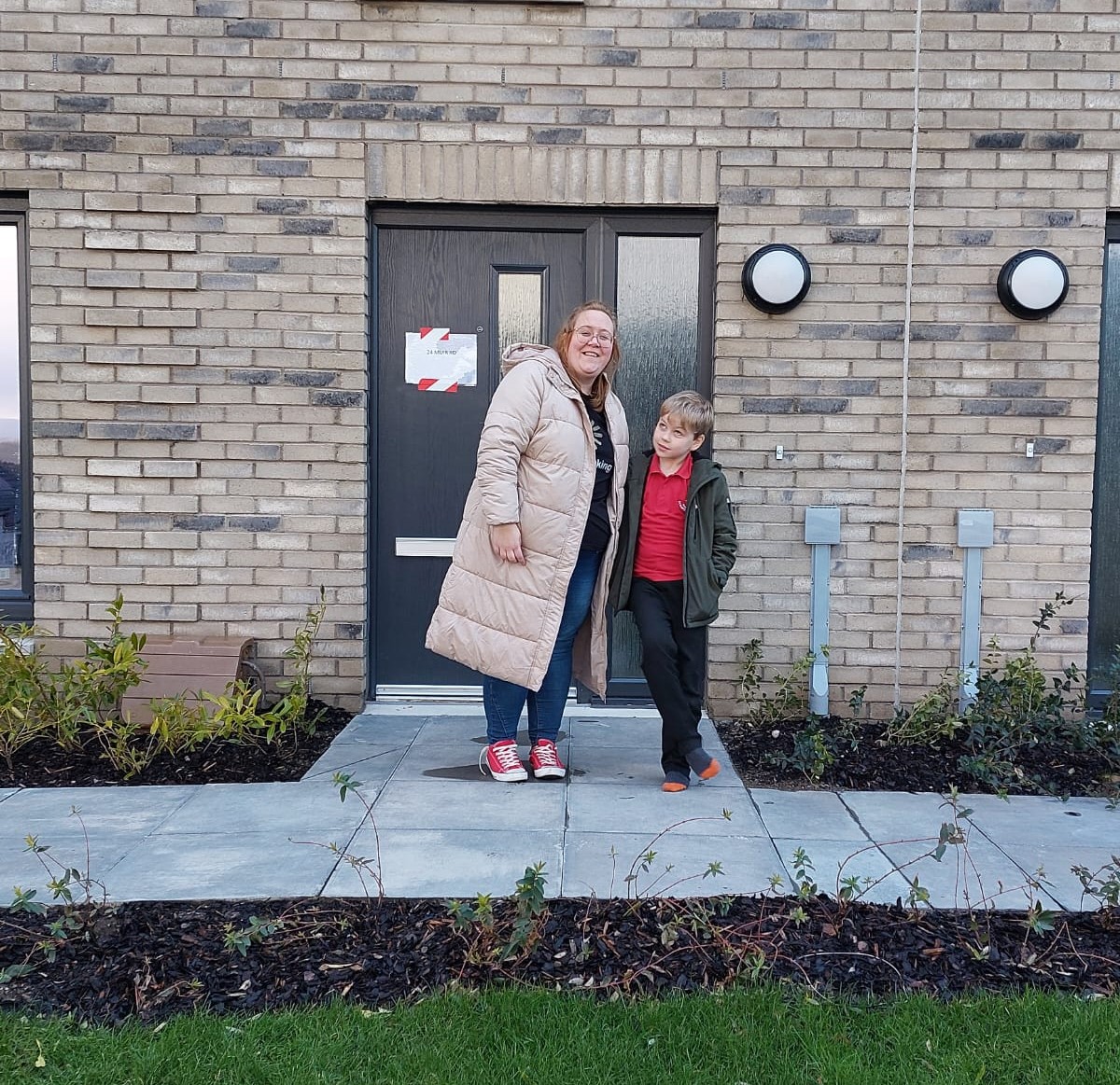 All the homes at Muir Road are finished in a grey multi-tone textured brick, with contemporary grey window frames. When complete Muir Road development will include areas of open space with a dedicated area with children's natural play equipment, benches and landscaping.
---
---
Andrew Kilpatrick, director of assets, said: "It is great news that phase one of the Bellsmyre regeneration is coming into fruition with families moving into their new homes. It is also welcome news to get planning approval for the next phase of the regeneration programme to help build a better Bellsmyre.
"Creating new homes at Muir Road is a real milestone and we will be handing over keys for the much-needed affordable housing, from now until the development is completed in the early Summer. Many of the new tenants moving in have been in alternative decant accommodation for two years, whilst they waited for the development to be completed. We are so pleased we can now welcome them to a high-quality new home."
Dilveer Kaur Hoonjan, the lead project architect, ECD Architects, added: "It's great to see tenants now moving into their homes at Muir Road. We are delighted to receive planning approval with the positive feedback we have received from the community and West Dunbartonshire Council for this project for Caledonia Housing Association. We look forward to seeing the project progress over the coming months."
The planning permission approval is to build a further 140 new homes and improve community amenities in Bellsmyre, Dumbarton. The ambitious plans for the £40 million regeneration including new homes to replace many of the original tenements. Complete, the development is set to be one of the most energy-efficient of its kind in West Dunbartonshire with varying standards of build, including operational net-zero carbon and the Passivhaus standard.
---