Sheet Piling UK awarded contract to assist North Ayrshire flood defences 
Sheet Piling (UK) Ltd is handling work on a high six-figure contract to install steel sheet piles as part of the defences within a major North Ayrshire flood defence project, for which £14 million of its £18m cost is being covered by the Scottish Government.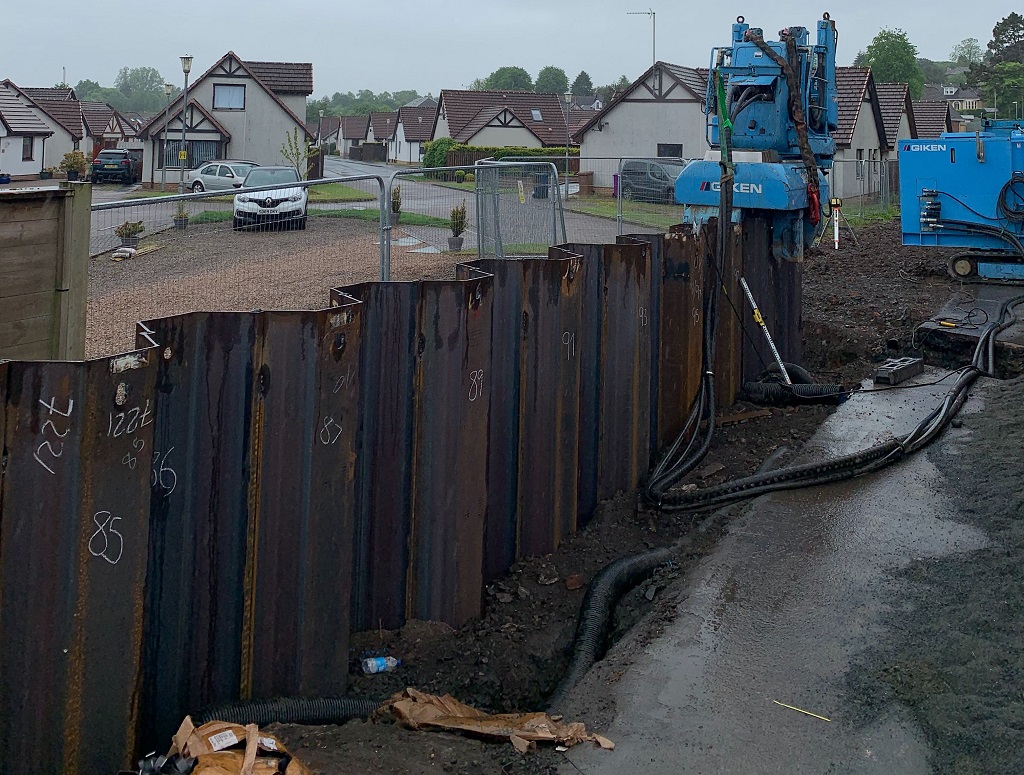 Work started on the Upper Garnock flood prevention scheme on May 17 as being part of a project that will help Scotland tackle the impacts of climate change and target green, post-pandemic recovery.
Sheet piling crews will be working until early October on a project run by main contractor, McLaughlin & Harvey, which aims to reduce the flood risk to properties in Kilbirnie, Glengarnock and Dalvy.
---
---
The flood prevention works are in an area prone to flooding and which suffered greatly in 2008, when many properties in Kilbirnie were affected. Steel sheet piles have been recognised for their effectiveness in acting as flood barriers within flood defence works, with which Sheet Piling UK has extensive experience. The current flood prevention works aim to provide the area with a long-lasting flood defence solution and the choice of steel sheet piles demonstrates awareness of their efficacy in this regard.
Sheet Piling UK is handling two major components of the project. It is firstly supplying and installing 215m of Arcelor Mittal GU16N section steel sheet piles, ranging in length from 8m to 13m and using these to create a long and permanent flood protection wall, very close to domestic properties exposed to flooding risk.
Given the proximity of the wall to the neighbouring properties, Sheet Piling UK is using its own silent and vibrationless Giken F201 sheet pile press, to install the U-section sheet piles in as an environmentally sensitive way as possible. Noise and vibration pollution is minimised through this methodology, which just requires the equipment to use its methodology to press the piles into the ground, rather than hammering and driving them in. Also in attendance is a 70Te telescopic crawler crane from Sheet Piling UK's fleet.
As well as installing the steel sheet pile flood defence wall, Sheet Piling UK operatives are installing steel caps and UC waling beams at several service crossings along the length of the sheet pile wall. All sheet pile interlocks have been provided with clutch sealant, pre-applied at Sheet Piling UK's yard, using a new machine which enhances health and safety in the clutch sealant process.
---
---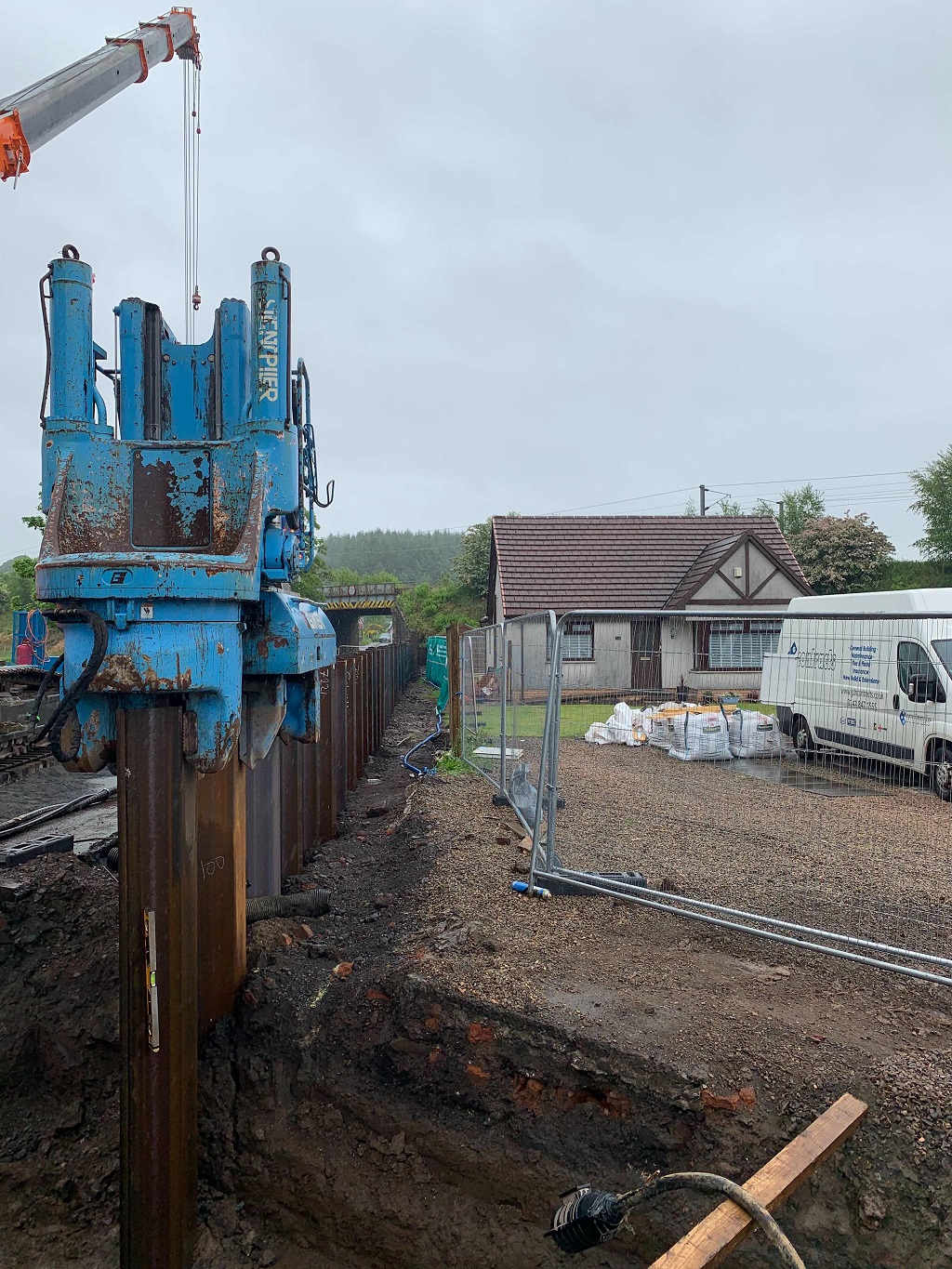 On completion, all interlocks will also have a 1m length of weld, to provide additional flood prevention for the local Ayrshire community. The wall will then be aesthetically enhanced with stone cladding and coping, an option coming with the use of steel sheet piles.
The second part of the contract revolves around the supply and installation of approximately 380Te of Arcelor Mittal GU16N section sheet piles, each 10m long. These are to form a long and permanent flood protection wall at the toe of an existing railway embankment. Again, all interlocks have had clutch sealant applied and the same 1m welding work will take place.
Here, however, jet filter weepholes – approximately 65mm in diameter - are also being installed in every second sheet pile, at around 250mm above ground level, to assist drainage through the sheet pile wall.
---
---
The U-section sheet piles are being installed at this embankment location by one of Sheet Piling UK's ABI 14/17 telescopic leader rigs, with a 70Te crawler crane on hand to assist. Strict vibration monitoring, in line with Network Rail's requirements, is taking place and, if necessary, a silent and vibration-free pile press is on standby, ready to step in.
Sheet Piling UK is working in line with the requirement to only carry out works from 10am to 4pm Monday to Friday, to minimise impacts on local property owners.
Sheet Piling UK's managing director, Andrew Cotton, said: "The flood defence works, will help protect the homes of nearby Scottish residents from the waters of the River Garnock, Powgree Burn and Rye Water but there are many other areas in Scotland – and the rest of the UK – that could benefit from sheet pile flood defence works and our in-depth experience with helping communities battle the risk of flooding and the negative weather impacts of climate change.
"We hope to extend Sheet Piling UK's reach within Scotland and are ready to assist the Scottish Government with its attempts to green and future-proof environmental defences and battle the impacts of climate change, should our expertise in this field be required elsewhere."