Shetland engineering firm secures funding to invest in sustainable services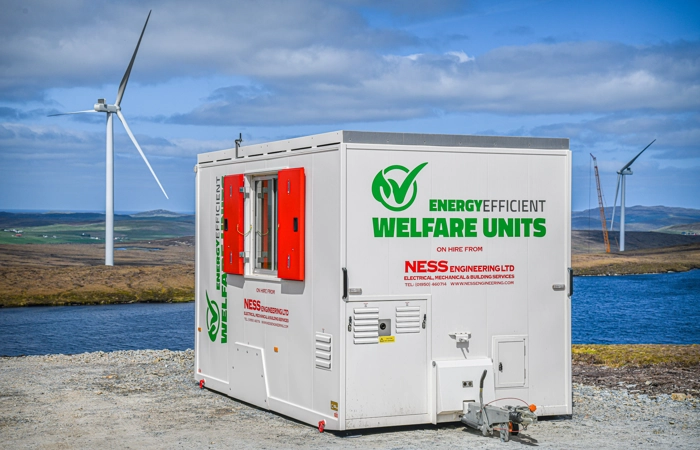 A project by Ness Engineering Ltd to provide more sustainable and environmentally friendly services for its clients has secured up to £86,625 from Highlands and Islands Enterprise (HIE).
Sumburgh-based Ness Engineering Ltd is reducing carbon emissions in its operations in a move that will safeguard four jobs and cut Co2 emissions by up to 118 tonnes over three years – equivalent of 44 tons of diesel. This in turn will help the country's transition to net-zero.
Ness Engineering provides welfare units to construction sites. The units contain toilets, a canteen and workers' rest area. Traditionally, such units are powered by diesel generators, but Ness Engineering has been working on developing a net zero alternative.
---
---
As part of its wider decarbonisation project, the company has bought four zero emission welfare units for a pilot project at the island's Viking Wind Farm.
At the heart of these new 'green' welfare units is a host of features that help reduce emissions, minimise power consumption and increase the time between service intervals.
They include solar panels and lithium-Ion battery storage, as well as rainwater harvesting and water recycling. The cabins are 100% stainless steel construction for extended service life and have remote monitoring of tank levels for servicing needs.
The HIE funding is enabling Ness to trial the technology at the top of a remote hill in Shetland to determine its viability as a year-round low carbon alternative.
---
---
George Irvine, senior development manager with HIE in Shetland, said: "This project is the result of Ness Engineering's aims to move the company in a more sustainable and environmental direction. We've been working with the company for several years now, during which time it has expanded into a valuable employer in Shetland with a key role to play in our region's transition to net zero.
"We're delighted to support this initiative and look forward to continuing working with Ness as the project develops."
Alistair Leslie, managing director at Ness Engineering Ltd, added: "Many people in the industry are as keen as we are to see real change and a move towards a sustainable net zero, carbon neutral future. Understandably there is some scepticism about the effectiveness of solar power in Shetland, especially during the winter. However, the new generation of low light solar panels along with lithium Ion battery storage, highlight the clear potential of this technology as a viable year round alternative.
"Initial data from the units' power and water use since installation on-site in April looks very promising and the CO2 savings for the year should be significant. We're confident these units will become the new expected standard of welfare provision."
---