South Ayrshire Council reveals plans for Arran Mall & former Hourstons building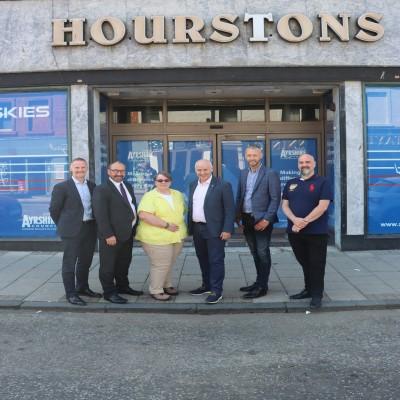 South Ayrshire Council will work with the South Ayrshire Health and Social Care Partnership (SAHSCP) and NHS Ayrshire & Arran to turn the former Hourstons building and the Arran Mall in Ayr into a 'Living Well Village.'
The decision was taken at this week's cabinet meeting with councillors agreeing to progress the project which will follow the council's successful purchase of the Arran Mall.
A feasibility study has already taken place and Councillors heard that SAHSCP staff could move into the former Hourstons building. The Arran Mall would be demolished, with a view to transforming the area into a 'Living Well Village' which could feature residential care, care experienced accommodation, a day centre, and affordable housing.
---
---
Although the original Hourstons frontage would be retained, some demolition could take place at the back of the building to help make way for the care facilities.
The plans could involve the relocation of SAHSCP services from premises currently owned by the council. Consultation on any moves would take place as appropriate.
Following the decision, council staff will now work with partners to firm up their requirements for the site. Building warrants will also be submitted in advance of demolition works.
Councillors will receive an update on the proposals and funding options towards the end of this year.
---
---
Councillor Martin Dowey, leader of South Ayrshire Council, said: "These are innovative plans which could help to transform Ayr High Street. The demolition of the mall and some of the extension at the back of Hourstons would generate a significant amount of space, so we could provide a range of housing accommodation from independent living to assisted living, which is very much in demand.
Councillor Martin Kilbride, buildings, housing and environment portfolio holder for South Ayrshire Council, added: "This is an exciting proposal and one that could ultimately help traders in the town centre with an influx of SAHSCP staff, new residents and people coming into Ayr to access care services. In the meantime, we will concentrate on finalising the purchase of the Arran Mall which will be a significant milestone."
Councillor Lee Lyons, health and social care portfolio holder for South Ayrshire Council, commented:" The development of a living well village will be one of the first in Scotland, providing housing, care, and health facilities in one location to meet a range of needs. This development will mean that South Ayrshire is uniquely placed to offer modern health and care services to the people that need them most. We will continue to work with the SAHSCP and NHS Ayrshire & Arran to ensure their needs are addressed."
Claire Burden, chief executive - NHS Ayrshire & Arran, said: "This project is one of many that captures our commitment to partnership working. At the heart of our Caring for Ayrshire ambition is to deliver the best care at the right time, with the right professional in the best place. Developing our shared infrastructure in Ayr supports us in achieving those ambitions. This is an exciting project, and we will look forward to working with South Ayrshire Council to help maximise this opportunity for the benefit of the citizens of Ayr."
---