South Lanarkshire Council helps local firm build a carbon neutral future
South Lanarkshire Council is providing assistance to a local business that is constructing office and industrial spaces that are future-proofed for potential changes to the environment.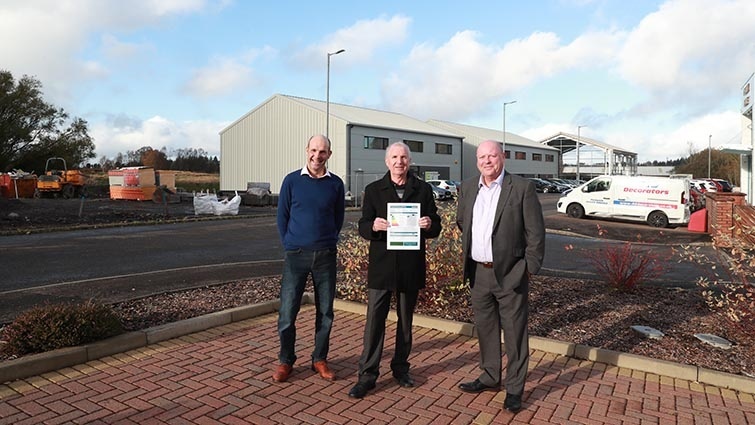 At the Langlands Gate Campus in East Kilbride, GMD Properties Ltd and its construction partner AL Perrie Ltd, are building industrial units way above the current specifications.
Graham Divers of GMD Properties Ltd, who has been working with the council's estates, planning, building control and economic development teams to build sustainable hybrid multi-use commercial buildings, said: "Carbon neutral and net zero carbon are familiar terms but what do they really mean for new industrial and commercial buildings?
"It is important that developers lead change in our industry in a responsible way so that we contribute towards Scotland's climate change legislation and net-zero emission targets."
Councillor John Anderson, the chair of the council's community and enterprise committee, said: "I am delighted that the council has been able to support these building works. Providing energy efficient commercial properties, contributing to national net zero ambitions and creating employment, must be applauded and supported as much as possible.
"GMD and AL Perrie are pushing hard in the right direction to ensure what they are building meets the needs of their clients but really is contributing to the carbon neutral ideals that every company should be striving to achieve."
Launched in early 2020, GMD has been developing its site at Langlands Gate Campus, building a series of seven new modular, flexible, business / industrial / warehouse units.
And the units are being fitted out with a wide range of energy efficient features including:
High-performance insulation on walls, roofs and doors
Double and energy efficient glazing
Smart LED lighting
Air source heat pumps
Bob Perrie, of AL Perrie Ltd, said: "Our units are designed to suit each client. As part of the build we include extra thick insulation panels, high-performance windows and doors for natural light indoors, plus a range of additional features that are client specific including energy efficient heating systems from hot and cold air source pumps to solar panels and heat source systems, always with an eye to new systems that can make our buildings even more energy efficient.
"But as part of the build we also incorporate design features that will allow the buildings to be as sustainable as possible over their entire lifespan, allowing for the addition of more internal space by adding a mezzanine, or to split and change many of features of the building for future clients as and when our existing customers move on to different accommodation as their business needs change."
And the campus not only provides electric chargers in the parking areas and covered cycle spaces to encourage active commutes, but is making sure that the area remains as environmentally friendly within its location nestled on the outskirts of the Langlands Moss Nature Reserve and Langlands Golf Course.
Not satisfied with working to 2021 building regulations which would typically expect a building energy performance rating of B+ (18) EPC, the new buildings have achieved A (10) ratings which GMD saidare boosting market appeal as clients increasing want to occupy more sustainable properties.
Graham said: "Occupier interest in sustainability credentials is only likely to increase, as awareness about the impacts of climate change continues to grow and industry practices change.
"As more and more companies strive to achieve net zero in their working practices, so too will they expect to be based in carbon neutral offices and warehouses.
"We know we can do more on the next phases of our development with A+ (-5) Carbon Neutral possible."
The council can support future projects that are focused on green technologies and environmental sustainability outcomes through our Business Support Grants.