Students challenged to design exemplary net zero community centre using timber
Edinburgh Napier University supports launch of a competition challenging students across the UK to design an exemplary net zero community centre using timber.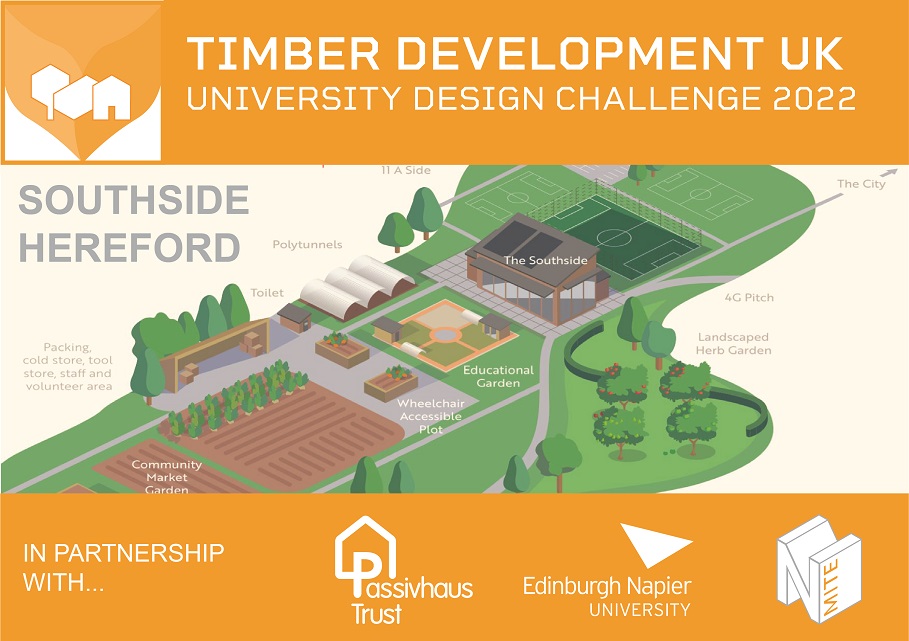 Trade membership body Timber Development UK is partnering with New Model Institute of Technology and Engineering (NMITE) in Hereford, Edinburgh Napier University (ENU) and the Passivhaus Trust, to challenge built environment students and recent graduates, to design a community centre that is truly sustainable.
Teams have been tasked to create a community building which produces more energy than it consumes while working across four distinct careers in the built environment; architects, engineers, cost consultants, and landscape architects.
---
---
Students who enter the competition will have the chance to win a cash prize as well as industry recognition when the winners are announced in June next year.
The approach encourages students to collaborate to use sustainable building materials and methods which will drive future energy and resource efficiency. Entrants must also consider the local environment and community so will have to focus on the health and wellbeing of people, the community, and our planet.
To support students in achieving a successful collaboration, a programme of webinars will be provided in early 2022 giving teams tips, tools and insight on how to build a winning entry.
Tabitha Binding, Timber Development UK, university engagement programme manager, said: "Built environment professionals must prepare for a net zero future, and this must start in the classroom if we are to reach our climate goals. Our curriculum must be strengthened to meet the climate challenge by raising climate literacy.
---
---
"For our future architects, engineers, cost consultants, and landscape architects, this means improving their knowledge and capability of working with low-carbon materials such as timber – and being able to use it wisely and well.
"They also need to be able to work effectively together, as interdisciplinary design and delivery teams can achieve far more than individual professions working separately on the same project. Where better to learn these skills than at university?"
Kirsty Connell-Skinner, sustainable construction partnerships manager at Edinburgh Napier University, added: "This competition illustrates Edinburgh Napier's innovative approach to timber engineering education – an exciting real-life challenge for built environment students and recent graduates to design and build for a net zero future. Bringing groups together for this challenge will help to make ideas and innovation come to life. This is the sweet spot where we can unlock the potential to help meet sustainability ambitions in the construction industry.
"With support from the HCI Skills Gateway and Ufi VocTech Trust, the 2022 competition will see our experiential learning in Timber Technology Engineering & Design adopted across the UK. We can't wait to see the positive impact this competition will have for Hereford Southside and the world."
---
---
Further details about the challenge or sign-up forms can be found here.
---