Students recognised by CALA for homebuilding vision
Students at Heriot-Watt University have been rewarded for their innovative ideas for the future of the housebuilding industry.
CALA Homes has awarded five third year students from the University's Construction Project Management and Quantity Surveying courses with a paid internship as part of this year's CALA Student Partnership Award.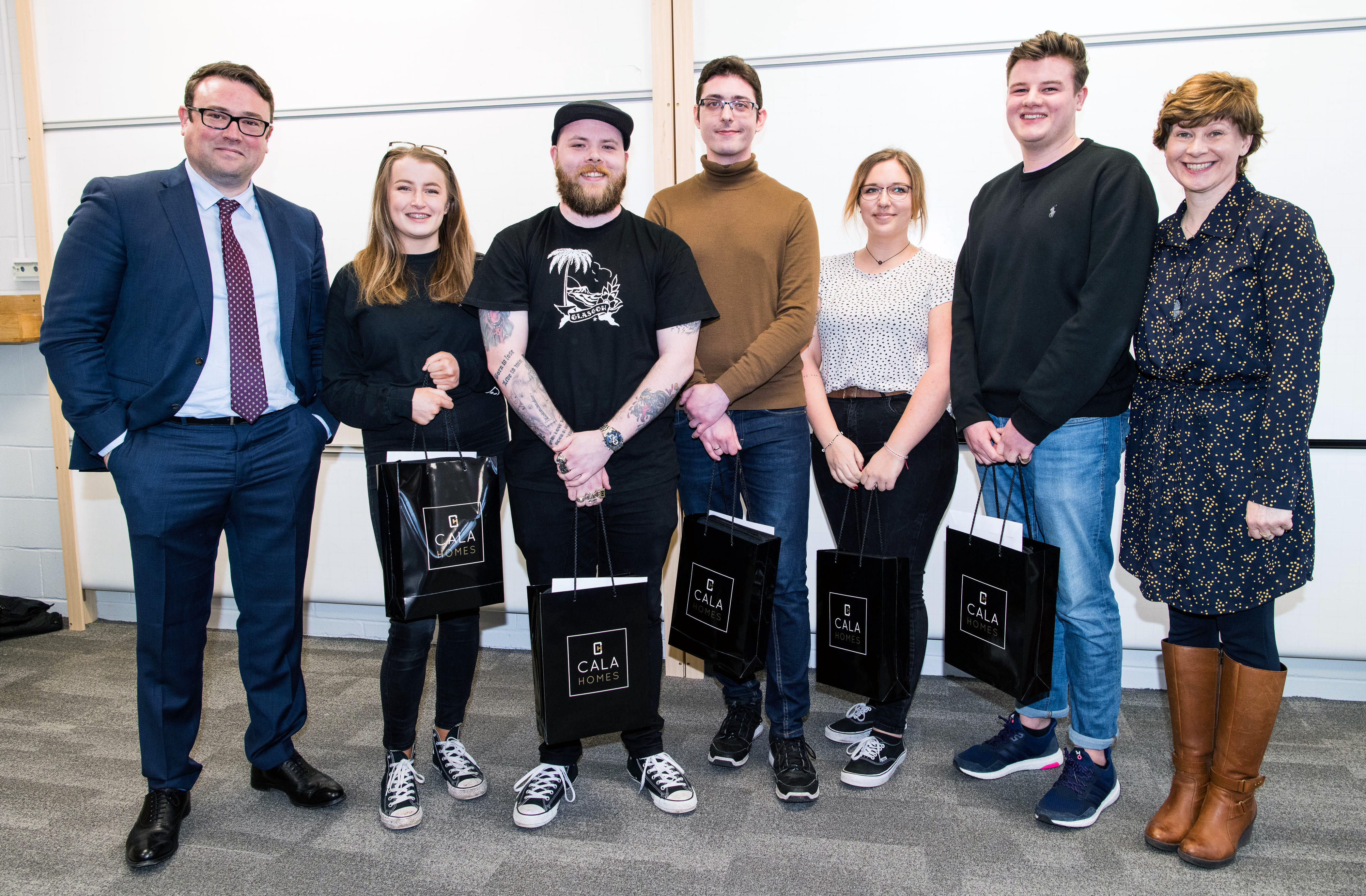 The internships, which will take place this summer, will allow the successful students to work alongside CALA's expert team, while also seeing if their creative ideas can be put into practice.
---
---
The winners were announced on Thursday 21 March by Tracey Ashworth-Davies, HR director at CALA Group, and David McGrath, managing director at CALA Homes (East), at the University's Edinburgh campus.
David McGrath said: "Heriot-Watt has provided a number of excellent candidates for CALA's graduate scheme over the past few years so we were delighted to work with the University on the Student Partnership Award.
"The quality of the work that the students have produced and the enthusiasm with which they have approached this project has exceeded all of our expectations and we've been extremely impressed with the ideas they have generated.
"The housebuilding industry has a lot to offer young people who are looking for a rewarding career. As a growing industry, we need new talent and ideas for the future, so to have had such a positive response to this new initiative is fantastic. We hope to be able to continue offering this opportunity to students."
---
---
Scoring 48 students on the posters they showcased during last month's presentation day, a panel of CALA and University staff shortlisted 10 finalists from each of the two subject categories.
Easton Arthur and Melanie Fecker took 1st and 2nd place respectively for Construction Project Management, while Liam Keeble was 1st for Quantity Surveying, and Claire Saville and Benjamin Kratz were joint 2nd place. The five winning students can now look forward to a paid summer internship with CALA.
Easton Arthur, who was the overall winner from Construction Project Management for his ideas on automated on-site construction, said: "I would just like to thank CALA Homes and EGIS for giving us as students the opportunity to explore the possibilities that lie in the construction of future homes."
---
---
Liam Keeble, overall winner from Quantity Surveying, focused on a mixture of key areas, including augmented reality and Timbercrete as an alternative material. Liam said: "I'm grateful that CALA gave the students at Heriot-Watt the amazing opportunity that they have, it was a great experience that let us put our knowledge to use."
Runner-up prizes on the day went to Susanna Ford, Niamh Doyle and Neil Finlay from Construction Project Management, and Lewis Mulholland and Gillian Smith from Quantity Surveying.
Professor Fiona Grant, director of learning and teaching, School of Energy, Geoscience, Infrastructure and Society at Heriot-Watt University, said: "Students fully engaged in this exciting opportunity to help solve a real problem facing the housing sector.
"The quality of the solutions provided demonstrated the ability of the students to fully appreciate the disrupters of the future and the impact this will have on how people will live their lives, not to mention the skills required to deliver the homes of the future.
---
---
"In addition, all students attended a workshop covering CV and career advice, run jointly with CALA and the HWU Careers service. It is clear that this partnership has been very worthwhile for all involved."