Video: Vision for Rosyth unveiled within Forth Green Freeport bid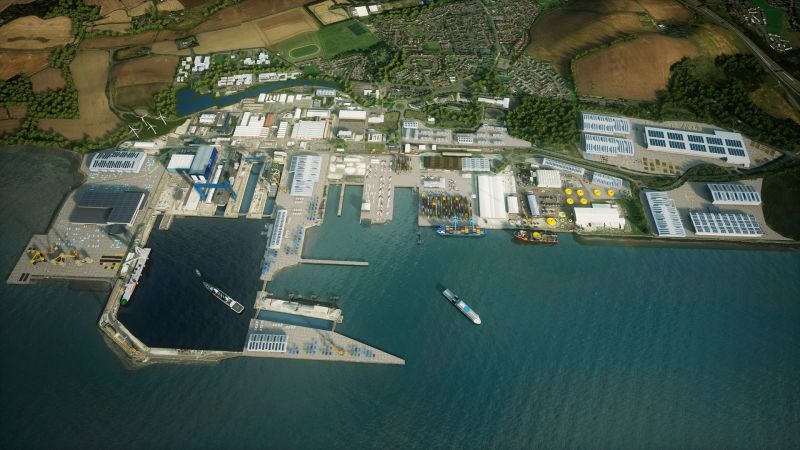 The consortium behind the bid for a Forth Green Freeport have today unveiled their transformative vision for the port, shipbuilding, manufacturing and logistics cluster at Rosyth.
Babcock International, Forth Ports Group and Scarborough Muir Group plan to deliver a new freight terminal, offshore renewable manufacturing and green power generating capacity at the site.
If the decision to designate the Forth as a green freeport is secured, the project would also enable the development of large-scale advanced manufacturing, skills and innovation on site, alongside a proposed new rail freight connection.
---
---
The companies said their sites within Rosyth and Burntisland have the potential to deliver £1 billion of investment and an estimated 7,000 new direct green jobs assuming business case approval in the new year. This will come from the development of nearly 150 hectares of land at Rosyth, identified as part of the prospective Forth Green Freeport.
Working with Fife Council – and other bid partners including the City of Edinburgh Council, Falkirk Council, Edinburgh Airport and INEOS – the Forth Green Freeport will deliver green manufacturing and logistics jobs, repurposing existing assets and driving new skills to accelerate a just transition to a low carbon future. The new employment at Rosyth and Burntisland will build upon the existing business supply chain and sector expertise and will help drive regeneration of Mid Fife and beyond, the firms added.
It is expected that Burntisland will be a sister port facility to the newly created Renewables Hub at the Port of Leith, providing further deep water access and local supply chain capability as offshore wind deployment accelerates, with energy and low carbon growth creating new employment opportunities. Developments at the Port of Rosyth will enhance Scotland's international connectivity and export capacity through a brand new freight hub.
---
---
Charles Hammond OBE, CEO of Forth Ports Group, said: "Scotland needs to boost its international connectivity and our plan for new freight hub and rail terminals will offer manufacturers and shippers a fast-track route to global and European markets directly via the North Sea. Our plan builds upon the recent DFDS announcement, which aims to see the return of a direct daily freight ferry route to northern Europe from Scotland, while offering an alternative to the congested Dover Straits and reducing dependence on road transport, while boosting trade."
The vision for Rosyth also builds on the recent success at Babcock's Rosyth facilities.
David Lockwood, CEO Babcock International Group PLC, said: "The Green Freeport would enhance the multi-million-pound investment in infrastructure, digitisation and skills at Babcock's Rosyth facilities over the last decade and underpin our large-scale manufacturing capabilities. It would also complement our work with partners through the Arrol Gibb Innovation Campus – a global centre of excellence for large-scale advanced manufacturing, offering access to the latest industrial techniques and technology, innovation advice and skills development."
Ronnie Muir, director of Scarborough Muir Group, added: "Scotland is on the cusp of a green revolution, with offshore wind providing the catalyst for new, high-quality manufacturing and engineering employment along the Firth energy coast.
---
---
"Queensferry One is one of Scotland's largest and best-connected strategic employment sites. Located on the Firth of Forth, the 120-acre development site provides an established hub for businesses in the green energy sector looking to scale their operations or improve supply chain efficiencies across the Central Scotland and beyond.
"Working with the Rosyth's industrial cluster and innovation partners, Queensferry One will play a major role in delivering the green energy and low carbon logistics objectives of the Forth Green Freeport, while boosting the nation's trading position."
---