And finally… Alan Dunlop calls for feasibility study into Scotland to Northern Ireland bridge
---

---
The issue of a potential bridge linking Northern Ireland to Scotland has reared its head once more after the idea was highlighted by Boris Johnson and other UK politicians.
The idea of constructing a bridge across the Irish Sea was proposed by architect Professor Alan Dunlop earlier this year.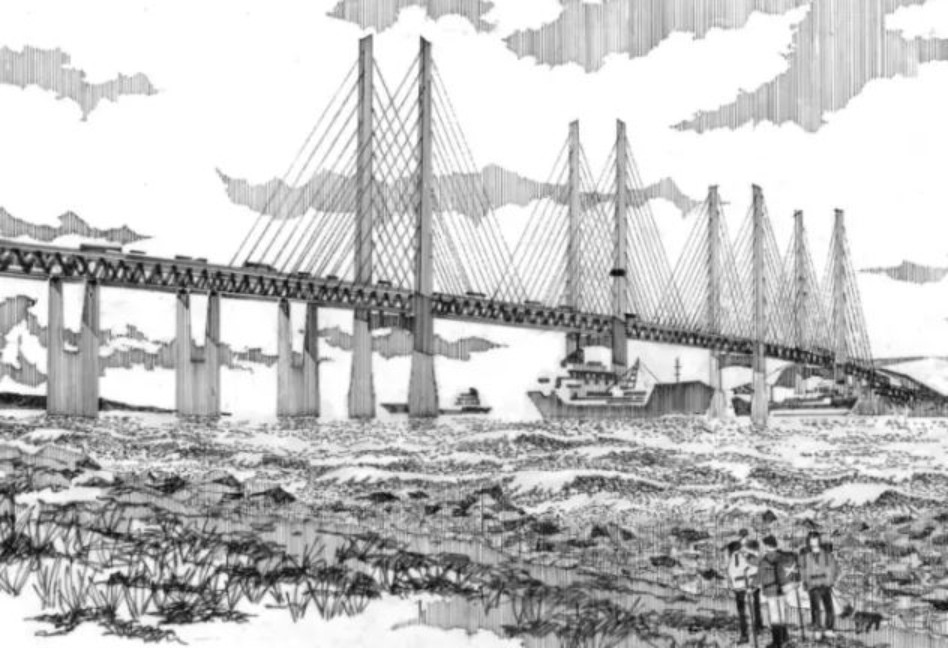 Mr Dunlop, who is a Fellow of the Royal Incorporation of Architects in Scotland (RIAS) and a visiting professor at the school of architecture at the University of Liverpool, said a combined road and rail crossing could be erected between the two countries.
The architect produced separate plans for crossings from Larne to Portpatrick, costing around £20 billion, or a bridge the Mull of Kintyrne and Torr Head – potentially costing between £12bn and £15bn.
His designs have the backing of major political figures including Boris Johnson, Scottish Brexit secretary Mike Russell and Arlene Foster of the Democratic Unionist Party.
Professor Dunlop revealed he had received more than a dozen emails from engineers and geologists inquiring about the project since Mr Johnson's speech on Saturday.
"It has been bubbling along since January," said Professor Dunlop.
"I thought that was the end of it, and then something else happens.
"And then with Boris Johnson, Karen Bradley and the DUP bringing it up again, it just seems like a potential story and narrative which keeps moving on."
Last week the bridge was raised during a discussion in the Northern Ireland Affairs Committee in Westminster.
Responding to a question from the DUP's Ian Paisley, secretary of state Karen Bradley said she was willing to have a discussion about commissioning a feasibility study on the bridge, but noted there were issues around the sea bed and the current site of the proposed bridge link.
Addressing the DUP annual conference on Saturday, former foreign secretary Mr Johnson said proposals for a bridge link were being held back by the "absence of political will".
"I think that there will be a feasibility study, which is all I can ask for. That's all I've ever asked for," Professor Dunlop told the Belfast Telegraph.
"I am not suggesting for a moment it is going to be a walk in the park. Instead people providing opinions about whether it can be done or not, it would be good to actually get the facts."