And finally… Scots want underground networks – not Boris Bridges
---

---
Four times as many Scots would choose to build underground systems for the UK's most important cities over the post-Brexit "vanity projects" proposed by Boris Johnson, a poll has found.
Since the referendum result, the former foreign secretary has suggested the creation of two bridges to boost trade and help mitigate the impact of Brexit on the UK.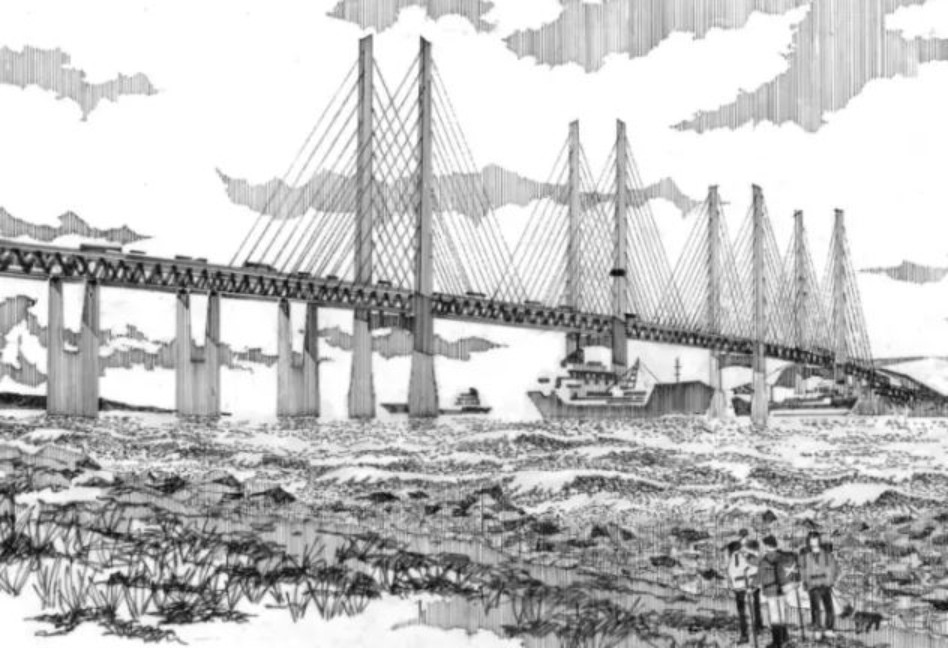 But, according to Scape Group, four times as many Scots would rather see modest underground systems built for 11 major cities in the UK over the two so-called Boris Bridges.
Mr Johnson proposed the Celtic Crossing, a bridge spanning the Irish Sea that would have connected Portpatrick in Dumfries to Galloway and Larne in Northern Ireland at an approximate cost of £20 billion. He also advocated a bridge stretching 34 miles across the English Channel, which experts suggest could cost as much as £120bn.
A poll commissioned by Scape Group suggests that less than a fifth (16%) of Scots, compared to 24% of Brits, think the economy would benefit from spending £140bn on two Boris Bridges.
Nearly two thirds of Scottish people surveyed (63%) think these ideas are 'vanity projects'.
Despite their lack of support for the bridges, the Scottish public is not set against spending on infrastructure projects in general.
According to The Globalization and World Cities Research Network there are 54 globally important cities found in the UK and the country's closest European peers: France, Germany, Spain, and Italy. 15 of those 'global cities' are found in the UK.
But while 64% of the 'global cities' in Germany, France, Spain, and Italy are home to underground metro systems, only 27% of Britain's world cities (London, Glasgow, Liverpool, and Newcastle) have underground systems.
£140bn could be used to improve the mass transit infrastructure in Edinburgh, Manchester, Birmingham, Belfast, Bristol, Leeds, Southampton, Aberdeen, Cardiff, Leicester, and Nottingham. All 11 cities are ranked as 'world cities' by The Globalization and World Cities Research Network – but none of them have an underground system.
The lack of mass transit could explain why cities in the UK, outside of the south east, perform worse than cities in France and Germany.
Mark Robinson, Scape Group chief executive, said: "While the general public have not embraced the recent ideas proposed by Mr Johnson, encouragingly they do support targeted investment in less glamorous developments that will deliver economic benefits. And well they might. Poor transport infrastructure is hampering our productivity – road congestion alone costs our economy £9bn a year. Infrastructure is vital to the effective and efficient functioning of society. Investing in underground systems across the UK would be an effective way of creating a productive and functioning workforce – and levelling the playfield with our European peers. The UK's ability to compete on the world stage will be challenged outside the European Union. As an open market economy, the country has benefited from overseas investment, and with its future trading position with the rest of the world unknown, it is essential that the UK is better prepared to retain its global competitiveness. This could help to make the UK match fit for Brexit."
While this scale of construction appears ambitious, Scape said it would not need to cost the earth. While The London Underground consists of 11 lines, running through 270 stations, the capital has a metropolitan population of over 14m. The average metropolitan population of the 11 global cities unserved by metro systems in the UK is only 1.6m. So new regional metro systems do not need to be on the same scale as London's to make a difference to local business. Scape added that a small metro system in each city, comparable to that of Seville for example (metropolitan population: 1.5m) would be a good start.
Metro de Sevilla is an 11-mile light metro network serving Seville and its metropolitan area. Work on the system started in late 2003 and was completed in April 2009. The cost was approximately €673m in 2013 which equates to approximately €700m today – or £630m.
Mark Robinson said: "Metro de Sevilla might not be a perfect blueprint for the construction of metro systems across the UK – it suffered from some poor design and the discovery of archaeological remains which increased time and costs. It was finished more than two years after the initial planned completion date and overran its initial estimated cost of €428m. However, Metro de Sevilla shows that underground projects need not come with a Crossrail-esque £18bn price tag.
"These new underground systems would increase the supply of skills. Employers in northern cities draw talent from a smaller commutable labour pool than in the south, holding back productivity and employees' own earning potential. In 2011, almost half a million commuters travelled over 30km to work in London, double the number that travelled the same distance to work across all six major city regions in the north. Reducing journey times by road - by getting more people onto credible public transport alternatives and easing congestion – could have productivity benefits of up to 14%."
Scape also polled respondents on how focused infrastructure was in and around London. The London Underground can boast 52 miles of genuine underground track. But Glasgow, Newcastle and Liverpool have just 17 miles of underground track between them, meaning that three of the four cities in the UK with underground systems are relatively small to affect a meaningful impact on urban transit. Over three-quarters of Scottish respondents that Scape surveyed (78%) said they thought the UK's current investment in metro systems was too focused on the capital.
Mark Robinson said: "We can't afford to keep ploughing money into infrastructure improvement projects that only benefit London. It's essential that cities across the country are provided with funding to help their local economies grow. Our current London-centric approach will only widen regional disparities. Investing £140bn in small underground systems in 11 of our most important cities will improve our international competitiveness, encouraging trade and job creation."
Download the full report, Digging Deep for Growth: Bridging the Infrastructure Gap, from scapegroup.co.uk/research.