Sector sceptical over PM's £5bn construction plan
---

---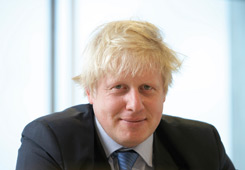 Prime Minister Boris Johnson has set out the UK Government's intention to build its way out of the coronavirus economic downturn with a £5 billion capital investment plan but has once again delayed the publication of a revised National Infrastructure Strategy.
Originally due in autumn 2019, the strategy is now expected to be unveiled a year later.
Likening today's spending plan to US president Franklin D Roosevelt's New Deal programme during the Great Depression of the 1930s, Mr Johnson said his infrastructure investment will "finally tackle this country's great unresolved challenges of the last three decades".
The Prime Minister said he is bringing forward £5 billion of infrastructure spending in England targeting hospital maintenance, school refurbishment, and road projects. He urged devolved administrations to identify 'shovel-ready' projects that can benefit from existing capital spending allocated through the Barnett formula.
Highlights of today's announcements and codenamed 'Project Speed' were:
£1.5bn for hospital maintenance
£1bn for new schools – 50 projects
£560m for school upgrades
£200m to improve colleges
£100m for road projects
A bold plan to dual-carriage the A1 all the way to Scotland
Thousands of new homes on Brownfield sites and others
Radical planning reform not seen since WW2
Mr Johnson said: "It sounds like a New Deal. All I can say is that if so, then that is how it is meant to sound and to be, because that is what the times demand.
"A government that is powerful and determined and that puts its arms around people at a time of crisis this is a government that is wholly committed not just to defeating coronavirus but to using this crisis finally to tackle this country's great unresolved challenges of the last three decades… To that end we will build, build, build. Build back better, build back greener, build back faster and to do that at the pace that this moment requires."
He added: "Too many parts of this country have felt left behind, neglected, unloved, as though someone had taken a strategic decision that their fate did not matter as much as the metropolis.
"So I want you to know that this government not only has a vision to change this country for the better, we have a mission to unite and level up - the mission on which we were elected last year."
While welcoming the commitment, industry leaders had hoped for long-term strategic planning.
Mark Robinson, chief executive of public sector procurement specialists Scape Group, said: "Industry will no doubt welcome the announcements from government today. Construction is a significant contributor to the UK economy and this investment is urgently needed to reintroduce confidence to the sector, accelerate our path to recovery and protect jobs across the United Kingdom.
"That said, it is vital we keep a long-term view. As an industry, we must make this investment count. Every single project must be delivered with quality, value for the taxpayer and integrate green technology that will help us to shape a more sustainable future as we work to recover. To realise this will require collaboration and shared vision across all supply chain partners as we address the challenges that lie ahead."
Debbie Dore, chief executive at Association for Project Management (APM), said: "Whilst the Prime Minister's proposals and emphasis on 'build, build, build' is welcome, this needs to be more than a one-off big spend. This should be both a sustainable and sustained approach, and have a strong focus on the requirements of successful project delivery, both in capacity and capability.
"'Sustainable' means it needs to have a green thread running through it – focusing on measures that will embed 'Net Zero', whether that is investment in things like wind power or infrastructure for electric vehicles.
"It should also be 'sustained' in the sense of having both small as well as major projects; regional not just national; a planned pipeline that is 'shovel relevant' as well as' shovel ready'; and finally not just physical infrastructure but broader transformation measures, including digital investment to underpin recovery. Sustained delivery is as important as speedy delivery.
"Finally, this commitment is welcome but must be backed by investment in the skillsets and training essential to underpin this. People deliver projects. Greater investment as well as a focus on project professionalism will be required to support the proper inception, delivery and completion of projects both now and in the future and this should be central to the National Infrastructure Strategy.
"As we have said before, good project outcomes require the right conditions for success. Any 'surge' in new projects must be matched by the capability to deliver them with the public good in mind. We have to ensure the delivery of these projects factor in rapid changes in technological innovation and government targets to deliver net zero carbon emissions.
"As the chartered body for the project profession, APM is committed to ensuring that project professionals have the essential skills to address emerging challenges and deliver sustainable solutions. Whether projects form part of plans for tackling disease, building modern high-speed railways, tackling the effects of climate change or planning the construction of new homes, it is important that people have the right attributes and skillsets to adapt and thrive."
The Federation of Master Builders (FMB) said the Prime Minister's commitment to invest in infrastructure comes at the right moment when builders' workloads, enquiries and level of employment have all contracted to historically low levels, but that the need to repair is equally as important.
Brian Berry, chief executive of the FMB, said: "The crushing impact of the coronavirus on builders' workloads, enquiries and employment, as set out by the latest State of Trade data, sends a clear message to the Government that it is right to invest in construction. The repair, maintenance and improvement (RM&I) sector contributes 32% towards construction output so it's important this isn't overlooked in terms of investment.
"The pandemic has placed historic constraints on local builders' ability to work, train, and earn a living. The RM&I market, the bread and butter for most small builders, has been the hardest hit. Almost half a million people left the sector as a result of the 2008-9 financial crash. The FMB is determined to avoid a repeat of this devastating blow to livelihoods and the building industry."
Mr Berry added: "The Prime Minister must use his speech today to inject confidence back into the RM&I market with a cut in VAT. Investment in infrastructure should mean housing too, making it easier for SME builders to build out small sites and bring empty homes back into use. We need a strategy for supporting the retention and recruitment of apprentices into the construction industry.
"Without these individuals, an infrastructure revolution will not be possible. In all of this we cannot forget the quality and sustainability of our buildings. A national retrofit strategy will help boost market confidence, and unleash the army of local builders waiting to improve the energy efficiency of our homes."
The STUC said the capital investment plan is "woefully inadequate" to tackle economic downturn.
It pointed out that the many of the projects announced were plans brought forward rather than new investment and said the government would need 20 times the ambition if it is serious about protecting jobs and rebuilding the economy sustainably. It said that the £80 billion UK-wide investment advocated by the Scottish Government was closer to the level required.
STUC general secretary Rozanne Foyer said: "The most obvious conclusion from today's investment announcements is that BJ is no FDR. His speech lacked coherence and so does his plan. His greatest passion seemed to be reserved for cutting red tape which is all too often code for cutting the rights of workers and reducing environmental standards. He certainly didn't talk about good jobs and we know from this crisis that bad jobs kill.
"This goes nowhere near far enough to provide the stimulus our economy requires. We need twenty times the ambition. For example, our analysis shows the potential for a two year £13 billion green stimulus package to create 140,000 jobs in Scotland.
"All eyes now turn to the Chancellor later this month. He must act urgently to bring forward a Job Guarantee Scheme, extend the Furlough scheme in key sectors and do what Johnson failed to do today – come up with a real new deal for recovery."