And finally.. Council says 'Hasta La Vista' to potholes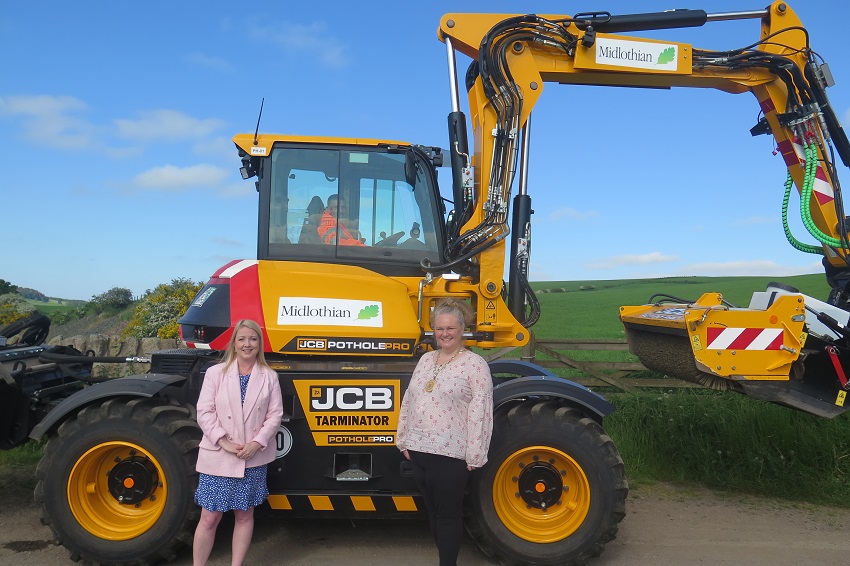 Midlothian Council has unveiled the winner of a competition to name its new 13-tonne permanent pothole repair machine.
Council leader Councillor Kelly Parry, Provost Debbi McCall and roads operations and asset manager Wayne Clark considered just short of 200 suggestions – from Sir Filly Connolly to Harry Potholer – before plumping for their favourite, The Tarminator.
Councillor Parry said: "We thought this was the perfect name for a powerhouse of a machine that's our latest 'weapon' in the 'fight' against potholes.
---
---
"Terminator star Arnold Schwarzenegger filmed himself recently filling in what he thought was a giant pothole. The former Mr Universe can still put his back into it but imagine how much easier it would have been if he'd had our Tarminator?"
The Tarminator – a JCB Pothole Pro - can typically do a pothole that would take half a day in 30 minutes.
Provost Debbi McCall said Wayne and his team plan to repair 1,000 potholes permanently in the first six months of the machine's use.
She added: "The Pothole Pros' revolutionary technology means the roads crews can cut, crop and clean with one machine and all they need to do is add tar.
---
---
"And the good news is it's a permanent fix that should last the lifetime of the road so hopefully there's no need to say 'I'll be back'."
JCB Pothole Pro manager Ben Rawding said: "We are delighted that Midlothian Council has joined the growing number of local authorities in Scotland investing in the JCB Pothole Pro.
"The JCB Pothole Pro really is living up to its name by fixing potholes quickly and permanently.
"It is helping to keep more than 10,000 miles of Scotland's roads pothole free, thanks to investments in the machine by five leading local authorities, which are responsible for maintaining more than one third of the country's highway network."
---
---
The winner of the competition is Craig Birkmyre. As well as having his winning suggestion on the Pothole Pro, Craig also gets a free family tubing session at Midlothian Snowsports Centre.
In total four people suggested The Tarminator. Each entrant was given a number and a random number generator was used to choose who was the ultimate winner.
---