And finally… Skate park could ramp up historical status with special designation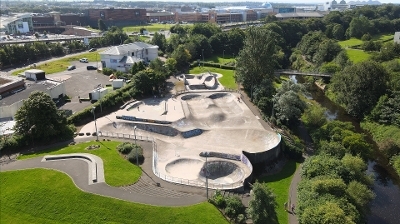 Historic Environment Scotland (HES) is asking members of the public to share their views and knowledge on Livingston Skatepark.
This is the latest stage in a process which could see the skatepark granted listed status after West Lothian Council wrote to Historic Environment Scotland asking them to consider listing the park, which was the first of its kind in the UK when opened in 1981.
The design of the internationally renowned park was inspired by skateparks in the United States and has attracted skaters from all over the world, including skating legend Tony Hawk.
---
---
Working alongside Skateboard Scotland, the official governing body for skateboarding in Scotland, HES is gathering comments and information from people who know and use the skatepark or have a view on its design, history and significance.
A building may become listed if it is of special architectural and historic interest, and this survey of Livingston Skatepark will help inform the assessment and, in turn, future management decisions. Views from the public on the Skatepark's special architectural and historic interest, along with any other relevant information and stories, will help to enhance HES's understanding of the site's significance as they assess it for listing.
View are sought until 18th May 2023.
Executive councillor for the environment & sustainability Tom Conn said: "Livingston Skatepark is a well-used and much-loved facility by the skating community in West Lothian and further afield.
---
---
"We are aware that different users of the park have wide-ranging views on its future and we would encourage as many people as possible to please take part in this questionnaire."
---