And finally… World's first 'floating city' unveiled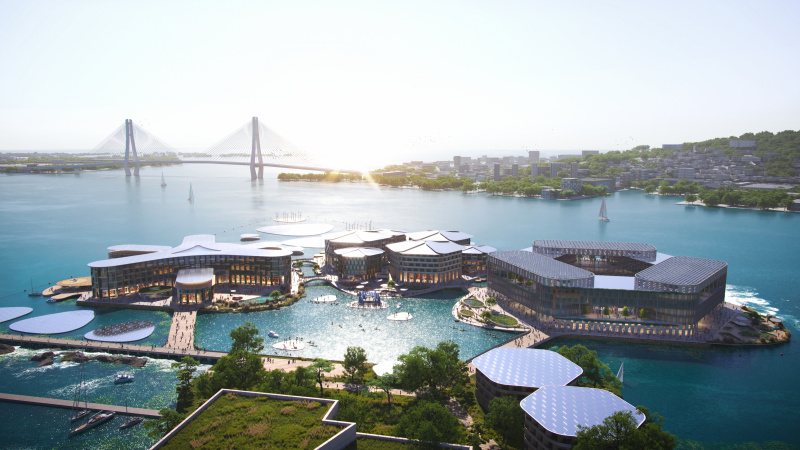 The world's first prototype of a resilient and sustainable floating community has been unveiled with construction set to begin in 2023.
Designed by BIG alongside local architects SAMOO, OCEANIX Busan in South Korea aims to provide breakthrough technology for coastal cities facing severe land shortages that are compounded by climatic threats.
UN-Habitat aims for it to provide a model for coastal cities facing threats from flooding and rising sea levels due to climate change.
---
---
The development is composed of a series of interconnected neighbourhoods: initially, it will comprise three platforms hosting 12,000 residents, but with the potential to expand to more than 20 platforms over time.
While each 30,000- to 40,000-square-metre neighbourhood will be mixed-use, it will also be designed to serve a specific purpose. There will be one for living, one for research and one lodging platform for visitors.
The living platform will have diverse housing options, prioritising accessibility, and "intimate alleys" of local food vendors and stores.
The research platform will be a hub for maritime study, with new green economy jobs in areas such as a habitat regeneration centre, maker spaces and dorms.
---
---
The tourism platform will feature eco-lodgings, organic dining and other amenities for visitors to the floating city.
Link-span bridges will connect the floating platforms, and the development will focus on wind-resistant low-rise buildings, terraces for indoor-outdoor living, and large gardens and greenhouses for growing food and creating temperature-controlled environments.
The platforms will have outposts for recreation, art and performance, as well as some dedicated to resource production, with photovoltaic panels and greenhouses for growing food.
Oceanix Busan will be designed to generate 100 per cent of its required operational energy and have local systems for water treatment, recycling and urban agriculture.
---
---
The development will be located in Busan North Port and the first phase will cover 6.3 hectares. Construction will begin in 2023, reported The Independent.
---