Architects' Showcase: Close collaboration results in new multi-use community hub for North Lanarkshire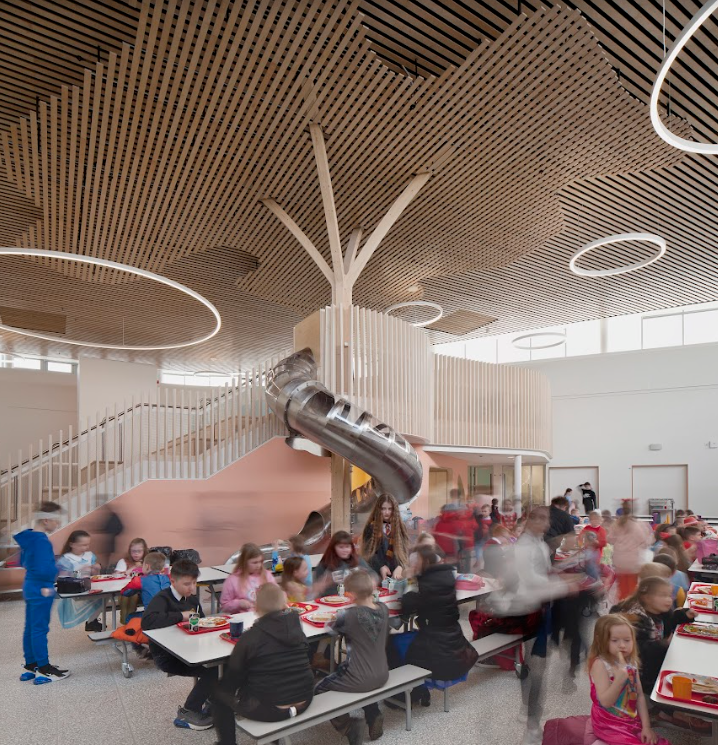 Through collaboration with the community and innovative design, multi-disciplinary consultancy BDP has delivered a new multi-use community hub in North Lanarkshire.
Newmains & St Brigid's Community Hub is home to both Newmains and St Brigid's Primary Schools, and the Newmains Family Learning Centre. Accommodating more than 600 pupils and members of the community, BDP's design creates a dynamic, radial array of teaching wings set around an open, central shared space that will be used by multiple community groups.
Provision of a vibrant social centre to the building will encourage pupil interaction and foster a sense of community across junior and senior years in the schools. The interlinked teaching wings accommodate nursery and primary school pupils in a cohesive and easily navigable environment.
---
---
Each element of the building has been carefully considered to cater to the education and social needs of users. The unique design delivers open-plan activity spaces in each teaching wing, high quality learning areas, and more intimate reflection spaces for small groups or personal projects.
BDP's design provides every classroom direct access to the grounds, encouraging a healthy relationship for young people with the outdoors. External play spaces offer a range of sensory stimulating apparatus that include a treehouse, dens and play trails, whilst further plans include the creation of a wildlife habitat to enable outdoor learning about animals and nature.
Sustainability is at the heart of the project, in which each teaching wing and lower level space is constructed from structural timber framing, significantly reducing the building's embodied carbon. Reclaimed timber is used in the landscaping design, whilst the Hub's unique interior is characterised by distinctive timber finishes. Ventilation systems incorporating heat recovery combine with photovoltaic panels to improve the building's energy efficiency.
Brad Morrison, architect at BDP, said: "School is a place for learning, but it's also a place for children to embrace their youth and make life-long memories. That ethos really comes through in the design of Newmains & St Brigid's iconic features such as the helical slide that wraps around a statement figurative tree in the shared central space.
---
---
"21st century educational buildings must support a diverse pedagogy such as self-learning, outdoor classes, and social interaction in safe, calming environments. They also need to offer exceptional spaces for community activity - delivering inclusion and engagement to build social cohesion.
"That's why, throughout the design process, we worked closely with the local community to identify facilities that would offer the greatest social value, so we are excited to see each unique aspect of this project being put to good use."
Councillor Angela Campbell, convener of Education, Families and Children at North Lanarkshire Council, said: "It was wonderful to see the reaction of pupils as they entered the new building. The look of wonder and excitement on their faces was a joy to see. It is a fantastic facility for the entire community to benefit from for years to come.
"The new community hub in Newmains is a clear example of the vision and ambition we have for communities across North Lanarkshire. It is far more than just a school, it's a community facility in the truest sense.
---
---
"I am sure everyone associated with the new facility will be immensely proud of their new campus and I wish them every joy and success in their new home."
The campus has been delivered for North Lanarkshire Council with hub South West Scotland. BDP led a multi-disciplinary design team, including M&E engineers, Wallace Whittle, and civil and structural engineers, Blyth and Blyth, to design the building. BAM Construction worked as the main contractor.
---