Newmains & St Brigid's Community Hub is top of class at Scottish Design Awards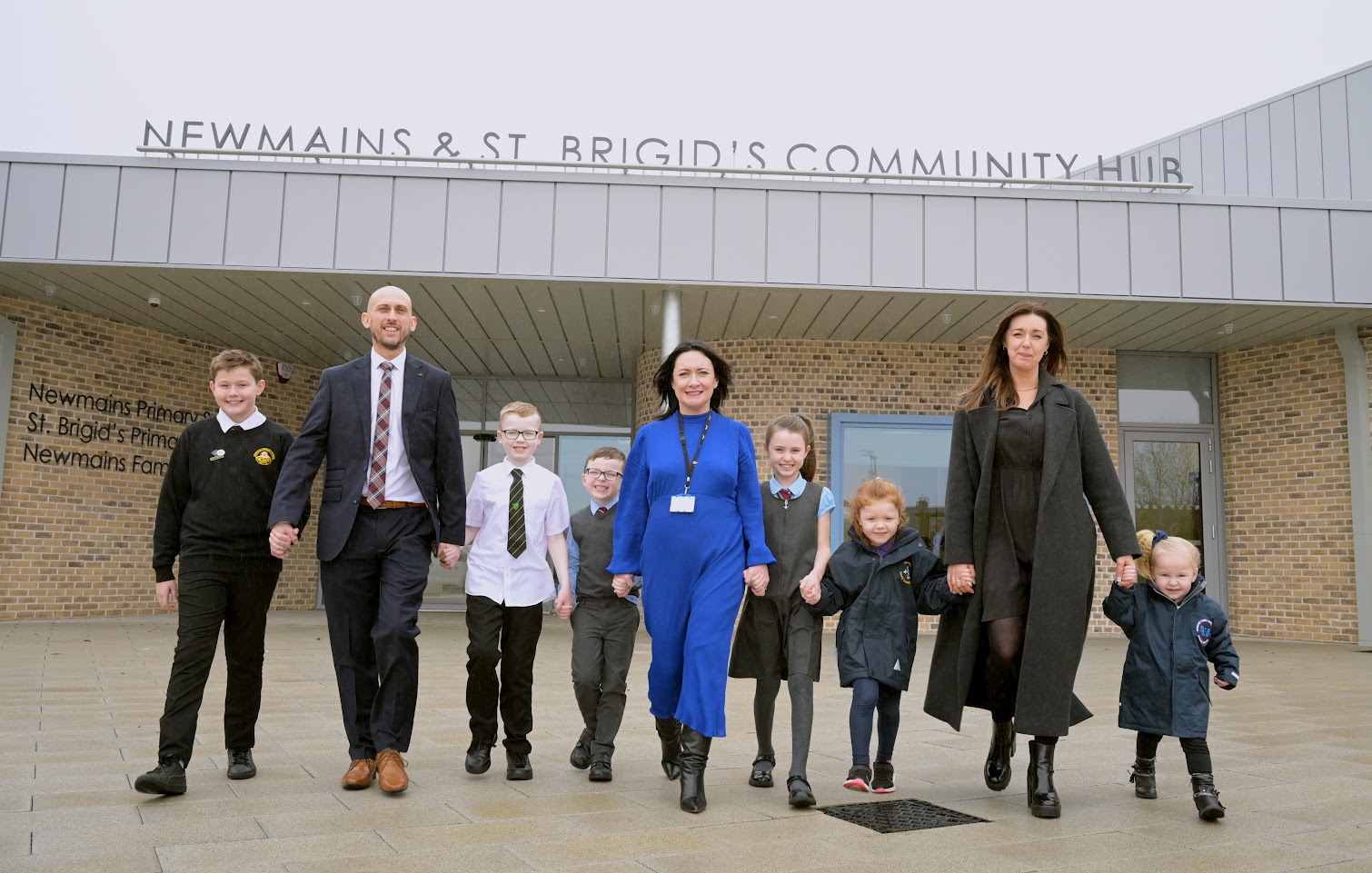 A new £18 million community hub in Wishaw has been awarded top of class in the Scottish Design Awards 2023 after winning the Education Building or Project category and taking home the highly prestigious Grand Prix in Architecture award.
Multidisciplinary design practice BDP was presented the award for its work on Newmains & St Brigid's Community Hub. Designed to be environmentally and energy efficient and home to more than 600 children and staff, the campus comprises two schools and a family learning centre into one shared campus.
Hub South West Scotland delivered the project on behalf of North Lanarkshire Council with BAM Construction as its construction partner. BDP led the wider design team, consisting of Wallace Whittle (mechanical and electrical design engineer) and Blyth and Blyth (consulting civil and structural design engineer).
---
---
Scottish Design Award judges were highly impressed by the many design features to promote both passive and active learning. BDP's design creates a dynamic, radial array of teaching wings set around an open, central shared space. At the heart of the new building is a multi-use area featuring Spanish steps and a helical slide that wraps around a statement figurative tree, making it an original and exciting place for children and the local community to use.
There is also a reflection zone, to allow small groups or peer-to-peer learning or to provide quieter space.
The new hub provides every classroom with direct access to the grounds, encouraging a healthy relationship between young people and the outdoors. External play spaces offer a range of sensory stimulating apparatus that include a treehouse, dens and play trails, whilst further plans include the creation of a wildlife habitat to enable outdoor learning about animals and nature.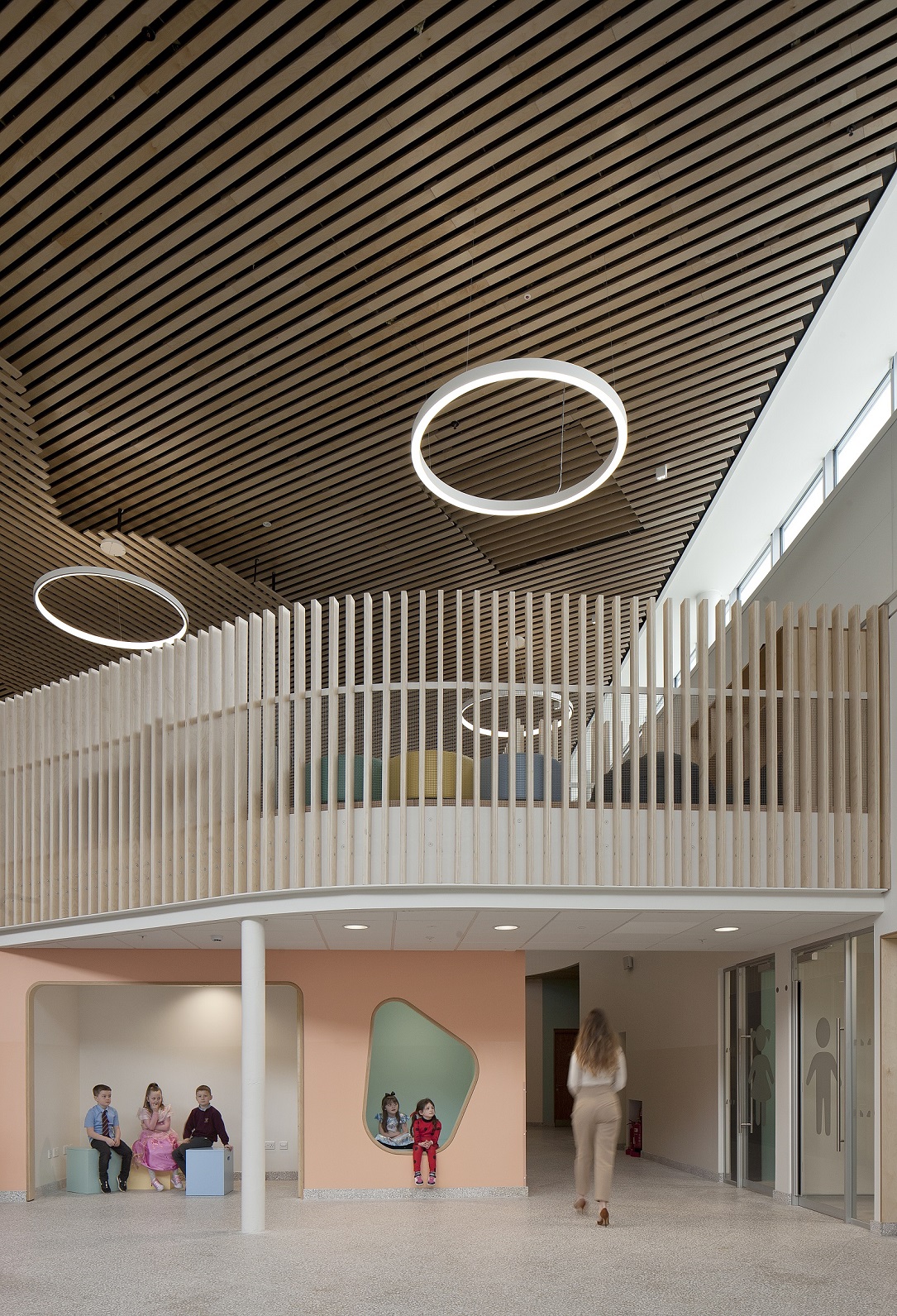 The outdoor areas include an 11-a-side sports pitch, and new paths to connect the hub with the community. A forest school has been planted with willow structures, an outdoor classroom, a fire pit and den building zone.
---
---
Sustainability is at the heart of the project. Each teaching wing and lower level space is constructed from structural timber framing, significantly reducing the building's embodied carbon.
The state-of-the-art campus also includes a first-ever dedicated Science, Technology, Engineering and Mathematics (STEM) themed classroom, a dedicated breastfeeding area as part of the council's initiative to encourage more mums to breastfeed, EV charging for electric vehicles and bike storage to encourage active travel.
Lindsey Mitchell, architect director at BDP said: "Schools are at the heart of any healthy community. So, providing a successful, sustainable learning environment that promotes wellbeing is a contributing factor in supporting learning within a well-knitted social environment.
"This recognition for the creative, sustainable design of Newmains and St Bridgid's Hub is fantastic. The project has always been about collaboration, and about creating a place for learning. That ethos really comes through. It is an exceptional space for community activity - delivering inclusion and engagement to build social cohesion and every unique aspect of this project has been received exactly as intended."
---
---
Michael Ross, chief executive of hub South West Scotland added: "This new community hub is far more than just a school, it's a community facility in every sense, providing state-of-the-art, flexible learning spaces which bring huge benefits to pupils and the wider community. Everyone involved in delivering this campus is delighted it has achieved much deserved recognition on a national stage."
Jim Ward, regional director, BAM added: "We are delighted to have led the team to deliver a new, vibrant, and exceptional educational learning place for the community. We did this by taking North Lanarkshire Council's vision, set at the outset to create a 'design-led brief' by engaging with the local communities, making them an integral part of the development process, which in turn makes them feel proud of their new facilities. The outcome is outstanding, and the awards recognition is fully merited."
Elsewhere on the night, the chair's award for architecture meanwhile went to Prestonpans Civic Square with Heather Claridge warming to a small intervention that has gone on to become a bigger catalyst for the area. Also, the coveted Architecture Practice of the Year title went to jmarchitects, just rewards for presenting great diversity of work at different scales throughout the competition.
---
---
The practice said it was "incredibly proud" to have been awarded Practice of the Year, along with silver awards for two of its projects, The Linen Quarter in the Residential: Multi Unit category and The Bothy & Tur in the Public Building category.
To top the night off, senior architect Adelle Jess won the Gold Award for Young Architect of the Year.
Brian Thomson, managing director from jmarchitects, said: "It is perhaps fitting in this week that we saw the passing of our dear friend and colleague Alex McKendry that part of his legacy lives on as we are delighted to be recognised as Practice of the Year at the Scottish Design Awards.
"Alex would also have been particularly proud of the Young Architect of the Year Award for Adelle Jess one of the many staff he encouraged and mentored.
---
---
"We are also delighted to have our design work recognised with the Silver Awards for The Bothy and Tùr and The Linen Quarter examples of the diverse work of the practice in community and visitor attractions as well as the innovative energy efficient repurposing of existing buildings."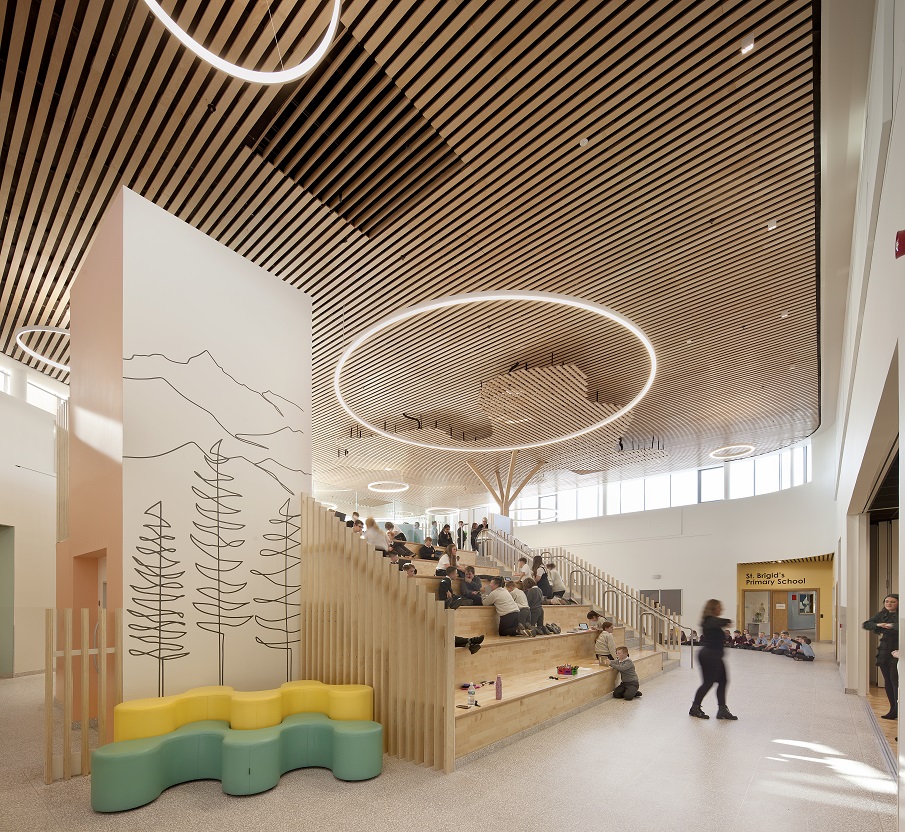 The results prompted Alistair Scott, a co-founder of Smith Scott Mullan Associates and a member of the architecture panel, to comment: "The future of Scottish design is bright, but I feel we don't get nearly enough exposure internationally and events like these Awards should help to promote our skills to a wider audience and hopefully provide future opportunities."
Heather Claridge, architecture chair and director of design at Architecture and Design Scotland and fellow panellist, added: "It was great to see such a variety of projects and there were some exceptional entries which exemplified people-centred and carbon-conscious design. I particularly enjoyed seeing how functionality, fun and futureproofing had been achieved, through good design."
A full list of architectural award winners is as follows:
GRAND PRIX
BDP Ltd For Newmains & St Brigid's Community Hub
Chair Award
rankinfraser landscape architecture, Narro, Irons Foulner, Morham and Brotchie, Alliance CDM For Prestonpans Civic Square
Architecture Practice of the Year Award
Young Architect of the Year Award
Client of The Year Award
Pitlochry Festival Theatre
Lighting
GOLD AWARD: Arup For Union Terrace Gardens, Aberdeen
Interior Design- Projects under 250k
GOLD AWARD: Technique Architecture and Design For Thomson's HQ
Interior Design- Projects over 250k
GOLD AWARD: Aim Design For Discovery Point Dome Gallery
Regeneration
GOLD AWARD: rankinfraser landscape architecture, Narro, Irons Foulner, Morham and Brotchie, Alliance CDM For Prestonpans Civic Square
SILVER AWARD: MAST Architects For Queen's Quay, Clydebank
Residential - Single Home
GOLD AWARD: Loader Monteith For Ceangal House
SILVER AWARD: Ann Nisbet Studio For Glendale Cottage: Harmless House
Residential - Multi-Unit
GOLD AWARD: Fraser/Livingstone Architects For Simon Square
SILVER AWARD: jmarchitects For The Linen Quarter, Pilmuir Works
Affordable Housing
GOLD AWARD: Page Park Architects For North Gate
SILVER AWARD: Bracewell Stirling Consulting For Primrose Street, Alloa
Health Building or Project
GOLD AWARD: Oberlanders Architects, Rural Design Architects For Broadford Hospital, Skye
SILVER AWARD: HLM Architects For Linac + Admin Building , Western General Hospital, Edinburgh
Education Building or Project
GOLD AWARD: BDP Ltd For Newmains & St Brigid's Community Hub
SILVER AWARD: Sheppard Robson For University of Edinburgh, The King's Buildings Nucleus
Commercial/Office/Hotel Building or Project
GOLD AWARD: NORR Consultants Limited For The Scapa Noust
SILVER AWARD: Ica For Virgin Hotels Edinburgh – Hotel Building
Public Building
GOLD AWARD: Glasgow Life For The Burrell Collection
SILVER AWARD: jmarchitects For The Bothy and Tùr at Cuningar Loop
Planning
GOLD AWARD: Collective Architecture For Coatfield Lane
Retrofit
GOLD AWARD: Konishi Gaffney For Greyfriars Charteris Centre
SILVER AWARD: Collective Architecture For Civic House
Low Cost Project Schemes Under 200k
GOLD AWARD: BEAM Architects, Cake Engineering For Bracklinn Falls Bridge
SILVER AWARD: Gokay Deveci For The Truss House
Public Realm/Landscaping
GOLD AWARD: Erz Ltd For Lochgilphead Front Green
SILVER AWARD: L D A Design For Union Terrace Gardens
Master Planning
GOLD AWARD: Collective Architecture For Ladyfield